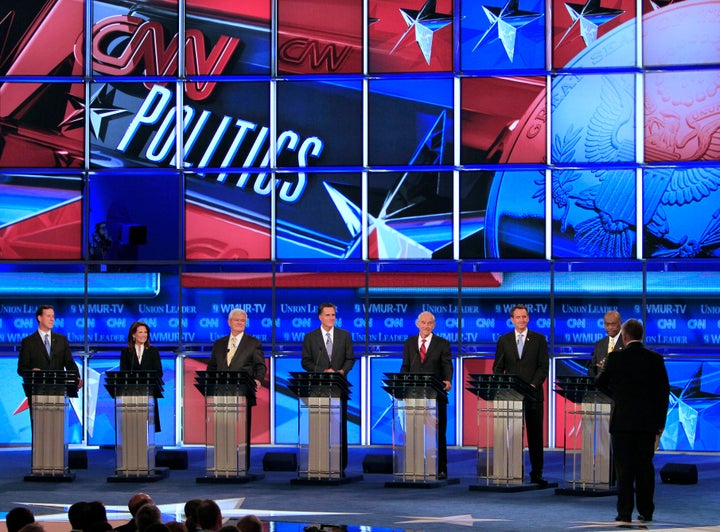 While religion didn't play a central role in last night's New Hampshire Republican debate, CNN moderator John King asked the Republican presidential hopefuls several questions touching on matters of faith. Here's a quick round-up of what the candidates had to say (full transcript here).
On the separation of church and state, Governor Tim Pawlenty of Minnesota:
Well, the protections between the separation of church and state were designed to protect people of faith from government, not government from people of faith. This is a country that in our founding documents says we're a nation that's founded under God, and the privileges and blessings at that we have are from our creator. They're not from our member of Congress. They're not from our county commissioner.
Senator Rick Santorum on the role that faith plays in his political life:
I'm someone who believes that you approach issues using faith and reason. And if your faith is pure and your reason is right, they'll end up in the same place.

I think the key to the success of this country, how we all live together, because we are a very diverse country -- Madison called it the perfect remedy -- which was to allow everybody, people of faith and no faith, to come in and make their claims in the public square, to be heard, have those arguments, and not to say because you're not a person of faith, you need to stay out, because you have strong faith convictions, your opinion is invalid. Just the opposite -- we get along because we know that we -- all of our ideas are allowed in and tolerated. That's what makes America work.
Congressman Ron Paul on the role that religion should play in the public square:
I think faith has something to do with the character of the people that represent us, and law should have a moral fiber to it and our leaders should. We shouldn't expect us to try to change morality. You can't teach people how to be moral.

But the Constitution addresses this by saying -- literally, it says no theocracy. But it doesn't talk about church and state. The most important thing is the First Amendment. Congress shall write no laws -- which means Congress should never prohibit the expression of your Christian faith in a public place.
Godfather's Pizza CEO Herman Cain addressed his recent comments that he would not be comfortable appointing a Muslim to his administration:
I would not be comfortable because you have peaceful Muslims and then you have militant Muslims, those that are trying to kill us.

And so, when I said I wouldn't be comfortable, I was thinking about the ones that are trying to kill us, number one.
Former Governor of Massachusetts Mitt Romney followed up on Cain's remarks when asked whether certain segments of the American population should be treated differently based on religion:
First of all, of course, we're not going to have Sharia law applied in U.S. courts. That's never going to happen. We have a Constitution and we follow the law.

No, I think we recognize that the people of all faiths are welcome in this country. Our nation was founded on a principal of religious tolerance. That's in fact why some of the early patriots came to this country and we treat people with respect regardless of their religious persuasion.

Obviously, anybody who would come into my administration would be someone who I knew, who I was comfortable with, and who I believed would honor as their highest oath -- their oath to defend and protect the Constitution of the United States.
Former Speaker of the House Newt Gingrich then intervened with his bid to be the most anti-Islam voice of the night by alluding to both Nazis and communists:
I just want to comment for a second. The Pakistani who emigrated to the U.S. became a citizen, built a car bomb which luckily failed to go off in Times Square was asked by the federal judge, how could he have done that when he signed -- when he swore an oath to the United States. And he looked at the judge and said, "You're my enemy. I lied."

Now, I just want to go out on a limb here. I'm in favor of saying to people, if you're not prepared to be loyal to the United States, you will not serve in my administration, period.

(APPLAUSE)

We did this -- we did this in dealing with the Nazis and we did this in dealing with the communists. And it was controversial both times, and both times we discovered after a while, you know, there are some genuinely bad people who would like to infiltrate our country. And we have got to have the guts to stand up and say no.
The candidates entirely avoided any religious language while addressing the issues of marriage equality and don't-ask don't-tell, with essentially unanimous agreement that marriage should be defined as being between a man and a woman, preferably through a Constitutional amendment, and that repealing DADT was a bad decision.
On the issue of abortion, Congresswoman Michele Bachmann used the most explicitly religious language to illustrate her stance:
I think the most eloquent words ever written were those in our Declaration of Independence that said it's a creator who endowed us with inalienable rights given to us from God, not from government. And the beauty of that is that government cannot take those rights away. Only God can give, and only God can take.

And the first of those rights is life. And I stand for that right. I stand for the right to life. The very few cases that deal with those exceptions are the very tiniest of fraction of cases, and yet they get all the attention. Where all of the firepower is and where the real battle is, is on the general -- genuine issue of taking an innocent human life. I stand for life from conception until natural death.
And for those of you who missed the debate, here it is in condensed form, courtesy of HuffPost Politics:
Related
Popular in the Community