The latest polls on the Russian people's religious affiliation since the fall of the Soviet Union in 1991 reveals significant demographic shifts, particularly with regards to the percentage of adults identifying as either Orthodox Christian or religiously unaffiliated. The Pew Research Religion & Public Life Project analyzed three waves of data from the International Social Survey Programme to draw some surprising conclusions about religiosity in post-Soviet Russia.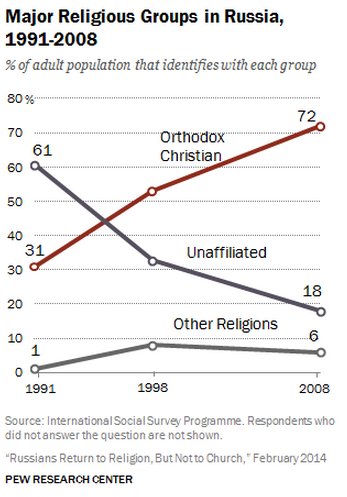 Compared to only 31% in 1991, a whopping 72% of the Russian adult population identified themselves as Orthodox Christian in 2008. The increasing percentage of Orthodox Christians corresponded with a decreasing percentage of unaffiliated adults, while the share of people identifying with other religions only changed by 5 percentage points, from 1% to 6%.
Since 1991, Russian adults are only slightly more likely to say that they attend religious services at least once a month. Though the percentage of adults identifying as Orthodox Christians increased by 41 percentage points, the percentage of adults who say they attend religious services at least once a month increased by only 5%.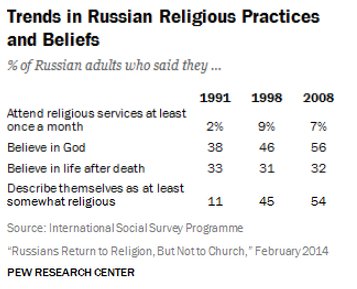 Though Russian adults may now be more likely to identify as a particular religion, that doesn't mean that they are more disposed to attend services.
The survey found significant differences in religious affiliation and observation between the genders. Women were markedly more likely to identify as Orthodox Christian than men in 2008, while men were more likely to identify themselves members of other religions.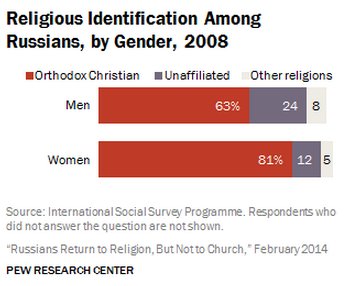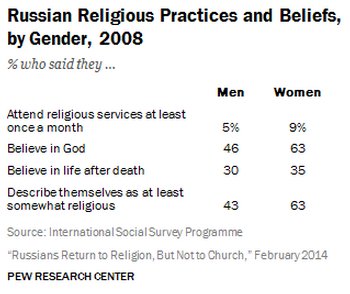 The answers reflect the beliefs of the Russian adult population age 16 and older, and were collected via a self-administered questionnaire in the Russian language. Based on sample sizes and designs of the surveys, the margin of sampling error for results based on the total sample is roughly ±3.0% in 1991, ±3.3% in 1998 and ±4.4% in 2008, with larger margins of error for subgroups.
REAL LIFE. REAL NEWS. REAL VOICES.
Help us tell more of the stories that matter from voices that too often remain unheard.
BEFORE YOU GO
PHOTO GALLERY
10 Facts About The Transforming Global Religious Landscape