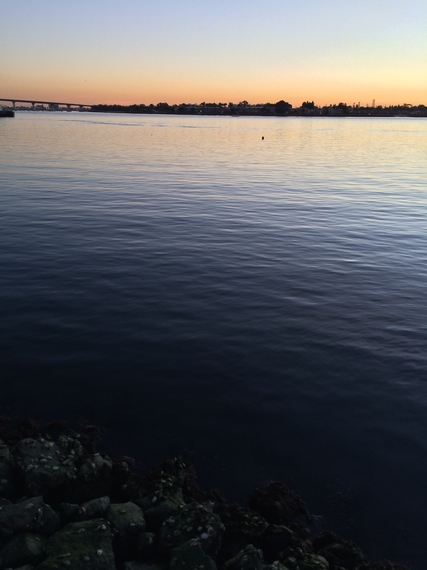 This week over 10 thousand scholars gathered in San Diego for the joint annual meeting of the American Academy of Religion (AAR) and the Society of Biblical Literature. Professionals in higher education, publishing and media, clergy and independent scholars came to deliver and hear papers, interview for openings, to make new friends and to visit with old ones.
It is difficult to convey the scale of the gathering. At one point on Saturday morning alone there were more than one hundred and 10 sessions each with multiple papers meeting at various locations. For the few days of its existence the book exhibit is the largest religious bookstore in the history of the world.
You see the rock stars of religious study everywhere here -- scholar-celebrities who shape our experience of the past, culture and God. The conference also represents an extraordinary opportunity to ask questions to experts in the most obscure disciplines from the African-American Biblical Hermeneutics Section to the International Qur'anic Studies Association. Every night the academy screens multiple films connected to religion. This year among others the films included Noah, The New Black, G-Dog, Mental, The Eyes of Tammy Fae, Call Me Kuchu, Frisbee: The Life and Death of a Hippie Preacher.
Leaders in archaeology, history, philosophy, theology, sociology, political science, linguistics, comparative religions, etc. spoke about a dizzying variety of topics like "The Greek Translator's Portrayal of Aaron in Exodus 32 and Other Relevant Contexts," or "Linji Yixuan and Abhinavagupta on Noncultivation, or "Givenness" versus Cultivation."
Despite this diversity the focus chosen for the year concerns the problem of global climate change. One of the plenary sessions involved a presentation by representatives of the Intergovernmental Panel on Climate Change (IPCC). A paper in a different session took this group to task for relying too much on purely empirical data and for failing to adequately include perspectives from the non-industrialized world, especially indigenous peoples.
At one session the Public Religion Research Institute released the results of its national survey on what Americans think about climate change. They point out that in a democratic society the climate is a religious issue. They claim that only 27% of white evangelical Protestants believe that we are experiencing human-caused climate change. A separate plenary panel in a massive ballroom brought together experts who tried to understand why so many Christians fail to recognize that there is a scientific consensus on climate change or do not do not trust these findings.
Environmental activist Bill McKibben gave a talk about the status of climate change activism. The title of Laurie Zoloth's AAR presidential address on the environment was "Interrupting Your Life: An Ethics for the Coming Storm."
At a plenary address president Jimmy Carter spoke about the situation of women both globally and domestically. He deplored the practice of aborting female fetuses and the astonishing number of women sold into sexual bondage in our time. Carter discussed the failure of college campuses to adequately address violence against women and persistent inequality in wages and opportunity. Carter pointed out that in most cases the United Nations requirements that women participate in peace treaty negotiations are ignored. As part of the discussion that followed he also spoke about environmental legislation in the 1970's and the relation between the situation of women and climate change.
Of course there was so much more happening than the climate change conversation. Other powerful moments during the conference for me included a panel composed of Jewish, Christian and Muslim scholars who delivered papers on the role of the Messiah in their various traditions. In this case the Muslim scholar talked about the way post-Mongol invasion kings created a basis for their sovereignty in popular messianic ideas. The Christian described the Book of Revelation as wartime literature by people oppressed under Rome that was then too often employed in condemning other peoples. Finally, the Jewish paper also warned that people too readily claim divine favor for their policies, but that messianism can also function as a kind of recognition that human beings do not see the world from God's perspective.
My favorite paper this year came from theologian Marilyn McCord Adams in a panel on Tanya Luhrmann's book When God Talks Back. This book is a kind of embedded anthropological study of evangelical Christians. It points out that these Christians teach methods for creating a sense of intimacy with God. These include a practice for managing or forming one's own inner life, for instance, by imagining what God might say in a particular situation, by "making a date with God."
Adams points out that other forms of Christianity also believe that God is at the center of reality and that God is personal. God is the one "to whom all hearts are open and all desires known." Christians believe that all people are to varying degrees afflicted by what she calls a severe form of "perception disorder." This means that among other things we cannot read what John Calvin calls "The book of Nature." We do not see God who is nearer to us than we are to ourselves.
Adams concludes that churches need people who can overcome this perceptual blindness. They have to become communities that encourage growing in the knowledge of God and concrete practices to accomplish this. Her last words were, "Mainline churches cannot survive unless they reinvent themselves as schools."
The American Academy of Religion and the Society of Biblical Literature are a kind of school for the schools that these churches must some day become.
REAL LIFE. REAL NEWS. REAL VOICES.
Help us tell more of the stories that matter from voices that too often remain unheard.