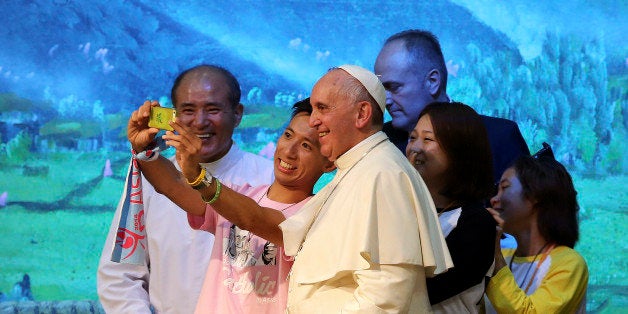 Americans use social media and the Internet for nearly everything, including their faith, and a newly released Pew Research Center report reveals just how many are sharing their religious beliefs online.
According to Pew's report, conducted May 30 to June 30 of this year, and 20 percent of U.S. adults reported sharing their religious faith on social networking websites or apps (such as Facebook and Twitter) in the past week. Twice as many respondents said they shared their faith in a real-life setting -- suggesting an inclination many still feel to express faith one-on-one versus over the web.
Greg Smith, the Associate Director of Research on the study, told HuffPost by email that the researchers did not define in the survey what "sharing" could entail, but said be believed it would be interpreted broadly, beyond evangelizing or proselytizing.
"It could include a wide range of interactions, such as offering a prayer or blessing, quoting from scripture or describing a religious experience, to mention only a few possibilities," Smith said.
White evangelicals were the most likely to report sharing their religious beliefs offline. Fifty-nine percent reported doing so, compared to 18 percent of people who are "unaffiliated" and 34 percent of white mainline Protestants.
Those who do turn to the Internet to share their faith are in good company with some of the most prominent American religious leaders. White evangelicals might look to Saddleback Church founder Rick Warren or President of the Southern Baptist Ethics and Religious Liberty Commission Russell Moore, whose Twitter accounts respectively boast 1.5 million and 52,000 followers. Tens of thousands of Americans also follow Christian and Catholic leaders such T.D. Jakes, Jim Wallis, Rachel Held Evans, and Fr. James Martin, to name a few.
Catholics, American and otherwise, need look no further than Pope Francis, whose 4.6 million Twitter followers are treated to a dose of spiritual wisdom almost daily.
With so much faith circling social media, 46 percent of respondents said that they had seen others share their faith online, a rate that remained fairly consistent along denominational lines. The religiously "unaffiliated" were most likely to report seeing faith shared online, at 50 percent, while just seven percent said they did their own faith-sharing on the web. White evangelicals and black Protestants were the most likely to report sharing their religious beliefs online, at 34 percent and 30 percent.
Younger adults were considerably more likely to witness faith-sharing on social media. Sixty-one percent of 18- to 29-year-olds reported seeing faith-sharing online compared to 22 percent of people 65 and older. The groups flipped when asked whether they watched religious television or listened to religious radio, likely as a result of differing technology habits among the generations.
Calling all HuffPost superfans!
Sign up for membership to become a founding member and help shape HuffPost's next chapter
BEFORE YOU GO
PHOTO GALLERY
Leading Christians on Twitter