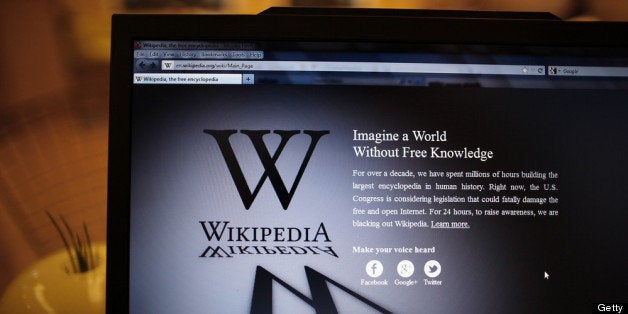 Rather than merely citing pages that changed a lot, they identified pages involved in "edit wars," that involved editors making changes that were almost instantly undone by another contributor. This proved the best method of finding controversial pages, as pages often updated could simply belong to a rapidly changing field or topic. However, pages with words and phrases constantly removed and reinserted indicated a passionate disagreement surrounding the issue at hand.
The most controversial pages across all ten editions of Wikipedia were:
Israel
Adolf Hitler
The Holocaust
God
Other controversial subjects were Jesus, the Prophet Muhammad, and Christianity.
Researcher Taha Yasseri of Oxford University weighed in on the religious debates via an email to The Huffington Post, commenting, "Most of the debates on religion related articles are about the historical facts and reliability of the references. There are less debates on concepts or ideologies and most of the edit wars are on the details of the historical events reported in the article and whether there are ways to proof them from multiple sources."
Wikipedia is an unexpected source of information on human behavior. In their paper, the researchers explained, "Our results indicate that Wikipedia is more than just an encyclopaedia; it is also a window into convergent and divergent social-spatial priorities, interests and preferences." Their findings will be published in a book by Scarecrow Press in 2014.
The passionate editing community is what makes Wikipedia one of the Internet's most popular sites. They are so active that "42% of damage (of misinformation) is repaired almost immediately," according to one study.
However, the nature of an open encyclopedia means that disagreements can turn into full-blown fights, as pages get changed back and forth. The Wikipedia community keeps their own humorous article called "Wikipedia:Lamest edit wars," which includes gems like the Arab-Israeli dispute over ownership of hummus, the Aussie-Kiwi fight over which one invented pavlova, and the real size of the Death Star.
The top ten most savagely contested articles in the English edition of Wikipedia were:
George W. Bush
Anarchism
Muhammad
LWWEe- List of World Wrestling Entertainment, Inc. employees
Global warming
Circumcision
United States
Jesus
Race and intelligence
Christianity
Not too many surprises there, given the controversial nature of the subjects. But World Wrestling Entertainment employees? Really?
Calling all HuffPost superfans!
Sign up for membership to become a founding member and help shape HuffPost's next chapter
BEFORE YOU GO
PHOTO GALLERY
Treasures of the Cambridge Digital Library