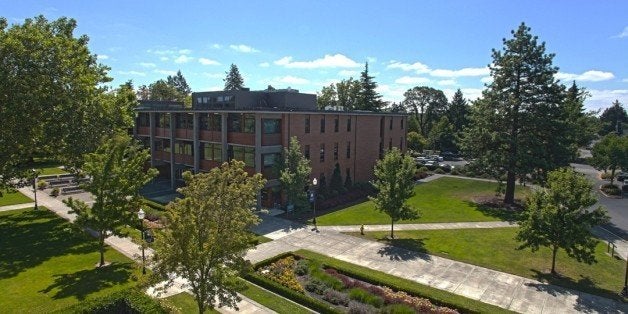 The U.S. Department of Education has granted exemptions to three Christian universities allowing the schools to deny accommodations for transgender students. One of the schools has also been given latitude to discriminate against unwed mothers.
The exemptions for George Fox University, Simpson University and Spring Arbor University come just weeks after the Education Department's assertion in April that the gender equity law Title IX bars schools that receive federal funds from discriminating against transgender and gender-nonconforming students. All colleges receiving any federal funding, including public student loans and Pell grants, are required to follow Title IX.
Education Department spokeswoman Denise Horn told The Huffington Post that the office "vigorously enforces" Title IX, including its prohibition against gender identity discrimination. However, she said, the handful of schools that have received exemptions did so because they're controlled by religious organizations.
"Title IX explicitly provides an exemption for schools controlled by religious organizations to the extent that the institution asserts that Title IX's application would not be consistent with the organization's religious tenets," Horn said. "Thus, the statute prohibits the Department's Office for Civil Rights from enforcing many of Title IX's provisions against the small subsection of schools that qualify for this exemption."
In May, George Fox University, an Oregon school owned by the Northwest Yearly Meeting of Friends, was granted an exemption to deny a trans student named Jaycen permission to house with his self-identified gender.
On Friday, the Education Department confirmed two other schools have received exemptions as well.
Simpson University, a private school in California owned by and affiliated with the Christian and Missionary Alliance, submitted its religious exemption request in October 2013. Spring Arbor University, a Michigan school affiliated with the Free Methodist Church, put in its request last month.
In a letter to the Department of Education, interim Simpson President Dr. Robin Dummer wrote that the school cannot "support or encourage" an individual who lives in "conflict with biblical principles," noting that students who violate campus standards for biblical living are subject to disciplinary measures, including expulsion. For example, Simpson would not permit a "female student presenting herself as a male" to use the restroom, locker room and living accommodations of her choice or to participate in men's athletic programs, Dummer wrote.
The Education Department granted Simpson's exemption on May 23, the same day it granted a similar allowance to George Fox. But Simpson's exemption was no blank check, the department said, emphasizing that its letter should not be construed as granting exemption from anything else not stated in correspondence between the school and the department.
George Fox, Simpson and Spring Arbor were each granted exemptions for rules of behavior, sanctions, access to facilities and athletics, as applied to trans students.
But Spring Arbor went further, with university President Dr. Brent Ellis requesting exemptions for admissions and employment based on sex, and for admissions based on marital and parental status. In a letter to the Department of Education, Ellis wrote that the university prohibits students and employees from engaging in premarital sex, extramarital sex, "homosexual activity" and cohabitation, and also prohibits students and employees from having abortions.
Spring Arbor wanted to be sure it had the religious freedom to punish a student for dating someone of the same gender, and that it would not have to grant time off for pregnant single mothers or make accommodations for students having an abortion.
OCR granted the Spring Arbor exemptions on June 27 "to the extent that [those situations] would require the university [to treat them] in a manner that is inconsistent with the religious tenets of its controlling organization."
Title IX scholar Kristine E. Newhall, who teaches in the Isenberg School of Management at the University of Massachusetts Amherst, said the Education Department hasn't been clear about what criteria a school must meet to show it's controlled by a religious organization.
"This is where we're worried about a slippery slope," Newhall told HuffPost. "So many private schools have religious traditions. Most schools founded before 1900 have some kind of religious tradition. But how does that affect a school like Fordham University, a Jesuit school that's not really controlled by the Jesuits?"
Newhall said she has no doubt the three schools granted exemptions this spring have strong religious traditions. But, she said, she's "a little bit concerned in this Hobby Lobby-era moment we seem to be in, the criteria seems to be a little bit lax."
George Fox spokesman Rob Felton confirmed to HuffPost Monday that the university is controlled by the Northwest Yearly Meeting of Friends. "They appoint their members to make up the majority of our board of trustees, which directs our policies," Felton said.
Representatives for Simpson University and Spring Arbor University did not respond to requests for comment.
On Friday, the Gay, Lesbian and Straight Education Network called on the Education Department for full clarification of the protections afforded transgender students under Title IX. The group suggested that Congress may need to narrow the part of the law that allows religious exemptions.
Related
Popular in the Community