A marijuana holy war is brewing in Colorado with advocates for and opponents against legalization gathering members of the faith community to speak out on either side of the issue.
The Associated Press reports that on Wednesday opponents of Amendment 64, a ballot measure that seeks to end marijuana prohibition in Colorado, planned to announce the message of faith leaders in their corner who stand in opposition to legalization of marijuana in the state. The AP's Kristen Wyatt tweeted about the pastors against pot from a Wednesday morning press conference:
It's wrong to get high. For in doing so you reject the counsel of the God who made you. And by intoxication you lose what should be a full control of your mental and moral faculties. You become a threat to yourself and a risk to those around you.
The question of marijuana legalization, often debated emotionally, turns on some fundamental biblical principles. Christians, or anyone really, must understand these moral concepts before being able to argue conclusively. God does not require society to put up with the risk of human beings who lose control of their faculties by being high, whether through alcohol or other drugs. Further, the Bible reveals that negligence has legal consequences.
But the Campaign to Regulate Marijuana Like Alcohol, the group behind Colorado's Amendment 64, found more than two dozen faith leaders and clergy members in Colorado who back Amendment 64, some of whom also see it as a moral issue, but not in the same way that Enyart and perhaps other pastors against legal weed might argue.
Rev. Bill Kirton of Denver's United Methodist church, cited morality as a reason for why he's for marijuana legalization, but for Kirton the immorality is not in the usage of the drug, rather it is in the way we treat people who are busted for marijuana. Kirton said in a statement:
How we punish people and what we punish them for are central moral questions. If a punishment policy fails to meet its objectives and causes harms to humans, I believe we have a moral obligation to support change. Our laws punishing marijuana use have caused more harm than good to our society and that is why I am supporting replacing marijuana prohibition with a system of strict regulation with sensible safeguards.

As we seek to teach compassion and love, it seems inconsistent to support, in cases of private personal adult marijuana possession, the use of police, guns, and courts. The faith community, parents, peers, and educators are the appropriate institutions in society to address this kind of personal behavior.
How marijuana laws affect affect the larger community was also the concern of the National Association for the Advancement of Colored People (NAACP) when the group came out in favor of Amendment 64 in August. The NAACP came out in support of the amendment not because the group necessarily favors marijuana use, but because members say current marijuana laws lead to a disproportionately high number of people of color being incarcerated or otherwise negatively affected.
"Marijuana prohibition policy does more harm to our communities than good," said Rosemary Harris Lytle in a statement, president of the NAACP-Colorado-Montana-Wyoming State Conference. "That is why we have endorsed Amendment 64 which presents a more effective and socially responsible approach to how Colorado addresses the adult use of marijuana."
The NAACP provided this data about marijuana arrests in Colorado:
African-Americans made up roughly 4% of the population in Colorado in 2010, but they accounted for about 9% of marijuana possession arrests and 22% of arrests for marijuana sales and cultivation. The numbers in Denver are particularly staggering. According to a report prepared by the Denver Police Department for the the city's Marijuana Policy Review Panel, African-Americans accounted for more than 31.5% percent of arrests for private adult marijuana possession, despite making up less than 11% of the city's population.
Rabbi Emeritus Steven Foster at Temple Emmanuel in Denver took a similar line of logic as Kirton, saying in a statement, "I am supporting Amendment 64 because, as clergy, we have the responsibility to talk about what policies serve our community best. You do not have to use marijuana -- or even approve of marijuana -- to see that our current laws are not working."
If marijuana is legalized in Colorado it would be taxed and regulated similar to alcohol and tobacco. It would give state and local governments the ability to control and tax the sale of small amounts of marijuana to adults age 21 and older. According to the Associated Press, analysts project that that tax revenue could generate somewhere between $5 million and $22 million a year in the state. An economist whose study was funded by a pro-pot group projects as much as a $60 million boost by 2017.
"As a member of the Latino and faith communities in Colorado, I feel obligated to speak out in support of Amendment 64," Daniel Garcia, outreach coordinator for the Campaign to Regulate Marijuana Like Alcohol, said in response to the faith leaders' support of A64. "Regulating marijuana like alcohol will strike a blow to the cartels and the violence that is currently afflicting our families and friends in Latin America. Law enforcement officials have estimate that illegal marijuana sales account for 65 to 70 percent of cartel profits, which subsidize their other criminal activities, including human trafficking, kidnapping, and extortion. Our law enforcement resources should be used to address serious crimes, not to foster them."
Related
Before You Go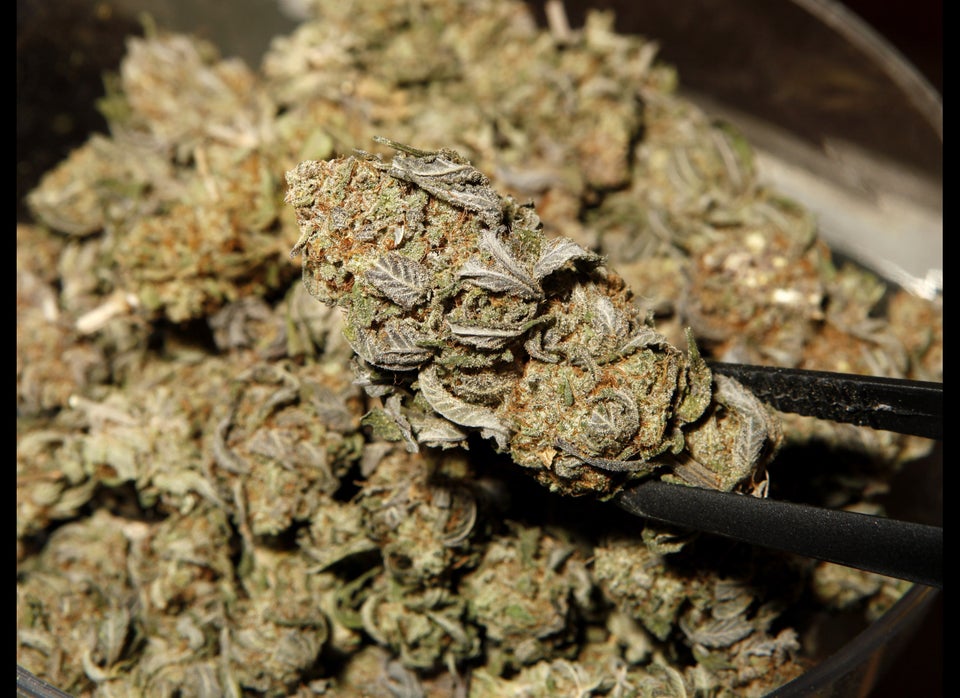 16 Facts About Marijuana And The U.S. Economy
Popular in the Community