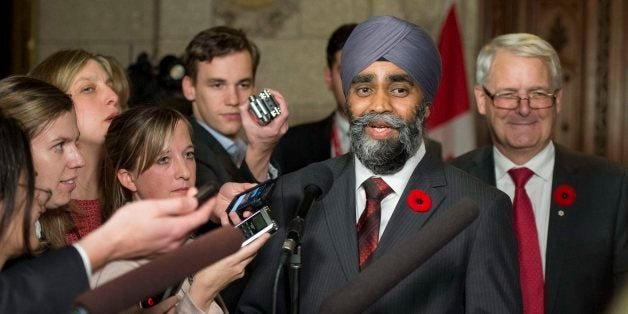 This week's annual Sikh Remembrance Day Ceremony in Canada was preceded just days earlier by the historic appointment of Lieutenant-Colonel Harjit Singh Sajjan, an Amritdhari Sikh and a highly decorated veteran, as the new Defense Minister of Canada. A few years ago, attending this ceremony, at the remembrance site of WWI hero Pvt. Buckam Singh, I had the opportunity to witness Sikh and non-Sikh soldiers and veterans who had gathered to honor the sacrifices made by a diverse body, for a diverse polity.

Meanwhile, the US Army is still making Sikhs choose between violating core religious tenets and serving in the forces. That's a false choice that no one should have to make. Our campaign in the US to allow Sikhs to serve with their articles of faith is gaining groundswell support. This week, a growing chorus of leaders demanded that the Department of Defense repeal its presumptive ban. On Veterans Day, 27 U.S. Generals signed a letter asking American Sikhs to serve in the U.S. military. And just last year, 105 Members of Congress, 15 U.S. Senators, and 21 national interfaith and civil rights organizations, signed letters supporting the right of Sikhs Americans to serve.

In 1981, the U.S. Department of Defense adopted a policy banning turbaned American Sikhs from serving in the U.S. military. The tenets of the Sikh faith demand that Sikhs refrain from cutting their hair and cover their hair with a turban. Sikh woman may or may not tie a turban. While there is a continuum of practice in our community, like any other, those Sikhs who adhere to the faith's tenets have been turned away by U.S. forces for too long. The Pentagon claims their religious articles violate safety requirements and thus jeopardize U.S. lives.
Yet, Sikhs have excelled in military service in forces throughout the world, including England and India, and have served alongside U.S. soldiers in Afghanistan and Iraq, as part of U.S. allied forces. And of course it goes without saying that Sikh articles of faith do not disrupt military service; Canadian Defense Minister Sajjan's service in Afghanistan, with his beard-friendly mask, is a case in point. Contrary to the Pentagon's claim, Sikh Americans are both willing and able to wear battle helmets, gas masks, and other field paraphernalia.

In recent years, several Sikh soldiers have received special accommodations to serve in the U.S. Army, completed combat tours, and received promotions and medals for distinguished service.

Take Kamaljeet Singh Kalsi. In January 2011, Major Kalsi deployed to Afghanistan where he personally treated over 750 combat casualties and local nationals who suffered from IED blasts, gunshot wounds, and other emergent conditions. He also successfully resuscitated back to life two patients who were clinically dead on arrival.

Brave Americans, like Major Kalsi, shouldn't need a religious "accommodation" to serve the nation they love. Not only do these requests take weeks or even months to resolve, but also their outcome is always uncertain. Forcing someone to make such a request is itself discriminatory.

The Sikh Coalition is pursuing this policy change because we oppose religious discrimination, by anyone, towards anyone. The army is the nation's largest employer. When the army reverses its current policy, it will provide Sikh men and women across the US significant precedent to pursue career paths in the military while practicing their faith fearlessly. The domino effect of this change will help combat discrimination in both the public and private sectors.

Our campaign is modeled after the efforts of African Americans to desegregate the military by race and color; the efforts of LGBTQ communities to repeal the "Don't Ask Don't Tell" policy; and the efforts of women to break through barriers and serve in combat roles. We're glad to continue this activism, and are joined in this movement by other communities that are also denied the right to serve, including observant Jews and Muslims, as well as the transgender community.

The Sikh Coalition's campaign isn't focused on U.S. foreign policy but rather combating religious discrimination. The broad array of complex issues that fall under the foreign policy umbrella should always be open for critical examination and debate. We believe that every individual should have the right to pursue their own career path and we seek to eliminate any unjust barriers.

No American should have to choose between exercising their faith and service. The U.S. military must embrace the diversity of the people it seeks to serve and protect. It is 2015 after-all.
Related
Popular in the Community