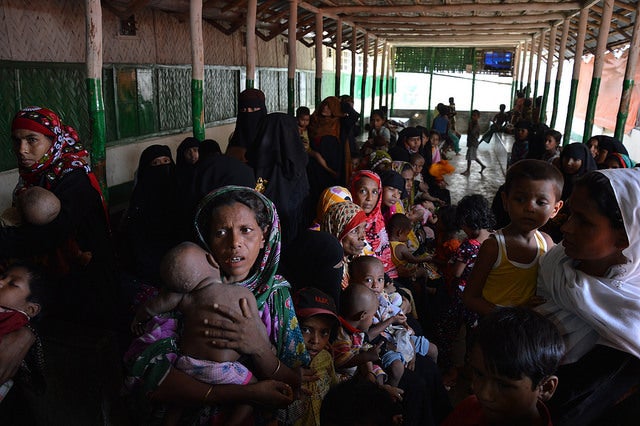 Before our eyes, over a half million people have fled from Myanmar to Bangladesh (and some other countries in the region) in a matter of weeks. Media articles warn that the material contains troubling reports and images (a baby thrown into a fire, villages torched, people desperately ill). There's anguish as the terms genocide and ethnic cleansing are invoked. Two loaded questions arise: How far are the causes of the hatred, fear, anger, and venom that are described as the driving forces at work linked to religious teachings and leadership? And can appeals to religious beliefs and institutions and to the peacebuilding mission of so many religious traditions help towards a solution?
The Rohingya who flee are Muslims, and most of those who share the Rakhine state (where tensions are concentrated) and Myanmar overall, and who make up most in Myanmar's military, are Buddhists. Muslim/Buddhist tensions are not a strong traditional thread in the region, though they are not entirely absent in its history. Bitter conflicts among different religious communities scar the broader region, for example in Indonesia, but "religious" conflicts always appear to be linked to struggles for political power or economic advantage. As it is in virtually any case, sorting out the religious dimension is difficult: it's always complicated.
In the Rohingya situation there are important and plausible arguments that the deep roots of problems owe much to the fabled political, economic, and social factors, magnified by long historic resentments. But in this case the religious elements are front and center. And the divides within Myanmar could ignite smoldering fault lines beyond Myanmar's borders, within the ASEAN region and far beyond.
The crisis is aggravated by complexities around identities and citizenship, reflected in tensions around use of the name Rohingya: the Myanmar government and many Burmans will not use the term as they do not view this ethnic/religious community as citizens, part of the nation as they conceive it. Thus the people are termed Rakhine Muslims (highlighting the religious identity) or Bengalis (suggesting that they are temporary migrants from what is now Bangladesh, despite the pretty incontestable fact that many have lived in the territory for centuries). The status of those who have fled to Bangladesh is also problematic: only a small number who left Myanmar over a 20-year period have formal refugee status, and only a tiny number have been allowed to become accepted Bangladesh residents or citizens. Most Rohingya live in a state of limbo, one of the world's largest "officially" stateless populations. This is true even though the great majority of Bangladeshis are also Muslims.
Long-standing efforts to address religious tensions in Myanmar, locally led and with regional and international support, have pursued many different avenues, and they have involved global institutions like Religions for Peace, the U.S. Institute of Peace, KAICIID (King Abdullah bin Abdulaziz International Centre for Interreligious and Intercultural Dialogue), the OIC (Organization of Islamic Cooperation), the Catholic Church, the Metta Karuna Center, the Network of Religious and Traditional Peacemakers, and the Institute for Global Engagement. However vital the effort to promote interfaith understanding and tolerance, the current crisis demands political action that takes the religious and other dimensions well into account.
Current attention centers on efforts to end the violence and the exodus, to hold those responsible to account, and to address the massive humanitarian needs of what is suddenly one of the world's largest refugee crises. Former UN Secretary General Kofi Annan led a commission that reported earlier this year with many sensible recommendations, and there are calls to act upon them. However, in the current atmosphere of crisis, it is unclear whether any or many of these recommendations are still valid and actionable. More than half the Rohingya who lived in Rakhine state are no longer there, and reports suggest that the exodus continues. The bitterness and violence of their exodus suggests that promises of welcome to their homes may be empty.
The immediate focus is properly on caring for the refugees, and many humanitarian organizations, Bangladeshi and international, are mobilizing to help. The Bangladeshi government and the relevant United Nations agencies, especially, bear an enormous responsibility to meet urgent needs of the refugees. This demands new funding and a massive humanitarian response. A pledging conference in Geneva on October 23 focused on these needs, as do many other efforts underway to direct attention to the crisis and mobilize the response. Many of the actors involved are inspired by religious beliefs and roots, but the core appeal is a shared call to compassion.
Vigorous debates about responsibility and accountability center especially on Myanmar's Aung Sang Suu Kyi and on Myanmar's military who are deeply involved in Rakhine state. These will persist for many years to come, together with anguished questions about what more might have been done to avert the crisis.
Sadly, a highly likely scenario is a protracted, painful humanitarian emergency. Return of refugees to their homes is an ideal, desirable and just, but frankly difficult to imagine given the fresh scenes of turmoil. There is a desperate need for fresh thinking and action.
Pope Francis is preparing to visit Myanmar and Bangladesh in just over a month. He will meet wise leaders from different religious traditions and many officials, as well, surely, as refugees. If anyone can bridge divides surely he can. And as a deeply respected outsider, he offers the possibility of stimulating the kinds of fresh thinking that are so urgently needed. Perhaps his remarkable gifts of faith and his courage can, at this critical moment, galvanize the leaders involved, government and religious, to look for meaningful solutions that offer the people the rights, dignity, and hope that they deserve.
Related
Popular in the Community