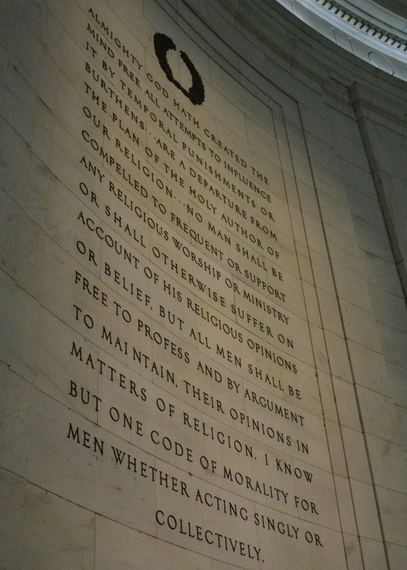 The President has proclaimed January 16th as Religious Freedom Day this year. While reflecting on this, I am drawn back to my Baptist roots - not the more recent vintage that constantly tries to undermine religious freedom by bending all others to their own brand of conservative Christianity (example), but the ones who have championed religious freedom when others accepted the state church as the norm (example).
In my theological and ethical studies over my five years of graduate work, I have become acutely aware of the constant need for people of faith to take seriously both the call to be politically engaged and to employ an intentional conscientiousness regarding religious liberty when they do so.
As a now part-time immigration paralegal at a major law firm in the Southeast, I have spent the last 8.5 years professionally working with persons from all over the world. Their contributions to our economy, culture, and faith are myriad and meaningful. In my studies in seminary and beyond, I employed my legal knowledge to the work of fusing faith and political action through the ethical study of undocumented immigration. Faith cannot be held in a vacuum; it must be acted out in the way Christians take time to understand a legal concept (with the help of those in the profession) and how they vote, advocate, and volunteer.
I studied many different theological traditions in graduate school, but most profound to me was the study of liberation and feminist theologies, especially the field feminist ethics. While my initial work in ethics at focused on Biblical research and character ethics, my second master's thesis took a decided turn toward the marginalized. For me, understanding those upon whom society builds itself and against whom the majority often pits itself, I began to understand the importance of religious liberty in ways I formerly had not. For one, our theology of hospitality undergirds our posture toward those from whom we gain very little - whom do we welcome? How do we better see our own privileges and then give voice to those who have none?
One of the distinct ways Christians can do these is to utilize the long-held Baptist tradition of religious liberty in a way that protects minority groups. For example, when a faith minority is bombarded with conservative Christian ideals and forced to abandon their own traditions, society as a whole is diminished. Christians are no longer pointing toward an inclusive and open kingdom, and other faith traditions begin to resent Christians and their doctrines instead of cooperating or converting - evangelism becomes impossible when faith is forced. In this scenario, faith becomes stained with politics and politics becomes infused with one faith's ideals to the detriment of that faith and all others.
In order to protect the judiciousness of political work and protect faith from being influenced unduly by the secular political motivations that so often are the very antithesis of Christian ideals, both must be kept at arms' length from one another, in a careful tension bridging the work of fairness and impartiality with the importance of keeping one's contentious witness intact in the public sphere.
Now, with my Virginia Statute of Religious Freedom poster hung on my church office wall, on the first National Religious Freedom Day, my interaction with a congregation of thoughtful Christians in a commonwealth of such history ignites my hope that ongoing good work of religious will continue to thrive in this nation.
My hope for the future of Christians involved in U.S. politics is that we are continually more thoughtful, and not less; that we provide hope to nation and not more fear-based politicizing of every issue; and that we champion the rights of others, including religious minorities - for, we were once the minorities, both Israel and early Christians, and we are called to protect "the least of these," up to and including religious and ethnic minorities. Just as Jesus blessed the Samaritan woman at the well and just as Jesus called upon "good Jews" to be as the Compassionate Samaritan in his parable, so too are we called to keep those with whom we may disagree religiously safe, understood, and cared for. Without protecting their religious freedom, we can do none of these.
Related
Popular in the Community