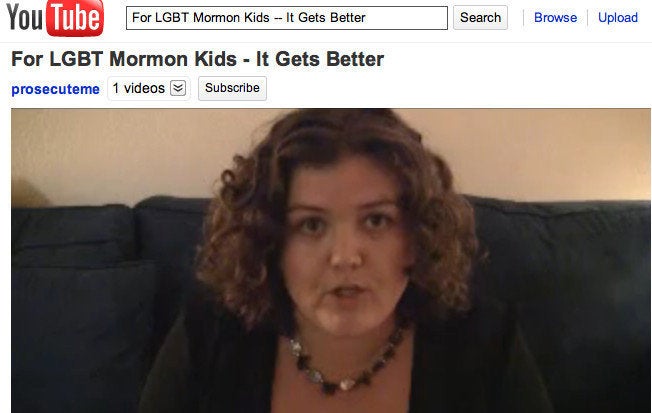 By Nicole Neroulias
Religion News Service
(RNS) A Muslim college student from Connecticut, an ex-Mormon attorney in the Bay Area and a Catholic writer in upstate New York have joined a chorus of testimonials on YouTube aimed at preventing teen suicides.

Even if your faith and family believe that gay people are an abomination, even if they think you're going to hell, the videos plead, hang in there: It gets better.

Advice columnist Dan Savage launched the "It Gets Better Project" by uploading a video with his husband, Terry Miller, in response to the recent deaths of Tyler Clementi, 18; Billy Lucas, 15; Asher Brown, 13; and Seth Walsh, 13.

In its first month, the YouTube channel has amassed more than 800 videos, viewed more than a million times, submitted by a range of gay, straight, celebrity and anonymous participants.

Openly gay Episcopal Bishop V. Gene Robinson of New Hampshire uploaded his own video, reaching out specifically to Catholic, Mormon and evangelical youths, saying their churches are "flat out wrong" on the question of homosexuality.

"God loves you the way you are and God doesn't want you to change. God doesn't want you to be cured or healed, because there's nothing to be healed from," he says in the video. "You're the way you are, the way God made you and the way God loves you."

In "Gay Catholic Author Says It Gets Better," Gregory Gerard describes how he grew from a suicidal 23-year-old to "a gay guy in my 40s who has a husband and a house and a dog and we had a union ceremony that my whole family came to."

Raised in a Mormon household in Utah, Natalie Sperry, 34, describes her anguish when her mother forced her to move out after discovering diary entries about her high school girlfriend.

Now an attorney in California and resigned from church membership rolls, she hopes her video, "For LGBT Mormon Kids -- It Gets Better," will comfort youths torn between their faith and feelings -- "emotional extortion," she calls it -- and the bullying some struggle to survive.

"The Mormon religion directly and explicitly caused my family and friends to believe that all homosexual behavior was a problem that needed to be fixed, like drug addiction," she explained in an interview.
"I felt that, if what they were saying was true, I would be incapable of experiencing a full and happy life. On the other hand, if what they were saying was false, my entire religious upbringing had been all for naught."
Sometimes, it gets better within months, rather than years. Speaking from his dorm room at New York University, Ibad Shah, 19, a lone Muslim contributor in the project's early weeks, described his ultimate, unexpected relief after coming out to his Pakistani father who had once threatened to "walk out" if any of his children turned out to be gay.

His "It Gets Better -- Muslim gay teen" video, which includes a liberal interpretation of Islamic and Judeo-Christian texts, has gotten mostly positive feedback -- even from some traditional Muslims.

"Religious pressure makes up so much of the doubt and confusion and aggravation for a lot of young gay kids trying to come to terms with their sexualities," Shah said in an interview. "But even though (some Muslims) don't necessarily approve of my lifestyle, it's not their business how I live."

While changing social mores and the Internet make it easier to reach out to gay youths today, Gerard fears the increased awareness may actually prompt more homophobic rhetoric in conservative Christian circles.

"When I was a little kid, being gay wasn't talked about at all -- just that it was wrong and sinful," he explained. "Now there are kids taking same-sex partners to prom and all that, which is good, but the floodlight on this subject brings a backlash ... I hate to say this, but I think it's gotten a little worse."

The "It Gets Better Project" has amassed such a wide range of testimonials from different religious perspectives that it's likely there's at least one video that counters the particular anti-gay messages youths have heard at home or in their houses of worship.

"To have so many people who are spiritual saying positive things about being gay moves me to tears," Gerard said.

REAL LIFE. REAL NEWS. REAL VOICES.
Help us tell more of the stories that matter from voices that too often remain unheard.