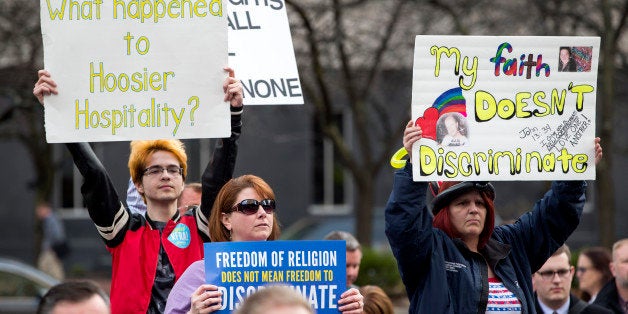 A battle is raging in Indiana and around the country, with faith groups accusing the state's leaders of misrepresenting what "religious freedom" really means.
The Islamic Society of North America released a statement Wednesday expressing concern that the law could open the door to discrimination against Muslims.
"If a corporation refused to hire a person because they were a Muslim and their religious beliefs did not permit them to hire Muslims," the statement reads, "then the prospective employee could not succeed in a lawsuit alleging discrimination against the corporation, because the law is a defense to liability. Similarly, the state government could not levy fines or other punishments against a corporation for discrimination."
ISNA President Azhar Azeez also urged Pence and the Indiana legislature "to either repeal this law or add sufficient anti-discrimination protections to insure no one's rights are undermined in the name of religious freedom."
Pence said on Tuesday that he supports amending the RFRA with new language to clarify that the law does not allow businesses to deny services to anyone. He has stopped short, however, of calling for a state law that would explicitly ban discrimination on the basis of sexual orientation.
The Disciples of Christ, a mainline Protestant denomination that has long made Indiana its headquarters, is seeking a new location for its 2017 General Assembly in protest of the law.
"Religious freedom is also one of the cherished tenets of our Disciples tradition," the group said in a letter to followers posted on its website Tuesday. "The freedom of one goes too far, however, when that one's freedom threatens to exclude or inhibits the freedoms of others."
Many of the law's opponents believe it will negatively affect the LGBT community, which has faced discrimination in the past based on employers' and business owners' stated religious beliefs. In one recent case, an Oregon bakery went to court in March for refusing to bake a wedding cake for a same-sex couple.
The bakers in that case could face a fine of up to $150,000, according to KATU News. But in Indiana, the new law would make such a court case virtually null.
The Sikh Coalition spoke out against this aspect of the RFRA on Wednesday, although it argued that fundamental protections for religious freedom should remain intact.
"RFRA is a lifeline for religious minorities, especially Sikh Americans," Rajdeep Singh, senior director of law and policy for the Sikh Coalition, said in a statement. "Whether it's Indiana or Arkansas -- it is wrong to discriminate against people based on what they believe, but we also cannot allow RFRA to be used to discriminate against people because of who they love."
In a press release sent to The Huffington Post on Tuesday, the Central Conference of American Rabbis argued that the bill had been "motivated by animus against LGBT Americans." The CCAR, which appointed its first openly gay president in March, drew upon Jewish history to make a statement of solidarity with all people targeted by "state-sanctioned" discrimination.
"We further call upon Gov. Pence to declare that Indiana will not tolerate discrimination based on sexual orientation or perceived orientation, gender identity or expression or perceived gender identity or expression," the statement said.
Right in Pence's backyard, Bishop Catherine Waynick of the Diocese of Indianapolis called the RFRA "an embarrassment to 'Hoosier Hospitality'" in a March 26 letter to the clergy. Holy Week and Easter offer an opportunity for Christians to "become faithful advocates for justice," Waynick wrote, and to reflect on the "indiscriminate love of God."
In a statement to HuffPost Tuesday, Rachel Laser, deputy director of the Religious Action Center of Reform Judaism, said that the matter at stake is bigger than Indiana and bigger than just one marginalized community. Laser said the RFRA offers an opportunity for minority groups and all people of conscience to stand together to protect "fundamental" freedoms.
"Our nation's dedication to religious freedom has allowed religious minorities, including Jews, to flourish across America," Laser said. "This history inspires us to speak out -- not only to ensure that individuals and religious communities can freely practice and observe their faith -- but also to fight discrimination against other minorities."
"We can protect fundamental religious freedoms while ensuring that the LGBT community, as well as other communities in need of protections, are treated with dignity and respect in all aspects of public life," she went on.
Has your religious community taken a stand against the RFRA? Tell us about it in the comments section below or on Twitter at @HuffPostRelig.
Before You Go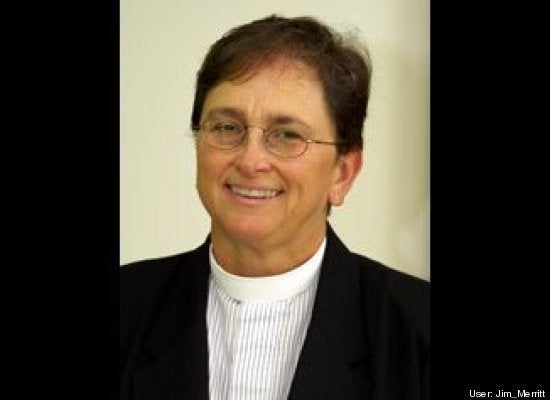 Most Inspiring LGBT Religious Leaders
Popular in the Community