 With heated nation-wide arguments in recent years over issues ranging from same-sex marriage to abortion rights, it's no secret that religious organizations play a significant role in influencing the nation's policies.
Now, a new study shows just how big and expansive the "religious lobby" has become.
According to a study released Monday by the Pew Research Center's Forum on Religion & Public Life, religious lobbying and religion-related advocacy organizations have grown fivefold, from less than 40 in 1970 to more than 200 today. The organizations, which range from the influential United States Conference of Catholic Bishops to smaller Hindu and Sikh organizations, together spend $390 million per year advocating on about 300 domestic and international issues, from bioethics and moral issues to economic and poverty concerns.
Lobbying for the Faithful: Religious Advocacy Groups in Washington, D.C. looked at 212 religion-related organizations that work in the nation's capital and collectively employ 1,000 people in the Washington, D.C. area. The study used tax and nonprofit filings by the organizations, some of which are registered as lobbying groups and others which do broader advocacy efforts, to come to its findings.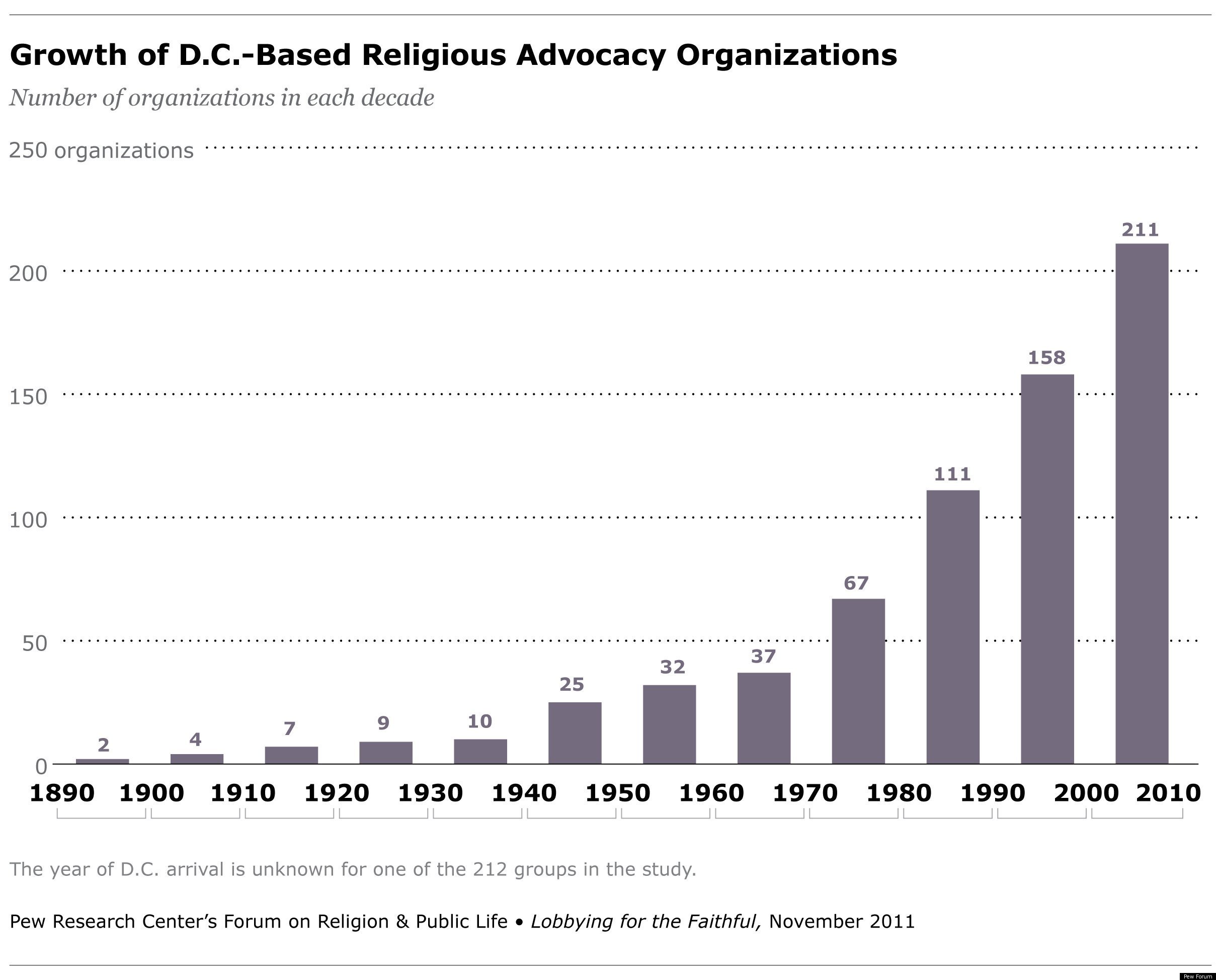 The biggest spender among the groups was the American Israel Public Affairs Committee, which spent just under $88 million through its D.C.-based Office of Government and International Affairs in 2008, the most recent year for which data was available. The organization, which calls itself "'America's pro-Israel lobby," also goes by AIPAC.
The second biggest spender was the U.S. Conference of Catholic Bishops, which spent under $27 million in 2009 on "policy activity expenses." The national body of Catholic leaders has been active in coming out against same-sex marriage and for laws that restrict abortion rights. The number also includes spending on national media and communications efforts. The bishops' conference, which in total spent $143 million in 2009, also does significant work on poverty reduction and disaster relief.
The Family Research Council came in third, with just over $14 million spent in 2009. The Christian group focuses on three main issues: promoting traditional marriage and heterosexuality, advocating against abortion and embryonic stem-cell research; and the promotion of religion in public life, such as school prayer and religious displays on public land.
The group with the most dramatic increase in spending? The National Organization for Marriage. Founded in 2007 to promote traditional marriage, the group moved to Washington in 2009 to up its efforts as same-sex marriage and civil unions became legalized in more states. Its budget that year was $8.6 million, up about $3.3 million from the previous year.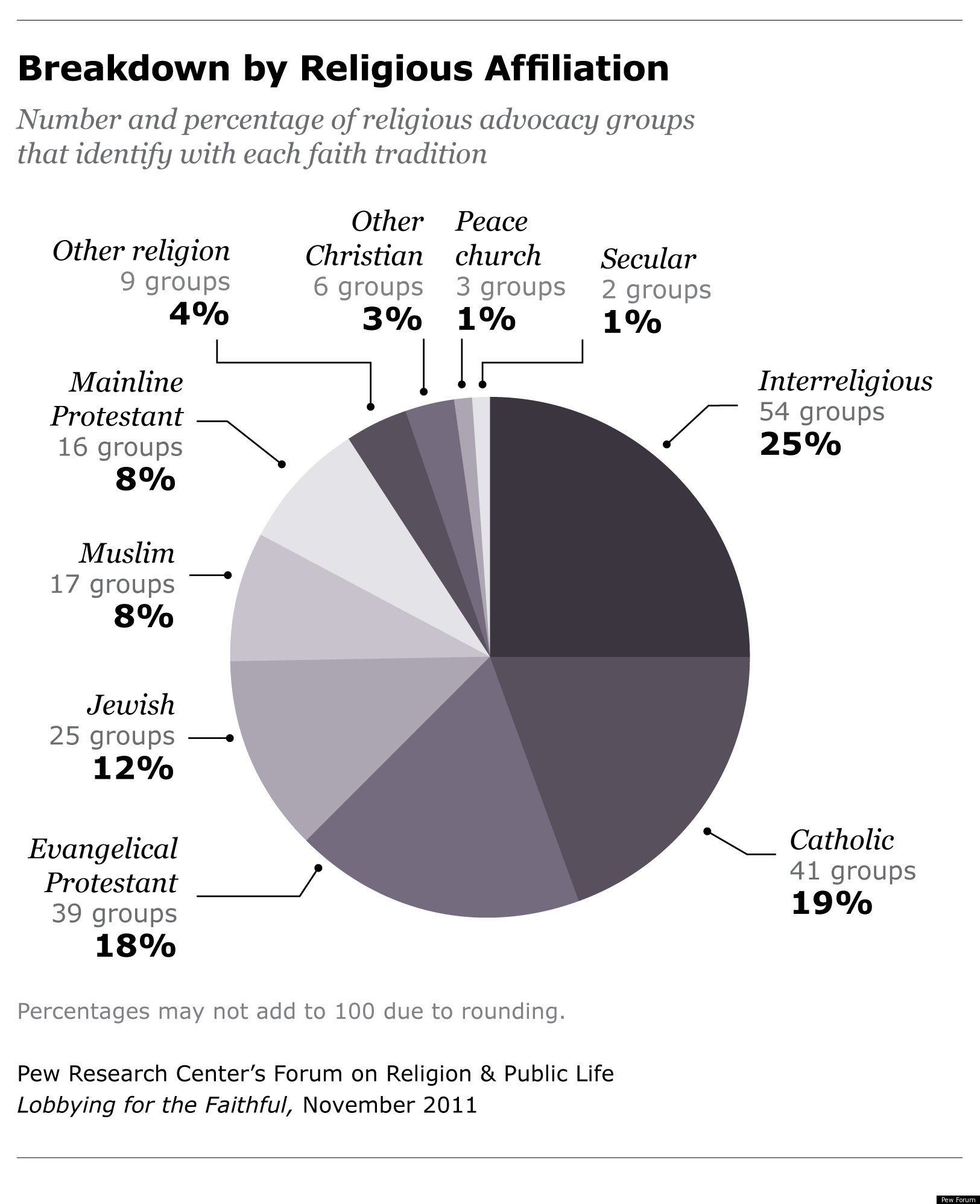 Here are more details from the report, pulled from a Pew Forum press release.
About one-in-five religious advocacy organizations in Washington have a Roman Catholic perspective (19 percent) and a similar proportion is evangelical Protestant in outlook (18 percent), while 12 percent are Jewish and 8 percent are mainline Protestant. But many smaller U.S. religious groups, including Baha'is, Buddhists, Hindus, Muslims and Sikhs, also have established advocacy organizations in the Washington area. In fact, the number of Muslim groups (17) is about the same as the number of mainline Protestant groups (16). And the largest category today is interreligious: One-quarter of the groups studied (54) either represent multiple faiths or advocate on religious issues without representing a specific religion.

The median annual advocacy expenditures by the 131 groups for which recent (2008 or 2009) financial data were available was nearly 1 million. More than one-third of the groups (46 groups, or 35 percent) reported annual advocacy expenditures between 1 million and 5 million per year, while about one-in-ten (18 groups, or 14 percent) reported spending more than 5 million a year.

The recession in the U.S. economy from late 2007 to mid-2009 seems to have taken a toll on the budgets of many religion-related advocacy organizations. Of the 104 groups for which data on expenditures in both 2008 and 2009 were available, 56 reported that their advocacy spending was lower in 2009 than it had been in 2008. The average decline for the 56 groups was about 500,000. In the same period, 48 groups reported that their advocacy spending rose, with the average increase being about 300,000. Overall among the 104 groups, there was a net drop of about 14 million in total advocacy expenditures during this period.

The issue agendas of religious advocacy groups touch on a wide array of domestic and foreign policy concerns. On the domestic front, the most commonly addressed issues are the relationship between church and state, the defense of civil rights and liberties for religious and other minorities, bioethics and life issues (such as abortion, capital punishment and end-of-life issues) and family/marriage issues (such as the definition of marriage, domestic violence and fatherhood initiatives).

Internationally, the most commonly addressed concerns are human rights, debt relief and other economic issues, and the promotion of peace and democracy. About one-in-five groups (21 percent) deal with religious freedom in particular countries or worldwide.

More than eight-in-ten of the groups say they use targeted or mass emails to mobilize constituents. More than six-in-ten were using social networking tools such as Facebook and Twitter in 2009.

More than three-quarters (79 percent) of the groups for which staffing data were available employ 12 or fewer people in the Washington area. More than half (55 percent) have five or fewer employees.
The Top Spending Religious Advocacy Groups:
Before You Go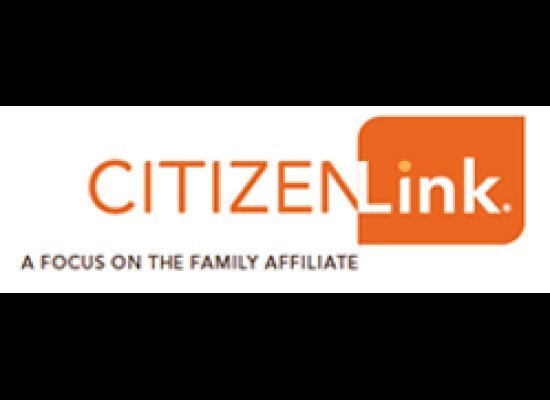 The Top-Spending Religious Advocacy Groups
Popular in the Community