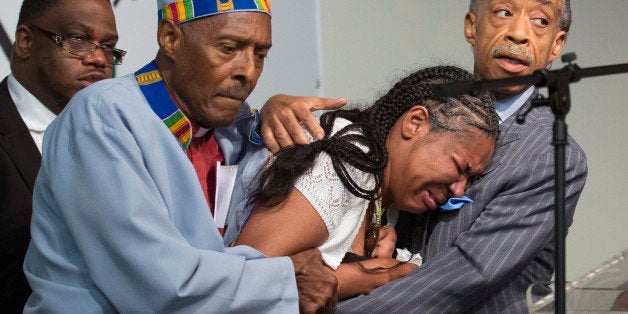 A grand jury decided on Wednesday not to indict New York City police officer Daniel Pantaleo for the death of Eric Garner.
Less a month before Michael Brown was shot and killed in Ferguson, Garner died in a chokehold by Pantaleo during an arrest for selling untaxed cigarettes in Staten Island. His death became a national story when footage of the arrest surfaced, showing Pantaleo's aggressive treatment of Garner during which the father of six screamed "I can't breathe!"
Religious leaders and activists spoke out against the grand jury's decision on Twitter and in interviews with The Huffington Post, responding to what many feel to be a betrayal of justice.
"The message that we want to get out to the community is that we don't want the general public to react in a way that causes righteous indignation to be reduced to senseless violence. Violence won't do anything to bring Eric back nor will it aid the family's quest for justice . . .

The grand jury was within their purview to come up with the decision they thought was proper and they've done that. It's very important for people to understand that the family still has options."

--Bishop Victor A. Brown, Senior Pastor of Mt. Sinai United Christian Church in Staten Island, where Mayor De Blasio is scheduled to host a press conference later today.
"For me, this is a very religious thing. I don't believe you can love your neighbor as yourself and then kill them. Police officers have to learn to love their neighbors as themselves. If we continue a situation where cops are allowed to continuously resort to lethal force, the cycle of violence will continue and death will continue to beget death. I think people of faith need to demonstrate. We have a fundamental responsibility to be in the streets, to be creating coalitions, to be building change.

I keep thinking about Eric Garner saying, 'I can't breathe.- It made me think -- that's what Jesus is saying in this culture. Jesus is fundamentally connected to the marginalized and right now Jesus is saying, 'I can't breathe.' I think the church should be saying the same thing -- that we can't breathe in this culture and we have to change this culture in order for us to have breath and exist in this society."

-- Rev. Jeff Hood
"I am so devastated and shocked that I am about speechless . . It is as though there is an epidemic of violence against black people and it is so pointed that we have to pay attention. We have to ask ourselves what's underneath this. There is a fault line of race that is cracking wide open in America.

Separation and segregation breeds racism. Being in a community together breeds understanding and compassion. We need more communities where people are together. We need to have candid conversations with law enforcement and elected officials and citizens to talk about how to create a more peaceful and just society. And we have to teach our children by example how not to fight violence with violence . . . Bodies standing for justice will make justice happen."

-- Rev. Jacqui Lewis, Middle Church
The impunity with which police officers can kill some of the most vulnerable members of our society is terrifying. Today we are reminded of the brutal force we are up against. The collusion of police and capitalist structures have prevented meaningful criminal justice reform from happening. Now is the time to build a sturdy and empowering infrastructure for a social movement representing people of all faiths, nationalities, and ethnicities. The degradation and demeaning of black life must stop. What the hell kind of country do we live in?

-- Rev. Dr. Serene Jones, President of Union Theological Seminary in the City of New York
— T. Thorn Coyle (@ThornCoyle)
Calling all HuffPost superfans!
Sign up for membership to become a founding member and help shape HuffPost's next chapter
BEFORE YOU GO
PHOTO GALLERY
Eric Garner Chokehold Case