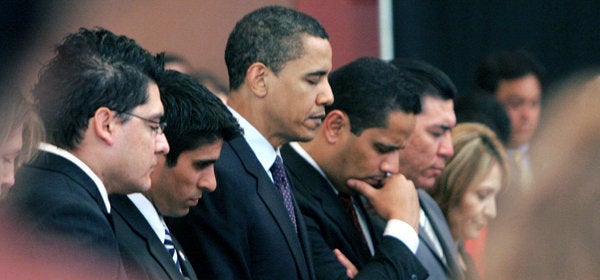 "With clients like Focus on the Family, Franklin Graham, and Campus Crusade for Christ, Mark DeMoss may be the most prominent public relations executive in the evangelical world. A former chief of staff to Jerry Falwell, DeMoss became then-presidential candidate Mitt Romney's chief liaison to evangelical leaders."
In a new interview with Dan Gilgoff for BeliefNet's God-o-Meter, DeMoss explains the lack of religious enthusiasm for McCain and predicts a potential major shift to Obama.
How is John McCain doing among evangelicals, a crucial Republican constituency?

The evangelical world or the conservative religious world is not his natural habitat, so he doesn't strike me as being all that comfortable with it. I think that's evidenced by the strong comments made in 2000 about Falwell and Robertson. ...

You represent some of the nation's most powerful evangelicals. What do those leaders say about McCain?

This is one guy's perspective, but I am surprised by how little I've seen or read in conservative circles about McCain since February. I don't think I've gotten one email or letter or phone call from anybody in America in the last four months saying anything about this election or urging that we unite behind John McCain and put aside whatever differences we have. Back in the fall and winter, you'd get several things a day from conservatives saying, "The future of the Supreme Court is at stake. We have to stop Hillary Clinton. Get behind so and so--or don't' go with this guy." It's just very quiet. It could meant there's a real sense of apathy or it could mean they're' waiting for the general election to begin. But it's a surprise, given the way email networks work now.

Barack Obama is trying hard to win evangelical voters. Does that effort stand a chance?

If one third of white evangelicals voted for Bill Clinton the second time, at the height of Monica Lewinsky mess--that's a statistic I didn't believe at first but I double and triple checked it--I would not be surprised if that many or more voted for Barack Obama in this election. You're seeing some movement among evangelicals as the term [evangelical] has become more pejorative. There's a reaction among some evangelicals to swing out to the left in an effort to prove that evangelicals are really not that right wing. There's some concern that maybe Republicans haven't done that well. And there's this fascination with Barack Obama. So I will not be surprised if he gets one third of the evangelical vote. I wouldn't be surprised if it was 40-percent.
Calling all HuffPost superfans!
Sign up for membership to become a founding member and help shape HuffPost's next chapter