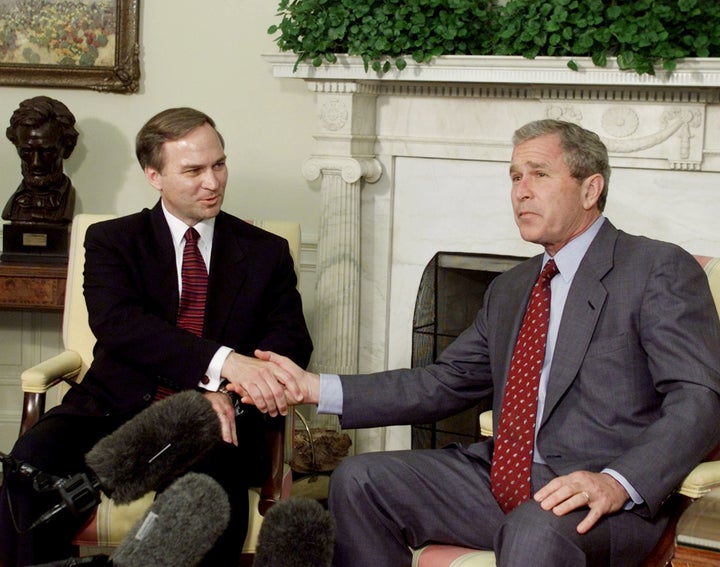 But just this week, its founder and chairman, Rep. Randy Forbes, lost his re-election bid in Virginia, alarming many social conservatives who looked to Forbes as the chief congressional proselytizer. And this electoral upset isn't the only blow to the religious right and its favorite caucus.
Following the far right's loss of their lead prayer promoter is the likely election of an open humanist to Congress, Jamie Raskin. And it's worth noting the growing prominence of representatives like Jim Himes, Mike Honda, and Don Beyer who haven't hesitated to work with the humanist community on legislative priorities. Earlier this week, Himes even took the extraordinary step of calling moments of silence in the House "an abomination," as he emphasized the need for real action in response to the Orlando mass shooting.
All of this suggests a decrease in political clout of biblical literalists, both within Congress and the White House. Still, it's important to recognize that this trend isn't necessarily a one-way street, and that our political system could see backlashes of religiosity. That's especially true given the millions of dollars poured annually into religious conservative issues that will thwart some progress. Eventual changes in administrations and the rise of new foes who champion backward ideas can also be expected. But such regressions won't hold sway for long with the growing number of Americans who oppose religiously motivated legislation, as well as the declining number of Americans who associate with a religious belief.   
All of these changes have left many in the nontheistic movement with a brighter vision of their political future in which reason-based public policy could overcome promotions of personal faith in the halls of power. The practical impact of such a future would likely be greater inclusion of historically marginalized groups in the political process, such as the LGBTQ and nontheistic communities—both of which must combat religiously endorsed political prejudice on a regular basis—and a departure from bills that seek to strip entire groups of their rights for religious reasons. Above all else, seeing the religious right lose its grip on politics would likely result in a political and social atmosphere that evaluates issues and people on their merits, instead of upon what the Bible—or any "holy" book—teaches.
Calling all HuffPost superfans!
Sign up for membership to become a founding member and help shape HuffPost's next chapter