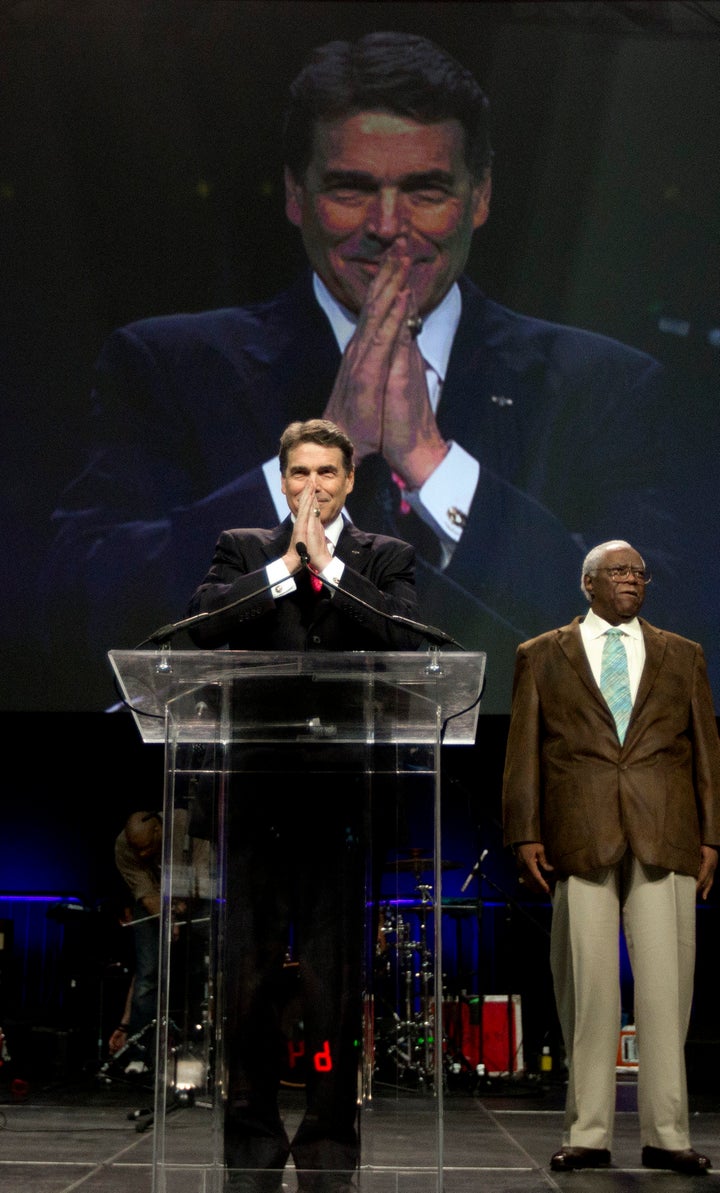 WASHINGTON -- Texas Gov. Rick Perry is expected to rally Christian conservative leaders in Texas this weekend to discuss strategies for his bid for the Republican presidential nomination. The event will be hosted by Dr. James Leininger, a millionaire Christian right figure who was once the biggest political donor in Texas and an early and crucial benefactor to Perry's political career.
Leininger is not widely known outside of Texas, but inside the state he is seen as a pioneer of political donations to conservative politicians and causes. The conservative activist made his millions selling hospital beds, and since the 1980s he has pushed a mix of religious right fervor and pro-business activism, which is now reflected in the politics of all major Texas Republican figures, particularly Perry. Since 1989, Leininger, who is worth more than $300 million, and his wife have donated at least $6.9 million to political parties, political action committees and state and federal candidates, according to data obtained by TransparencyData.com, a site run by the Sunlight Foundation, a nonprofit that aims to increase government transparency. He has also created a host of nonprofits, most prominently the Texas Public Policy Foundation (TPPF), to advance his conservative political agenda.
"James Leininger has been the sugar daddy of the far right in Texas," said Kathy Miller, the president of the Texas Freedom Network, a nonprofit supporting religious freedom and individual liberties in Texas. "He is probably one of the biggest donors to the Republican Party of Texas' move to far-right extremism."
Leininger has been particularly helpful to Perry over the years. In 1998, Perry was in a close contest for Texas lieutenant governor with Democrat John Sharp. In the waning weeks of the campaign, Perry and Sharp were neck-and-neck, and Perry was running low on funds. Leininger stepped forward with a $1.1 million loan to the campaign, enabling Perry to increase advertising when many voters were just beginning paying attention. Perry won that race by a hair. Since then, Leininger has donated more than $250,000 to Perry's gubernatorial campaigns. A request put into Leininger's office for comment was not returned by Saturday morning.
Andrew Wheat, research director for Texans for Public Justice, told The Huffington Post, "What puts the relationship between Perry and Leininger apart is these personal financial deals."
According to the report, Perry made a quick $4,500 from a stock purchase and sale in Leininger's Kinetic Concepts, Inc., the hospital bed manufacturer that made Leininger a millionaire. Perry's stock purchase came after meeting with Leininger and immediately before an investment group started buying up Kinetic Concepts shares, driving up the price of the stock. In total, Perry would wind up making $38,000 off of Kinetic stock investments.
Prior to Leininger's financial assistance toward Perry's 1998 campaign, the two men purchased a turbo prop airplane together. Leininger and his brother put up 90 percent of the stake in the Piper Cheyenne I plane and Perry's campaign chipped in the other 10 percent. One year after the initial purchase, the Perry campaign bought Leininger's 90 percent stake with financing from Leininger.
Leininger's business investments have also received aid from the economic development funds under Perry's control. In 2009, the governor's Emerging Technology Fund sent $1.75 million to the Dallas-based company Gradalis, which Leininger holds a significant stake of. Gradlis owns a 10 percent stake in the drug company G-Con, which was awarded $3 million by the Texas Enterprise Fund, a purse controlled by the governor's office.
Perry's office also did not return a request to comment by Saturday morning.
Leininger also invested in Texans for a Republican Majority (TRMPAC), the political action committee run by former House Majority Leader Tom Delay. Leininger was the second biggest donor to TRMPAC, with $142,500 in contributions. Ultimately, DeLay would wind up convicted on money laundering charges for funneling corporate money through TRMPAC to Texas legislative candidates.
The focus of Leininger's political activity over the past two decades has mostly focused on advancing his specific pet causes, including school vouchers and tort reform, and investing in a conservative Christian infrastructure to support like-minded causes and politicians. He has done this through pumping money into a series of political action committees, nonprofits and charities.
Leininger's most lasting influence may be his support of the politicization and radicalization of the Texas State Board of Education. In 1994, Leininger pumped tens of thousands of dollars into the candidacies of three Christian conservatives seeking seats on the State Board of Education. Most notably, a political action committee funded by Leininger paid for a last-minute mailer to voters that featured a picture of a black man kissing a white man and a warning that the incumbent education board members voted for the promotion of abortion and homosexuality in school textbooks.
That funding continued through the 1990s as Leininger helped to propel even more Christian conservatives onto the State Board of Education. According to Miller, of the Texas Freedom Network, those conservatives "turned the State Board of Education into ground zero for culture war issues in Texas."
By the year 2000, 10 of the 15 seats on the board were occupied by conservatives in the Leininger mold. The board even honored Leininger in 2000 as a "hero for children."
While Leininger's interest in education largely stemmed from a support of school vouchers, a policy that has not yet been enacted in Texas, the board members he supported also shared Leininger's Christian conservative values.
Those values would be expressed over the next 10 years as the State Board would attempt to rewrite school textbooks on every issue from Darwin and evolution to the religious beliefs of the Founding Fathers. In 2010, the board approved a number of changes to school textbooks, such as adding sections on the conservative resurgence of the 1980s and 1990s -- which includes Phyllis Schafly, the National Rifle Association and the Contract With America -- placing the violent approach to Civil Rights activism by the Black Panthers alongside the non-violent teachings of Martin Luther King, Jr. and cutting Thomas Jefferson out of a list of writers who inspired revolutions of the 18th and 19th centuries.
In 2011, the board side-stepped a debate over evolution after it approved some materials deemed controversial by conservatives -- including explanations of cell structures and a comparison of chimpanzee and human skulls -- and punted on the evolution question by waiting for the education commissioner to develop new lesson plans.
Tort reform, Leininger's other major cause, has, unsurprisingly, also been touted by Perry. After his company, Kinetic Concepts, lost its liability insurance in 1987, Leininger invested hundreds of thousands of dollars in a tort reform campaign targeting state judicial races. This push came as the Texas business community rallied against state trial lawyers after a 1987 report by "60 Minutes" detailed how trial lawyer campaign contributions to judges were affecting outcomes in court cases. Leininger's money was largely responsible for a turnaround in the state judiciary, which led to a follow-up "60 Minutes" report in 1998 detailing how campaign contributions from business interests and doctors held sway over legal decisions by Texas judges.
After designating tort reform a priority issue in 2003, Perry successfully pushed a tort reform package through the state legislature that limited malpractice suits. The Leininger-funded group Texans for Lawsuit Reform spoke with its wallet in favor of Perry's tort reform success. The group contributed a total of $190,000 to Perry's subsequent re-election campaigns.
Much of this advocacy has been pushed along by the Texas Public Policy Foundation, a nonprofit think tank created by Leininger and modeled after the conservative Heritage Foundation. The Foundation's policy agenda has largely overlapped with Leininger's pro-business agenda and has been adopted by Perry and the Texas state legislature.
Leininger has also bankrolled a number of anti-abortion groups, including Texas Right to Life, Heidi Group and the Christian Pro Life Foundation. His charity, The Covenant Foundation, Inc., contributed at least $450,000 from 1997 to 2005 to the Medical Institute for Sexual Health, an abstinence-only advocate. In 2005, he gave $100,000 in support of an amendment banning gay marriage.
The Covenant Foundation, Inc., charity has also been another way for Leininger to project his money into Christian conservative causes. The biggest benefactor of the charity's largesse in the past few years has been the conservative Patrick Henry College, which received $9.3 million in contributions from 2008 to 2009. Leininger sits on the Board of Trustees of the school.
Patrick Henry College has been referred to as "God's Harvard," the title of a book by Hanna Rosin, who first profiled the school in the New Yorker. The article explained that 85 percent of the students were home schooled and that all students were excused from classes during the last days of the 2004 election, as so many had volunteered for the re-election campaign of President George W. Bush. Many of these students would ultimately go on to intern and work in the Bush administration.
The large number of political volunteers from Patrick Henry College underlines a well-known fact: Churches and the Christian Right make up the grassroots ground game for the Republican Party. This connection helps explain why Perry is retreating out to Jim Leininger's ranch in the Texas brush this weekend to meet with the businessman and other religious right figures in the state, including David Barton and Rick Scarborough.
Andrew Wheat, of Texans for Public Justice, explained, "Apparently there's no request for money to get in the door. It's more about strategizing to get out the vote."
Popular in the Community