For the past 27 years Michael Elkins has directed and starred in A Christmas Carol at Notre Dame University in Belmont, Calif. "The Gift," as it is known, plays for just nine shows, eight of which are free to the public. In lieu of purchasing tickets, audience members bring food and toys to be donated locally for the holidays. No one in the cast or crew is paid for "The Gift"; however, it is a community production on par with any Actors Equity Production I have seen.
Many of the cast members shine through with captivating performances. Scrooge (Michael Elkins) and the Ghosts of Christmas Past (Jenny Earlywine), Present (Brent Holland) and Future (Karen Althoff) are the cornerstones of a profoundly talented group. Their voices soar. Their comic timing never disappoints.
Exquisite costuming and sets give the production an authenticity that has its audience suspending their disbelief in ghosts, to fully grasp the moral of A Christmas Carol -- that the Christmas Spirit of charity and responsibility must be awakened inside all of us for our lives to have purpose and for our souls to be free.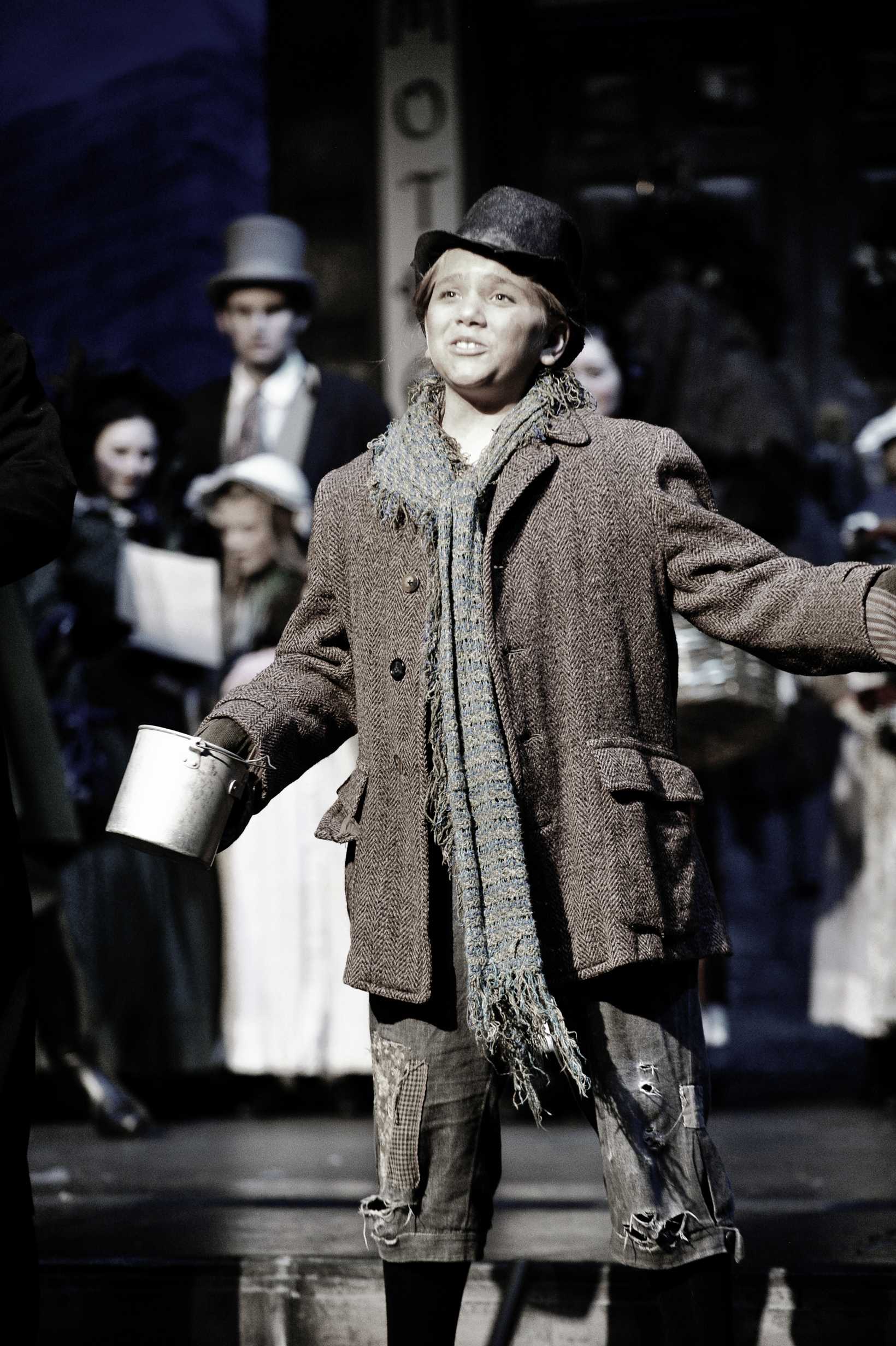 Rising Star, Lexi Battaglini as Jonathan in A Christmas Carol at Notre Dame De Namur University, Belmont, CA. Photo by Joyce Goldshmid, courtesy of Joyce Goldschmid.
Much of what is behind the success of the show is the seamless direction of Elkins. From the youngest to the most seasoned performers, he has found the means to lasso the entire ensemble into a believable past. The players work together in the same time and space, live and breathe convincingly as they balance entertainment with realism and depth. "The Gift" charms and inspires.
Other performances to note include George Metropulis as the engaging, empathic father of Tiny Tim, as well as the joyous and delightful Mrs. and Mr. Fezziwig (Mary Hill and Jeff Young). Rising star, 11-year-old Lexi Battaglini who plays Jonathan, has a gift that I believe will take her anywhere she wants to go in theater. A breathtaking voice, she sings with the clarity and beautiful tone.
"The Gift" gives more than the toys and sustenance it collects. It effectively stirs the community to increase charity and responsibility in daily life. It is not to be missed.
The last performances of A Christmas Carol, "The Gift" for 2012 are Dec. 13-16, this Thursday, Friday, Saturday (matinee and eve) and Sunday (matinee only) at 1500 Ralston Ave, Belmont, CA.. Tickets are no longer attainable online, but attendees can go to the box office an hour before showtime for available seating. In almost all instances, seating is available.
Related
Popular in the Community