Perhaps because the vast majority of the tuna Americans eat comes a precooked beige in cans, people seem to forget it's a fish. Jessica Simpson famously asked if "chicken of the sea" was chicken or fish. Well Jessica, tuna are fish -- and they're in big trouble.
All that canned tuna we eat is having a negative effect not just on tuna species like albacore and skipjack, but also on center-of-the-plate "fancy" tuna. At a recent meeting of the international management body, the Western and Central Pacific Fisheries Commission, the WCPFC's Scientific Committee announced that bigeye tuna are now officially overfished (as bluefin tuna already are). Bigeye tuna, also known as ahi, are prized for their sashimi-quality flesh. The bigeye population is now estimated to be down to just 16% of its original size. To help reverse this dismaying trend, Greenpeace is calling for a permanent ban on the use of all fish-aggregating devices, or FADs.
What's a FAD? It sounds innocuous enough. Fish like to congregate around objects in the water -- underwater and on the surface. Scuba divers know this. That's why they seek out reefs and sunken ships. Fishermen are also well aware of this predilection, too. For centuries, fishermen around the world have been making floating FADs out of bamboo, scrap wood, and metal or whatever they have on hand to attract fish.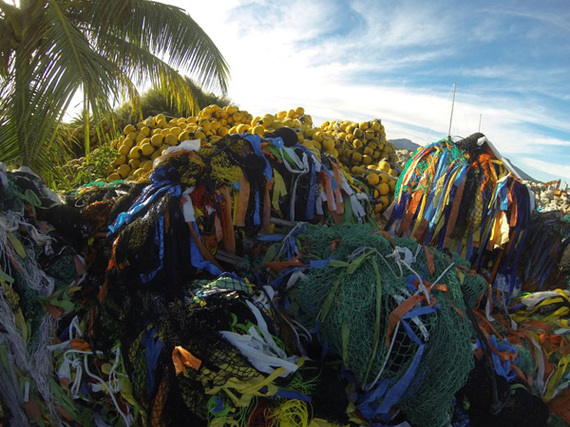 A pile of FADs in a shipyard in Micronesia. These mountains of plastic not only lead to higher bycatch of threatened species, but also contribute to the growing marine debris problem. Photo: Pew Commission
What was harmless on a small scale becomes problematic as it gets bigger. According to 2012 research by Pew Charitable Trusts, there are now as many as 100,000 drifting FADs around the world -- basically floating pieces of junk put into the ocean and equipped with transponders by the global purse seine fishing industry. These FADs allow industrial fleets to quickly find -- and harvest -- large masses of fish.
Here's the catch (pun intended): Their purse seines are enormous nets that draw closed like a purse, surrounding and capturing all the life attracted to the FAD, not just the target species. That "bycatch" can include sharks, swordfish, marlin, and juvenile fish such as bigeye tuna -- which then don't have the chance to reproduce, further destabilizing the world's fish populations.
"Bigeye is not just being overfished; it's also being squandered by these floating death traps," said Dr. Cat Dorey, coordinator of Greenpeace's International Sustainable Seafood Programme. "A current four-month ban on FADs reduces the pressure on bigeye during those months, but there is no excuse for using this indiscriminate fishing method the remaining eight months of the year. The bigeye stock simply cannot withstand it."
There is some good news, though. Consumer awareness of this issue is increasing, due to broader media coverage -- thanks in part to Greenpeace and other sustainable seafood advocacy groups that are shining a spotlight on the issue.
Large purchasers have a bigger responsibility and a bigger role to play. In my role at Bon Appétit Management Company (a national food service provider -- NOT the magazine!), I have been lucky to work on a successful multi-year project to tackle the problem. Our supplier has made a commitment that starting in January 2015, all the skipjack tuna (the species commonly used for canned tuna) we buy to serve at our 500+ cafes around the country will be caught without use of FADs. That's about 233,000 pounds annually. Our partners at the Monterey Bay Aquarium Seafood Watch program estimate we will be helping to avoid the bycatch of more than 13,000 pounds1 of overexploited bigeye tuna and other non-target fishes each year.
Happy as that makes me, there's much more that can be done. That's why I urge you to join us in making more sustainable tuna a reality. Here are a few ways you can get involved:
Avoid buying tuna rated Avoid by the Monterey Bay Aquarium's Seafood Watch program, such as all bluefin, longline-caught bigeye from outside the U.S. Atlantic, and any albacore from the North Atlantic.
How are you supposed to remember which tuna is OK? Download the Seafood Watch app or the consumer guide for your state. They're both free, and have all the info you need to find and choose the right seafood.
Ask businesses if they sell sustainable seafood.  Let them know you'll only buy ocean-friendly products. When consumers ask questions and make it clear how they want to spend their money, businesses listen.
Support businesses that partner with Seafood Watch and are already committed to conserving ocean resources.
1 Calculations are based on the assumption that all of Bon Appétit's skipjack tuna is sourced from the Western and Central Pacific Ocean and that 100% would have come from FAD sources without the commitment. Bycatch rates for the calculation are derived from Dagorn et al. 2011. "Is it good or bad to fish with FADs? What are the real impacts of the use of drifting FADs on pelagic marine ecosystems?" Fish and Fisheries
REAL LIFE. REAL NEWS. REAL VOICES.
Help us tell more of the stories that matter from voices that too often remain unheard.