As the bartender poured me my third (or fourth) scotch I wondered if Johnny Walker would hinder, or perhaps help, my understanding of what Dr. Rudy Tanzi was explaining to me--heightened philosophical theories he shared with his friend, best-selling author and alternative medicine advocate, Deepak Chopra, as well as the strides his Boston-based lab was making towards curing Alzheimer's Disease.

It was 2013 and just hours before I was preparing to film a live pledge drive at a PBS affiliate in Des Moines, to promote my own PBS special, "Chris Mann in Concert: A Mann for All Seasons." I waited in the wings as world-renowned neuroscientist and Alzheimer's researcher, Dr. Rudy Tanzi, wrapped up the airing of his successful "Super Brain" special (exercises to maximize the potential of the human brain and combat Alzheimer's disease) and introduced myself during a commercial break.
(Chris Mann, Dr. Rudy Tanzi)




My family has an unfortunate history with Alzheimer's. My paternal grandmother, whom I never met, was diagnosed and hospitalized with early-onset Alzheimer's in her 40's. Two of her three sisters also died of Alzheimer's complications at young ages and their mother (my great grandmother) had Alzheimer's for years as well. My maternal grandmother also showed signs of Alzheimer's and dementia when she passed away. I've always feared the disease would be passed down to my father and inevitably to my sister and me. It's not every day you have the chance to pick the brain of an Alzheimer's expert and I had no intention to let this opportunity slip away.
(My father, Mike, with his mother, Dorothy; My paternal grandmother, Juliette)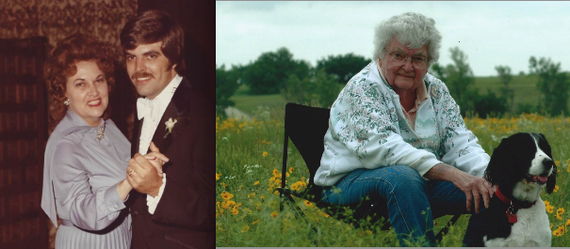 During our short introduction, Tanzi confessed to being a fan of mine from my stint on Christina Aguilera's team on NBC's The Voice. Turns out Rudy was quite the musician himself, regularly standing in on keyboards and organ with Aerosmith and Joe Perry. He agreed to meet me for a drink after I wrapped filming to continue the conversation.

Which puts us back at the bar.
The doors had locked hours before but the bartender was so entranced by the conversation she wasn't about to let it end. Rudy wanted to hear about my experiences on The Voice, singing for President and Mrs. Obama and my song writing. I wanted to know more about Rudy's musical background and how he planned to cure Alzheimer's. It's amazing that only a year later his lab would be praised for creating what they call Alzheimer's in a Dish -- a petri dish with human brain cells that developed the telltale structures of Alzheimer's disease. In doing so, they resolved a longstanding problem of how to study Alzheimer's and search for drugs to treat it; the best they had until now were mice that developed an imperfect form of the disease.

Around the time of his Alzheimer's breakthrough, Rudy sent me a song he'd written with his wife, Dora Kovacs (a molecular researcher of neurodegeneration in Alzheimer's disease at UMass), and asked if I would be interested in coming on board as a co-writer. There was a movie about Alzheimer's coming out called Still Alice (starring Julianne Moore) based on the book by his friend, Lisa Genova. He proposed we write a song inspired by the movie to speak directly to the community dealing with the disease.
(Julianne Moore in Still Alice)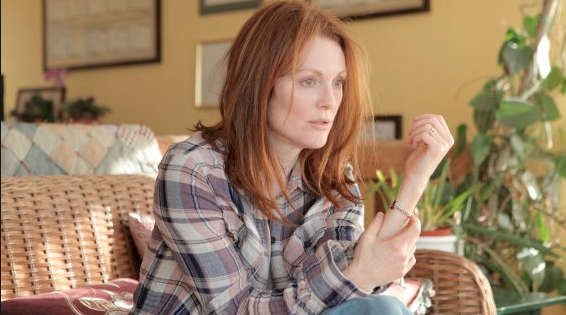 His song was simple and pure and I had an instinct on where to take it next. I reworked the structure and harmonics of the song with my music director, Willy Beaman (keyboardist for Demi Lovato, Katherine Jenkins, Kelly Rowland) and hashed out the lyrical concept with my wife, actor/director Laura Mann (Some Girl(s), Seeking a Friend For the End of the World). I wanted the lyrics to be written from the perspective of someone with Alzheimer's who pleads to be remembered when they can't remember themselves--the song Remember Me resulted.
The immediate response to Remember Me caught me off guard. Rudy began playing our song at the end of his renowned lectures to emotional standing ovations. I experienced the same when I performed the song for the first time at a concert in the Bahamas--I'd had strong responses to songs before, but nothing ever like this. There wasn't a dry eye in the room. I suppose it makes sense so many connected to the song with staggering statistics like "1 in 3 people will die with Alzheimer's."
(Director, Laura Mann)




Inspired by the response, Laura and I began work conceptualizing a music video for the song--a single ballerina, aged with prosthetic makeup, would dance away the confusion, fear and darkness of Alzheimer's throughout the course of the song, revealing her younger self by the end. She would show the harsh realities of the disease, the beauty of the patient and fight to reveal that the young person inside was still alive and should not be forgotten.

Luckily, we knew exactly how to make this story come together. I'm currently playing the title role in the North American Broadway Tour of The Phantom of the Opera, and enlisted help from within the company to bring the vision to life--dancer, Christina Dooling, makeup expert, Rudy Guerrero and hair/wardrobe artist, Hailei Call all volunteered their talents. While performing the show in Tampa, FL, we found a production studio and filmed the video in 7 hours during the day before we took to the stage with The Phantom of the Opera that night.
(Dancer, Christina Dooling)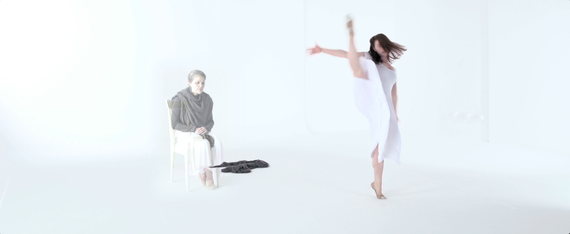 Soon after, Tanzi shared the momentum of the song with Tim Armour, President and CEO of Cure Alzheimer's Fund--a non-profit organization dedicated to funding research with the highest probability of preventing, slowing or reversing Alzheimer's disease through venture-based philanthropy. I was impressed to learn that 100% of donations given to Cure Alzheimer's Fund go directly to research and over $27,000,000 has already been raised. Armour and Cure Alzheimer's Fund were moved by and believed in the message of our song and committed to fully fund the video's concept.

On January 22, 2015, the day after Lyndsey Parker and Yahoo! Music debuted the music video, we launched Campaign #RememberMe. Campaign #RememberMe asks anyone whose lives have been touched by Alzheimer's disease to share the video online, post pictures holding #RememberMe signs with their loved one's name and buy the song (portions of proceeds go directly to Cure Alzheimer's Fund research).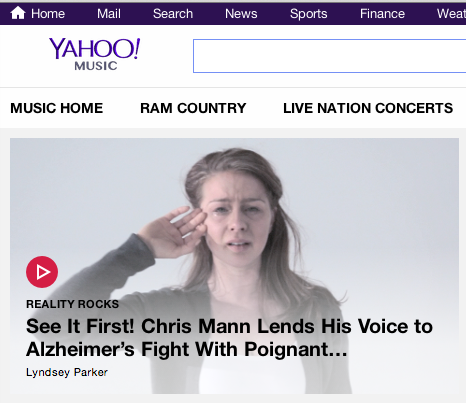 Within 24 hours of the video's release on my Facebook page it had been viewed over 30,000 times and was sharing at an incredibly rapid rate online. Within 48 hours, the rate doubled and Remember Me appeared at #1 on Amazon's Best Selling Hot New Releases "Vocalists" Chart. Within 72 hours, Remember Me was featured on RollingStone.com and on the Yahoo.com homepage, and was selected as a featured video on Yahoo! Screen. CNN is also set to feature the story as well. We were all pleasantly stunned--Remember Me had struck a chord in the Alzheimer's community and Campaign #RememberMe was working.
Celebrities began tweeting support for our cause like Cindy Crawford, Kathie Lee Gifford, Kenneth Cole, Hill Harper, Cheyenne Jackson and even Julianne Moore, herself.

The video's "comments" section on Facebook and YouTube became the most moving and unexpected part of the campaign. People immediately began sharing the video and using the comment section as an outlet to share their personal stories with Alzheimer's. Stories of struggle and loss, passion and pain--remembering never to forget their loved ones poured in by the thousands. It was powerful.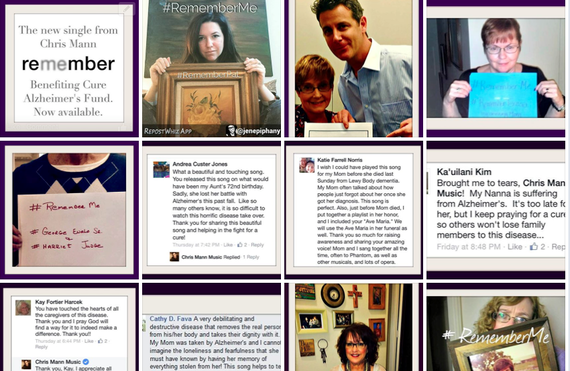 Sons and daughters reflected on the trials and tribulations they faced with their parent's Alzheimer's. Nurses praised the song's message for telling the often overlooked story so many face. Some caretakers and music therapists even shared that they saw responses from unresponsive Alzheimer's patients when they played them our song.

In many ways, Remember Me had become an anthem of hope for the families impacted by this horrific disease. It was bigger than us. More than we could have ever hoped.

With Julianne Moore poised to win the Academy Award for her performance as a woman suffering from Alzheimer's in Still Alice, and the success of Country Music Legend (and five time Grammy winner) Glen Campbell's documentary, I'll Be Me, which chronicles his journey with Alzheimer's, the disease is getting more attention than ever before.
I'm pleased to consistently see Alzheimer's appearing on various television shows, hear segments about it on the radio and am happy it's becoming a mainstream topic. I'm beyond proud that Remember Me came into the world at this time of realization. I hope through music we can make a difference and raise awareness. Alzheimer's is the only leading cause of death we can't prevent, cure or even slow down, yet without more funding research we won't progress fast enough for our generation or our children's generation to find a cure.

Please join Campaign #RememberMe today! Share the video and song on Facebook, Tweet, Pin and buy Remember Me and to remember that if we work together, we can help find a cure.
Chris Mann
#RememberMe
#RememberDorothy
#RememberJuliette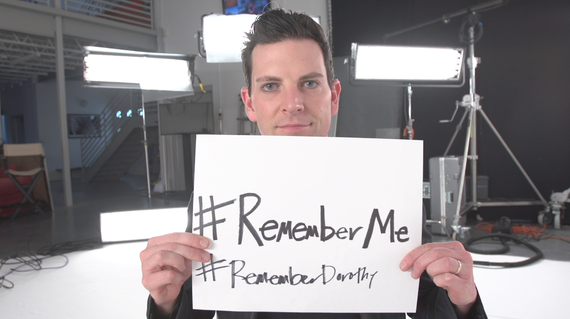 Popular in the Community