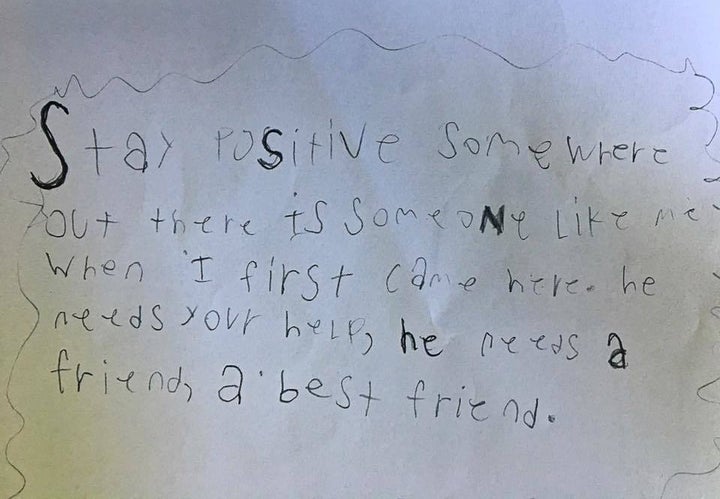 Stay positive. Somewhere out there is someone like me when I first came here. He needs your help, he needs a friend, a best friend...
These words were wise beyond the years of the 12-year-old boy who delivered a crinkled, pencil drawn note to my son. The boy had been been through hard stuff, but he'd come out smiling. He was moving back to Sweden, and he wanted to say goodbye. We'd only been living in Switzerland for six months, yet this child had become my oldest son's first friend abroad— and his first best friend ever. He would break my son's heart while teaching us all about the meaning of connection.
Connection is found in a person who finally gets you; who zig-zags with you to the market to buy the too-sweet soda; who invites you to your first sleepover; who leans his ear close when you need to whisper your worst fears. Connection is felt through a person who accepts the real you, despite your quirks. It's about a well inside another that replenishes constantly with acceptance. Connection fulfills a need in another person who may be just around the corner, waiting. I learned this lesson from the boy who wrote this letter, though I felt I'd known it, somewhere in my 47-year-old skin for a while.
As a mom who has moved frequently, recently to Switzerland, I've made invaluable connections with people that have lasted for years, for a handful of months, or for only thirty minutes. But some have changed my life forever.
Less than a year ago, I met a mom on the floor of a candy aisle in a massive grocery store in Connecticut. She was having a panic attack, and my special needs son was recovering from his year of drama too. He'd recently suffered through a severe depression and now joined us in the stressful preparations for making an international move to Switzerland. We ran down a marathon aisle in the market searching for juice, and there she was— the perfect looking mom on the floor, needing help. She was unable to find air. We breathed out, I held her hand for a while—and we talked about snorkeling in Mexico, about mom stress, about finding the bottom of our pride; When I hugged her goodbye that day, I figured we wouldn't talk again. But months later she read the story I wrote about our little candy aisle experience and she contacted me to reveal that she too has a special needs child. She showed me that my own struggles equipped me to see her, to relate to her, to connect deeply with a stranger even if only for a short time.
A few months ago, I was introduced to a fairly well known author at a writing conference. Because of a dramatic electrical storm after the event dinner, this flamboyant, outspoken novelist and I holed up in a dark Zürich lounge with a glass of wine until the storm ended. She and I shared stories like old friends. I talked a little about our family's challenges, and we talked about why we write. Pain pushes the pen sometimes, we decided. Passion keeps moving us back to the page. She talked about managing critics, believing in one's own voice, about sense-of-humor and about powering through hard times. I went home, and in a few months time I wrote possibly more than I've written in a year— with new vigor.
Last winter I met a woman atop an intimidating, empty ski slope in Flumserberg, Switzerland. Maybe I was having my own kind of panic attack because my claustrophobic feet and jittering legs refused to budge. They insisted it ludicrous for two long flat boards clamped to bone to slip over the seemingly endless cliff of Alpine doom before me. My oldest son was a dot down below, hollering a distorted come onnnnnnn MOOOOOOM. Then a woman with an Easter European accent appeared, (like in a move!) offering to help. No kidding.
"I'm an experienced skiier, but I'm just terrified," I admitted to her. "I can't move."
"Just follow close behind me and see if that helps you feel better," she offered gently. I did, and with her gesture, my flight down the pass became thrilling. Because of her, that same day I skied that run several times, hitting moguls with glee. Once I even heard her call to me from a chair lift. "I told you you could do it!"
The other night I went to a friend's home to meet a guru from a small village in India. I'd never met a guru before. He explained that meditation gradually uncovers the soul, releasing all that is not of God. Meditation helps discover the impalpable stuff of which we're made, what we're capable of. I knew what he meant.
Could it be that the people we meet, our community, are part of this lifelong meditation— an "uncovering the soul" experience? The mom in the store, the author, the skier, the guru— they've been instrumental in helping me to answer the question— who am I? What can I do? Where should I go?
And my son's Swedish friend of six months who wrote that note— he changed my boy (and me!) forever.
"I know what a real friend feels like now Mom," my son said through tears recently.
"And you know how to be one," I added.
Perhaps community is here in my neighborhood, it's down a street I never visit, it's in that mom I've passed. Community is over a wall, beyond a fence. It's in another town, in another race or religion. Community (and soul finding) is offered wherever we are — if we dare to become available to the person waiting around the corner.