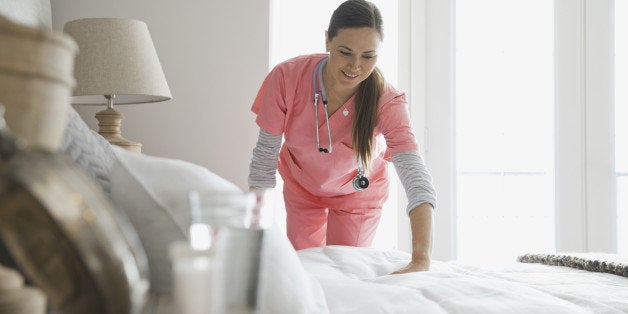 This Labor Day, as we reflect on the contributions of workers to this country, we should focus on one of the nation's fastest-growing job sectors: direct care.
Direct-care workers—home health aides, personal care aides and nursing assistants—are a foundation of support for millions of older adults and people living with disabilities. Direct-care workers provide daily personal care and other supportive services to individuals with functional limitations. While nursing homes and long-term care facilities continue to rely on this workforce, by 2022, two in three direct-care workers will work in home and community-based settings.
First, the good news: with 10,000 Baby Boomers turning age 65 each day, these occupations are creating more jobs than any other occupational group—more than one million workers will be needed by 2022. Growing to nearly 5 million workers, the direct-care workforce will outnumber K-12 teachers, nurses, fast-food workers and all public safety officials.  
The bad news is that direct-care aides are among the nation's most poorly paid workers, which spurs dangerously high turnover rates. Nearly half of these workers live in households that rely on some form of public benefits to make ends meet. As currently structured, these jobs will not provide the economic stability that they need to ensure their loved ones can grow, learn and thrive in healthy, stable environments.
Geraldine O'Rourke, an 84-year-old resident of New York City, represents a typical home care client. She has received assistance since the mid-1990s, when a double hip replacement left her unable to walk. "My aides assist me with transferring in and out of bed, toileting, showering, ambulating, food shopping, meal preparation and housekeeping," she says.
Direct care allows people to live with independence and dignity. They are invaluable to people such as Geraldine and to family members who manage care for their loved ones. They also perform challenging work that requires a multitude of skills, significant emotional intelligence, and exceptional communication and problem-solving skills.
Unfortunately, direct care has long been categorized as "unskilled" and paid dismally. Because of this mischaracterization, for decades home care aides were not covered by the federal Fair Labor Standards Act (FLSA), which provides most American workers with minimum wage and overtime protections. On August 21, 2015, a federal appeals court re-instated a 2013 U.S. Department of Labor rule that will finally extend these protections to the vast majority of home care aides.
This rule is an important step toward addressing poor wages among this workforce. Despite the growth in demand for direct-care workers, real wages (adjusted for inflation) for all three direct-care occupations have declined over the last decade. Today, the median wage for direct-care workers is $10.85 per hour. Nursing assistants earn the highest wages among this workforce, at $12.07 per hour, while personal care aides earn $9.83 per hour.
Hourly wages tell only part of the story. Among home care aides, part-time work and unpredictable hours are the norm. Only two in five workers has full-time, year-round hours. Annual earnings for these workers averages $13,000. For nursing assistants, annual earnings rise to about $20,000.
Patricia Evans, a home care worker in Chicago, describes this reality: "When it comes to home care workers, you live in poverty. You work in poverty. You retire poor, hoping you will qualify for the services you have provided for so many years. Then, you die in poverty." Patricia is right; one in four home care workers lives in a household with income below the federal poverty level. Nearly 60 percent live in households that rely on public assistance.
A living wage isn't the only reform needed for direct-care workers. Because direct care is mistakenly understood as low-skilled work, many workers never receive adequate training. Home health aides and nursing assistants who provide Medicare and Medicaid-funded services are required by federal law to undergo 75 hours of training, but personal care aides often receive no training at all. Individual states may set their own standards, but few states require more than 120 hours for any direct-care occupation. Compare this to cosmetology, which generally requires more than 1000 hours of education.
The general lack of investment in training limits career advancement opportunities. Direct-care workers are well-positioned to play critical roles in managing chronic illness and coordinating care, but they need solid training in areas such as dementia, telehealth and critical communication skills. With adequate training, direct-care workers could also take on advanced roles—with better wages—that could ultimately reduce re-hospitalizations and overall health care costs. 
Nearly all of us will either need or manage care for a loved one at some point in our lifetimes. We must rethink the value we place on this workforce. Already, long-term care providers report a steady increase in vacancy rates among their workers, struggling to find the workforce to meet growing demand. As wages increase in other industries—such as the fast food industry in New York State—will these vacancies skyrocket as direct-care workers make the switch? Who will provide this care?
As we honor the workforce during Labor Day, consider this reality: if we want a skilled and stable direct-care workforce that can offer the care we need, we must invest in wages, training and career advancement opportunities that make this career choice more attractive. It's that clear—anything less means we'll be having grimmer conversations this time of year in the decades that follow.
Calling all HuffPost superfans!
Sign up for membership to become a founding member and help shape HuffPost's next chapter