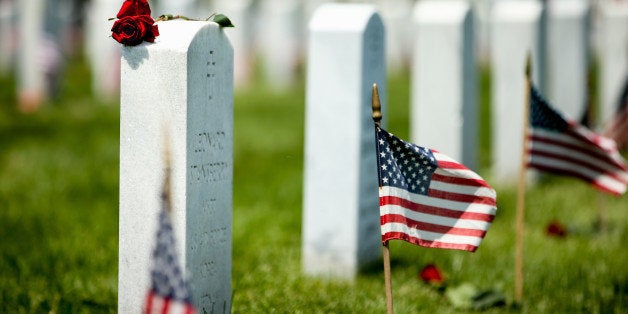 The sun has set on Memorial Day 2015 -- the one day our nation has set aside to pay respect to the men and women who died while serving in our country's armed forces. This is a day when we should all acknowledge -- at least for a moment, that freedom is not free. It has come at a cost. So, did everyone take the time to remember someone? Are we still connected? I wonder.
Our country mourned 1.1 million fallen soldiers Monday. That's the total number of men and women who fought and died for our freedom in all United States wars, beginning with the Revolutionary War. Now that should prompt a lot of prayers.
While Memorial Day is observed as a long weekend, with many folks taking Monday off, there are those who also take this time to make solemn visits to gravesites, where American Flags are placed at the graves of loved ones who lost their lives doing what most of us cannot even imagine.

Based on the percentage of the population that currently serves in the military, we really would need to use our imaginations to connect, because very few of us have ever met, have a relationship with, or are related to someone serving in the armed forces. I had friends and a cousin who fought in Viet Nam, and knew a couple of guys who died there. My cousin's kids all served in Iraq. But I think I'm a rarity -- to have known so many people in the service.
We're a population of 320 million people, but less than 1 percent of the population is in active duty today. By comparison, 12 percent of the population was in active duty or in the reserves during World War II. Obviously, based on numbers alone, we're a little out of touch.
Memorial Day has always been bittersweet for me, mixed as it is with sadness and gratitude. I'm grateful for the freedom I've been blessed with every day of my life that I believe we, as Americans, basically take for granted, thanks to the vigilance and sacrifice of our armed forces. But at the same time, I feel a deep ache of sorrow for those who gave their lives to make sure our freedom is never in jeopardy.
We need to remember. At this point in time, our military service men and women are a voluntary army. For the most part, our fallen soldiers joined when they were young. They were trained to be strong and brave. They were disciplined, and followed orders. They went into battle without question, often into grizzly, untenable situations, and most probably witnessed and experienced unfathomable horrors. We need to remember them.
This year is sadder for me than most. My dad passed away in January at 91 years old. He served in the Army Air Force in World War II, and in the last few weeks of his life, his days in the military were the stories he recalled most often. He spoke of buddies who had perished -- shot down -- just like that. Gone. They'd been high school pals. I suppose certain memories stick with you till the end.
My dad was given a full Honor Guard salute, and Taps at his funeral. My mom was presented with the flag that was draped on his coffin. Even at 91 years of age, the United States Military remembers, and pays deep respect to those who serve. We, as Americans, need to find ways to be more connected with our service men and women -- more aware of their existence, and cognizant of the efforts they exert for us every day.

Because we must understand what the cost of our freedom means. Especially when others have paid the ultimate price for it.
Now, take a moment and remember someone among the 1.1 million.
REAL LIFE. REAL NEWS. REAL VOICES.
Help us tell more of the stories that matter from voices that too often remain unheard.