On a recent visit to Malerkotla, in the Sangrur district of Punjab, I was invited to meet and address the students of the Islamia Senior Secondary School, Branch No. 4.
I reached the school in time to attend the morning assembly, a ritual that is practiced in almost every school in India, and across the world. Along with other visitors from New Delhi, I stood behind the neat rows of students while the English teacher, Mohammed Javed Nazeer took charge.
In all the Muslim schools I have visited, or know of, Iqbal, at assembly, is a staple. And soon enough the air resonated with Allama's prayer -- Lab Pe Aati Hai Dua Ban Ke Tamanna Meri, Zindagi Shamma Ki Surat Ho Khudaya Meri -- a child's invocation to Allah seeking compassion.
As sweet melodious voices rose, I reflected on the little I knew about Iqbal.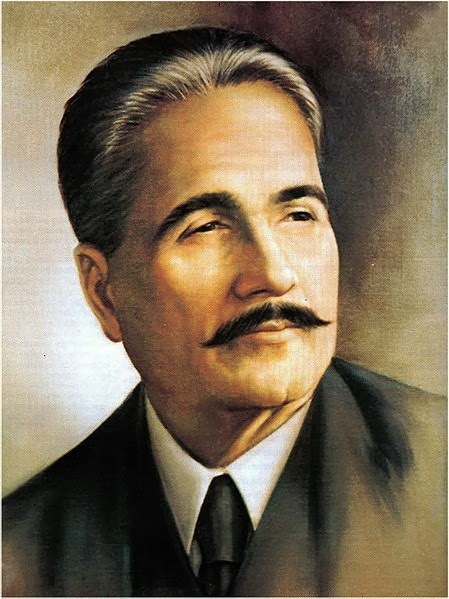 Iqbal was born on November 9, 1877 in Sialkot (now Pakistan) to Shaik Noor Muhammed and Imam Bi. His forefathers belonged to a respectable family of Kashmiri Pandits who had migrated to Sialkot and converted to Islam over 300 years before Iqbal's birth. Iqbal's mother was illiterate but God-fearing and devout and very particular about her daily namaz His father, a self-taught man, was able to read books in Urdu and Persian. He spent a good deal of time among Sufis and scholars. Iqbal, thus had a rich heritage of religion, mysticism and philosophy and learnt of Sufism directly from his father. Iqbal started his education in a maktab, shifting later to Scotch Mission School from where he went to Government College, Lahore before heading to UK where he obtained a degree in Philosopy and later, a qualification in Law. Subsequent to this he worked as a barrister in London. Later, he received a doctorate from Munich for his thesis on Persian Metaphysics and Islamic Mysticism.
His love for writing started at an early age and he wrote prolifically. Under the guidance of his teacher Syed Mir Hasan, young Iqbal worked on his poetic skills and started writing ghazals for the local mushairas while in Sialkot.However during his early days in Lahore Iqbal did not participate in any mushairas until, one evening, he was literally compelled to do so by his friends. His recitation of the following verse at once won him the admiration of noted poets gathered there who marvelled at the depth of his thoughts.
Moti samajh key Shan-e-Karimi ne chun liye
Qatrey jo thay mere Arq e Infa'al ke
His Grace gathered them as pearls
So shining and bright were the beads of perspiration of my remorse
Allama Iqbal is a complex person, often misunderstood. For many people he has been somewhat a mystery, an enigma. He says this of himself:
Main Khud Bhi Nahin Apni Haqiqat Ka Shanasa
Gehra Hai Mere Behr-e-Khivalaat Ka Pani
For me also my nature remains still enravelled,
The sea of my thoughts is too deep and untravelled
He is many things to many people. He himself had a varied and hectic career. He was a lawyer and a philosopher interested in Persian philosophy and Islamic history. He was attracted to Sufism. He was attracted equally towards communism and socialism. He has touched upon all these facets of our history and culture, and human civilizations in his poetry and writings. His poetry covers various aspects of social life. He was pained by the troubles of the world. Through his writings he wanted to convey a message to his misguided people to remove the ills of society. His poems combined material with morals.
Iqbal is also a nationalist poet and has written extensively about his motherland. He has also written some very moving poems evoking patriotism. A fine example of this is Himalaya (1905), the opening poem of a collection called Bang-e-Dara (1924), and Naya Shivala (The New Temple). His Tarana-i-Hind, Saare jahan se achcha, Hindostan hamara (1904)inspired people to rise against the tyranny of the British. Even now, more than a hundred years after it was written, this Tarana evokes a deep sense of pride for the nation.
These poems, along with Shikwa (Complaint to God, 1909), and Jawab-e-Shikwa (Response to the Complaint, 1913) are considered masterpieces in Urdu poetry.
While in Europe, Iqbal wrote extensively in Persian. He felt better able to express himself through this language.
Garche Hindi dar uzūbat shekkar ast
Tarz-e goftar-e Dari shirin tar ast
He says even though in sweetness Hindi is sugar, in speech Dari (Persian) sounds sweeter.
Proud of being a Muslim, Iqbal's writings reflect his religious views. He is considered one of the last of the great Muslim thinkers, being placed among the likes of Rumi and Hafiz. He is also regarded as one of the foremost intellectuals of the twentieth century who influenced key political leaders in countries such as Iran. Many institutions have been named after him worldwide and he has been translated into several languages. Thousands of books have been written about him and continue to be written till today. After his death he was made the national poet of Pakistan and mostly ignored in India.
Zindagi Ho Meri Parwane Ki Surat Ya Rab
Ilm Ki Shamma Se Ho Mujh Ko Mohabbat Ya Rab
May My Life Like That Of The Moth Be O Lord
May I Love The Lamp Of Knowledge O Lord!
The singing was loud and clear as the students implored Allah. I joined in wherever I could, delighted that through these little children Iqbal is still daily in our midst.
As the prayer came to an end and I walked to the front of the assembly, I smiled.
I knew what I was going to talk to the students about.
This blog post is part of a series produced by The Huffington Post in conjunction with the launch of HuffPost India (December 8, 2014). To read all posts in the series, visit here.
Related
Popular in the Community