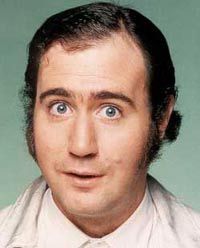 Andy Kaufman died almost exactly thirty years ago. Yes, I know some people believe he faked his own death, but if he did he has lost his brilliant sense of comedic timing; three decades is a tad too long to hide offstage before the big reveal.
I knew Andy before he was famous, when casual friends like me were clueless about his show biz aspirations. The first time I laid eyes on him was in 1968, in Boston. I was having lunch with a friend who taught English at Grahm Junior College. When we left her office, a waiting student virtually pounced. He was tall, with thick black hair and strange blue eyes. "Have you read it yet?" he asked. "Not yet, Andy," said my friend. As we left the building, she rolled her eyes and told me that her weird student had given her a thick manuscript to read. The title was "God."
I saw him next a year or so later, again by chance. I went to the apartment of a new friend, who was late getting home. His roommate let me in. I recognized him as the student at Grahm. He acknowledged that he was, but my follow-up attempts at small talk went nowhere. Whatever was going on behind those striking blue eyes was happening someplace far away. I chalked him off as shy and busied myself looking through a long row of record albums on the floor. There were the usual LPs of the era -- Dylan, Beatles, Jefferson Airplane etc. -- then an Elvis Presley album, and another, and more, far more than I ever imagined the King had recorded. "Wow," I exclaimed, "someone around here really likes Elvis."
Andy came alive. The eyes opened wide and met my gaze straight on for the first time. "Do you like Elvis?" he asked, and without waiting for an answer, added, "I'm his biggest fan." He went on to tell me he had every record Elvis ever made, and exactly how many times he'd seen him in person (a lot), and that he'd hitchhiked to Las Vegas, hid in the Hilton kitchen and got to meet his idol. It was a very brief encounter, but long enough for Andy to recount the incident as if he'd been Elvis's weekend house guest at Graceland.
As it happened, we both got into Transcendental Meditation and were among the happy troop of young yogis who hung out the TM center in Cambridge and sometimes assembled for long meditation courses at secluded sites. I remember Andy opening up during that period of time, becoming friendlier and more relaxed socially, and sometimes an absolute hoot. We didn't know it at the time, but we were witnessing the developmental phase of a future star whose imagination would alter the course of comedy.
I watched him do bits for the TM crowd and sometimes in public that, a few years later, would either delight, annoy or blow the minds of TV viewers. In the lounge of a retreat center, I saw him do the uncanny Elvis impersonation that Johnny Carson enjoyed. I listened to him sing the Mighty Mouse theme song, a routine he would perfect and unveil on his first Saturday Night Live appearance. And I watched him on streets and in shops embody the character who would become known as Foreign Man and later as Latka Gravas on Taxi. I thought he was just a goofy guy who enjoyed putting people on by pretending he was a nervous East European who barely knew English.
One hot summer night, Andy and I and a few others went to Brigham's ice cream parlor in Harvard Square. At the counter, Andy became Foreign Man. The young server had nothing but compassion for the visitor, perhaps from behind the Iron Curtain, who seemed stunned by the array of flavors. In halting, bumbling, nasal English, Andy shyly asked to taste one. He took his time, savored the ice cream, started to order, then stopped mid-sentence and pondered. He asked to taste another flavor, worked it over, hesitated, asked a question or two ... and got wide-eyed over yet another flavor. After several iterations of this routine, the line behind him was long and the patrons were getting restless. The poor server urged him, nicely, to make a decision. Which made Foreign Man even more nervous, and more indecisive.
I started to worry: People were complaining, and some overheated guy could lose it at any moment. Andy took it to the brink. Just when I thought he was about to get clobbered, Foreign Man made up his mind. He ordered vanilla. "Tenk you veddy much," he said, and smiled innocently at the waiting patrons as we exited the store.
I did not know that I was watching an ambitious artist fine tune a radical approach to entertainment. Our paths crossed several more times in the early '70s, at long TM courses in various locales. I remember him turning on Foreign Man in Swiss boutiques and Santa Barbara health food stores. And always the obsession with Elvis: One night in L.A., learning that two Elvis films were playing on the other end of town, he took a series of buses to see movies he had already seen more than once.
By 1974 or so, Andy was plying his trade in comedy clubs like New York's Catch a Rising Star. Then came Carson, SNL, and eventually Taxi. I saw him only on TV in those years of stardom. Then, in 1983, after I moved to LA, I ran into him at the Whole Life Expo. We strolled around the convention floor, where vendors displayed all manner of natural remedies, metaphysical healing techniques and New Age merchandise. Being with Andy in public was different now. People gawked at him, pointed at him, called his name and shook his hand. One sang out the Mighty Mouse tag line: "Here I come to save the day!" Andy took it in graciously, but he clearly would rather have been unrecognizable. He seemed more purposeful than most people browsing the colorful display of services and products.
I realized later on that he was looking for help from any source he could find. He'd been diagnosed with cancer, and by then he was desperate. He died on May 16, 1984. It's bizarre to contemplate that he would now be on Medicare.
As with other groundbreaking artists who die young, we will never know what Andy would have dreamed up, and what mischief he would have made, had he lived. At least we have YouTube.
Popular in the Community