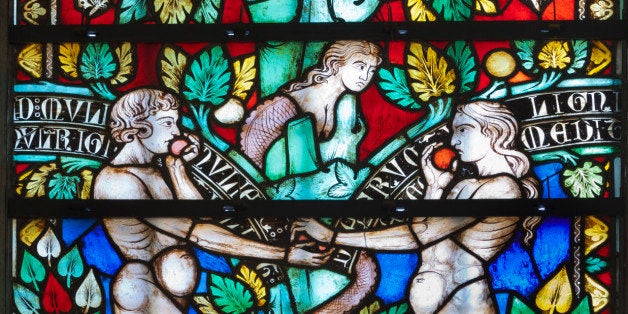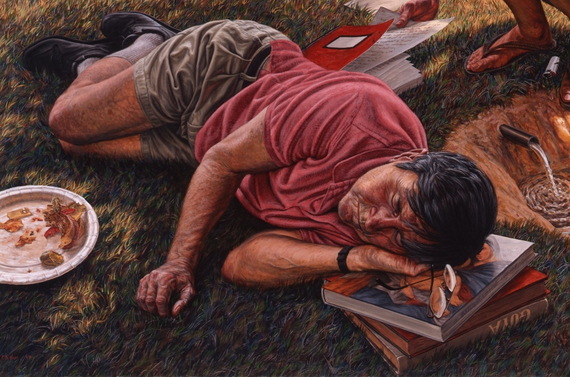 Detail of The Sleeping Scholar by F. Scott Hess, with Gerald Ackerman as the scholar, 1997, oil on canvas.
The art historian Gerald M. Ackerman died in the morning hours of New Year's Day. I met Jerry back in the 1980s at a downtown LA group exhibition he attended with the late Wes Christensen. Jerry was an ardent fan and supporter of representational art but he would remind us when he felt we were getting a bit too bitter or narrow-minded that the art world was a big place, with various currents and fashions that come and go, and that there was room for many differing viewpoints.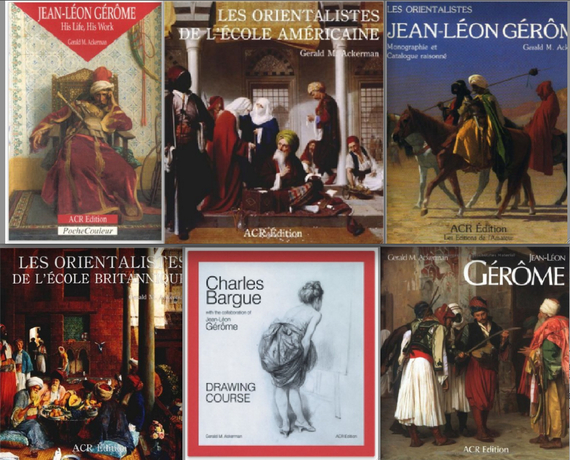 As an expert on 19th century French art, Gerald Ackerman is best known for his work and publications on the great academic painter Jean-Léon Gérôme, whose reputation he helped to reestablish after a century of neglect. The atelier movement in the United States can also thank Jerry, along with his collaborator Graydon Parrish, for the reintroduction of the Charles Bargue lithographs into the study of classical drawing and painting. Jerry received his MFA and Ph.D (1964) from Princeton University where he wrote his thesis under Erwin Panofsky and Rensselaer Lee. He taught at Stanford University in the late 60s and moved to Pomona College in 1971 where he taught until retirement. Of course he received a slew of awards as befits an art historian of his stature.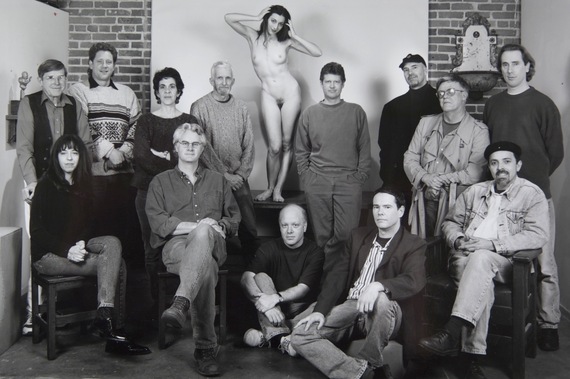 The Drawing Group, circa 1996. L to R, Jerry Ackerman, Cecillia Miguez, Steve Moore, Lauren Richardson, John Frame, Jim Doolin, Sara Streeter, Jon Swihart, Peter Zokosky, F. Scott Hess, Stephen Douglas, Wes Christensen, Luis Serrano, Brian Apthorp.
As members of the Drawing Group that met at John Frame's Los Angeles studio, a few representational artists had the pleasure of getting to know Jerry very well. The discussions about our craft were extensive, in depth, and sometimes contentious. Jerry's breadth of knowledge and experience were invaluable as we struggled to define the theoretical framework that fit contemporary representational work. When we'd get too caught up in some crazy reaction to the fashionable art of the day, Jerry was there to put it all in perspective. He knew how everything fit into art history, because he had, quite literally, helped to write it. We realized through Jerry that art history was an invention that purposefully promoted certain artists in order to build a specific narrative, and that we were therefore free to construct our own art historical narrative, which each of us did in a personal way.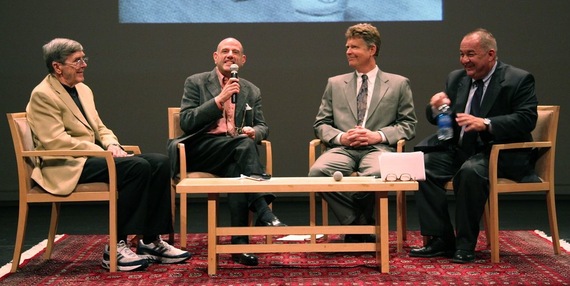 The Great Bouguereau Debate at the J. Paul Getty Museum, with Gerald Ackerman, Scott Schaefer, Peter Zokosky, Patrice Marandel. June 6, 2006.
One of the members of the Drawing Group, Peter Zokosky, recalls Gerald Ackerman as a passionately independent art historian. "His curiosity was unbounded and he never stopped learning,  He took drawing lessons in his 70s and was always interested in the work and opinions of living artists." Another longtime member of the group was Jon Swihart, who met Jerry when he was a young art student in 1980. "I had become enthralled by the work of Jean-Léon Gérôme and timidly called Professor Ackerman one day out of the blue. Jerry was the first 'adult' I had ever encountered with an enthusiastic love for art and beauty. In addition, his vast knowledge of literature, history, music and philosophy left a huge impression on me. That was the beginning of a wonderful friendship and over the next 35 years Jerry and I shared a great passion for all things Gérôme. He was a friend and mentor and even gently stepped in as a father figure after my dad died."
Going into a museum with Jerry was like having an art encyclopedia whispering in your ear. He seemed to know intimate details on every work and artist, and delivered his knowledge with entertaining wit. His decades-long friend Tom Knechtel loved the way Jerry would wax enthusiastic about a painting, "His eyes would roll back, his mouth hang open in astonishment, his hands spread wide, and he would say: 'It's so wonderful, you can't believe it!' " Tom also recalls Jerry addressing Tom's love of Stuart Davis' paintings with skepticism. Jerry complained, "They're flat." Tom objected, "They're flat but they MOVE." Jerry wearily replied, "They're flat and they wiggle."
All who knew Gerald Ackerman caught glimpses of the ocean of erudition that he could never suppress. It bubbled out of him. Brian Apthorp, who also knew Jerry through the Drawing Group, felt Jerry was an inspiration in many aspects. "He exampled how enriched one's consciousness and experience of life can truly be through literature and art--voicing this far more effectively than any instructor I encountered in my entire formal education. I only wish I had plumbed more of his reflections and recommendations. He exampled a rich life, in education of himself as well as being a professional educator of others, and this is what I mean; the improvement of experience which reading great works of literature, like "reading" great works of visual art provided him, the self-expanding harvest of a life of investigation of the contemplations of those who came before us, forming a life actually more vivid and multi-faceted than the majority of our society, who might think themselves better off by not being a "mere bookworm"."
Jerry's husband, Leonard Simon, died in 2014. They were partners for over 50 years, and experienced civil rights marches and the Stonewall riots together. The loss of Leonard, some eight years his junior, took a lot out of Jerry. Their bond was legendary, and I remember someone once asking them what the secret of such a long relationship was. Jerry replied with a twinkle in his eye, "Lots of strategically timed affairs!" To which Leonard exploded with one of his rich baritone laughs.
Tom Knechtel recalls his first meeting with Jerry when he was a student at CalArts. "Jim Woods, a good friend of Arlene Raven's, picked me up and drove me into town where we met up with Jerry and Leonard and another gay couple. CalArts, believe it or not, was not that openly gay then, not the art school at least, and it was thrilling to be around five other older gay men, all funny and self-confident and sexy. I mostly just listened to them, but later Jerry and I were walking along and started talking about Rogier van der Weyden, and I don't know what I was more starved for: the chance to be around gay men or the chance to talk art history."
Tom visited Jerry and Leonard in Sacramento in 1979. Leonard Simon was directing and producing "Family and Friends," a play Jerry had written about their life together. "Jerry was on the quest to make the perfect apricot pie, and I was there to help proofread the Gérôme manuscript. Every day Jerry baked two apricot pies, and we ate one for dessert and one for breakfast the next day. It was heaven."
Jerry was a very careful art historian, and spent years writing and rewriting his texts. Towards the end of his time working on his epic Jean-Léon Gérôme book he encountered a bust of Gérôme in a provincial museum, covered in dust. Knechtel recalls him taking out his handkerchief and dusting it while talking to Gérôme about the monograph. He told Tom that it was then he decided he'd better finish the book.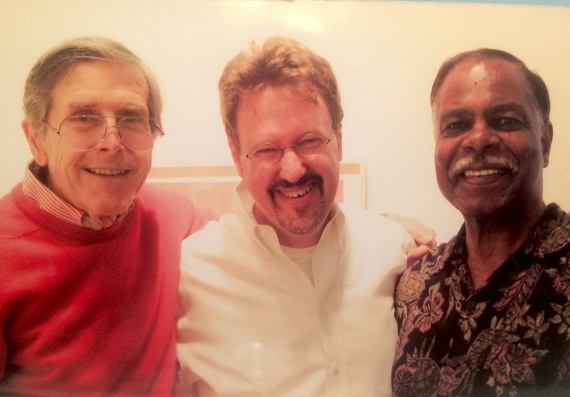 Jerry Ackerman, Tom Knechtel, and Leonard Simon attending Tom's opening at Marc Selwyn Fine Art, Los Angeles, California, 2007.
Jerry was always attentive and concerned with young artists of talent, and he had the eye to spot it. Tom Knechtel's experience of Jerry's kindness was by no means unique: "He wrote the first review about my work and one of the first articles; he would give me books, records, take me to performances. (He took me to my first opera.) When I was living in the Bay Area, I would come down to stay with them, and they would put me up, feed me, and of course the conversation and just being with them was glorious. I often think about how such kindness places an obligation on you to return it by being kind to young artists you meet in turn. And of course now I wonder if I ever told Jerry and Leonard enough how much I valued and appreciated their generosity to me."
When he finally retired from Pomona College Jerry met with his friend Graydon Parrish in Claremont: "We used to go on walks around his neighborhood. I brought up Matisse one day on such a walk, and he quickly noted, "Graydon, the one thing I love about retirement is that I no longer have to teach Matisse. His drawings could be awful!" For some reason, this liberated me. I could talk about my loves and dislikes, justified or not, without having to worry about any received art world propriety. The more I learned about Jerry, the more I understood this was a sign of the most liberated of men, open to ideas and not restrained by ideologies. He could be himself, love whom he wished, race or sex, take from the past or reinvent it, such as bringing Gérôme back from historic oblivion. Calling out Matisse might have been a casual defiance, but it was also repetition of what he always had done: live his own, exuberant, generous and occasionally stubborn life while inspiring others, such as young, eager artists, to follow their hearts, minds and spirits."
Jerry decided to spend a couple of summers in Italy at the Florence Academy of Art, learning to draw from artists who had a direct teacher-to-student connection to Gérôme's 19th century Beaux-Arts classes. There he lectured students on Gérôme and the French Academy, and discussed how Charles Bargue's lithographic teaching aides might be once again be utilized in art instruction. This culminated in the re-issuing of those lithos, a project that took years and the help of Graydon Parrish to bring to fruition. Jerry continued drawing from life in various groups in Southern California, and he always seemed to be engaged in polishing a manuscript on one subject or another, whether Bouguereau, or Orientalism, or a monograph on a contemporary artist. I'm sure a number of these works were left unfinished at his death.
Several years ago Jerry's friends honored him by throwing an epic 80th birthday party at Jon Swihart's house in Santa Monica. There was a reenactment of Gérôme's painting, The Duel After the Masquerade, with Brian Apthorp as Pierrot. There were also belly dancers in an homage to Gérôme's less politically correct 'Orientalist' works, and a fabulous Gerald Ackerman Action Figure was presented to Jerry. Fashioned by Peter Zokosky, it not only captured his likeness perfectly, but had all the accoutrements a 19th century French painting expert could possibly require.
Jon Swihart and Kim Merrill visited Jerry the Sunday after Christmas. They went through another of Jerry's many photo albums with him, a habit they'd formed on their visits. Jerry talked in his usual animated fashion for three hours, then felt tired and they helped him to his bed, tucked him in, and said goodbye to their dear friend. It was just five days later that he awoke at his usual hour of 6am, showered, and was dressing when he had a massive stroke. He collapsed on his bed and was found by his caretaker shortly thereafter. For all of us his passing leaves a void, a disbelief that we'll not hear his voice whispered over our shoulders in museums, or receive his advice on the vagaries of the artworld, or see another perspective on art history borne of his 87 years of acquired knowledge.
To lose a dear friend leaves a hole in the life of each who loved him. Losing the well of wisdom that is a great mind leaves gaps in the fabric of civilization, one of the great tragedies of human mortality. The death of Jerry Ackerman leaves a grieving little arts community and his loss seems all the more poignant in the age of cell phones, quick takes, and mindless selfies.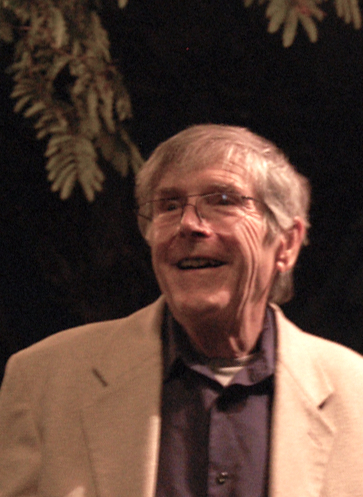 Calling all HuffPost superfans!
Sign up for membership to become a founding member and help shape HuffPost's next chapter