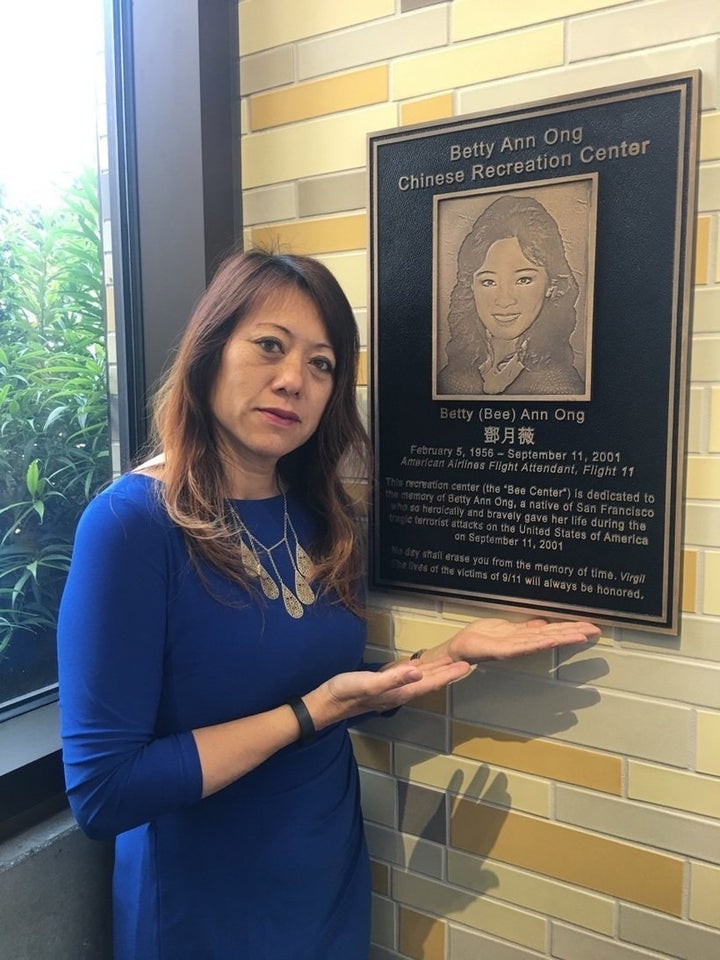 I was born in New York and I was working in California when the 9/11 attacks occurred. I vividly recalled the confusion, the horror, and the tragedy of that day.
I distinctly remember coming upstairs around 7 a.m. California time and finding my father glued to the television, crying. I asked him what was wrong, and he couldn't speak. He kept staring at the television while they replayed the planes flying into the Twin Towers and the pandemonium surrounding the attacks. I remember hearing the news updates regarding the four planes involved. I remember my anxiety and concern, wondering if I knew anyone in the planes that were bound for California, or anyone that was hurt in the devastation that followed.
I remember hearing about the courage of American Airlines flight attendant Betty Ann Ong as she responded to a crisis on Flight 11 that was bound for the west coast, one of the first planes to become hijacked on September 11, 2001. The plane was just 15 minutes into its journey from Boston when it became clear something was wrong. Betty heroically notified the American Airlines ground crew of a hijacking situation on board. She stayed on the phone for nearly 25 minutes, relaying vital information until the plane crashed into the North Tower at 8:46 a.m.
And yet...despite the darkness this day brought, I will also always remember the light that shone through people's hearts.
I remember watching the first responders frantically rescue and help anyone they could reach, without consideration for their own safety and well-being. I remember hearing about people lining up to donate food, clothing, and blood; anything possible to help. I remember watching crying people thanking strangers that saved their lives. My life was changed by how the communities around me pulled together.
My husband's life also changed after the attacks on 9/11. His sister lived close to the Pentagon, his brother was in the Armed Services, and his firefighter father was on high alert in the station. Because of the events of this day, Jason was inspired become a firefighter.
It was a time etched into my mind because it conveyed the best qualities of my fellow Americans at the most trying and adverse time in recent American history– how we pulled together, remained strong, united, and most of all, helped each other when we needed it the most.
Though tragic, on that day, we showed the world we have strength, we have heart, we have compassion, and we will never forget. When I drive past the Betty Ong Chinese Recreation Center and see how that area serves the growing number of families in San Francisco, I remember the courage of an everyday San Francisco native who grew up in Chinatown, attended San Francisco's public schools, and became an American hero that gave her life for her country. I remember the heroism of the passengers on Flight 93 bound for San Francisco, in which the passengers managed to retake control before it crashed into a field outside of Pennsylvania. Then I smile to know that her name and heroism are remembered, as it is prominently featured on a building that is doing so much good for the local community and improving lives of families in the area. We are making life better for the next generation.
On 9/11, take a moment of silence to reflect on what happened that day and remember those who are no longer with us. Thank you to the first responders, military, men, women, visitors, strangers, and Americans that lost their lives that day to help our nation survive that dark time. While fear and terror tried to divide us, we as a nation rose above hate and were unified by love and hope. Let's remember the sacrifice made by all those affected that day, and respect their memories by living life with integrity and honor. Their sacrifice demands nothing less.
Popular in the Community