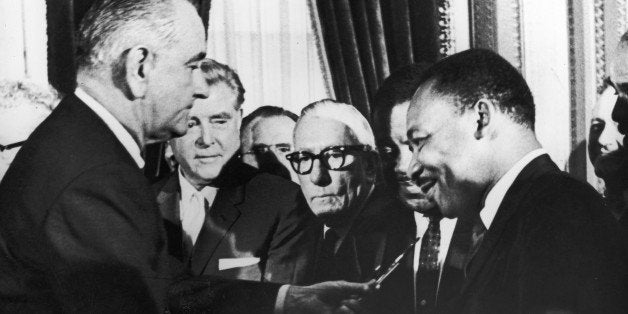 An African proverb reminds us, "If surviving Lions don't tell their stories, the Hunters will get all the credit."
I have been blessed with comparative longevity. So, on the occasion of next week's 50th Anniversary, August 6th, of the signing of the 1965 Voting Rights Act, it is appropriate for me, and for you, to pause and reflect about those events and persons that enabled its enactment.
One year ago, I wrote in this space:
"In 1964, one thousand out-of-state volunteers participated in a voter registration campaign called 'Freedom Summer.' Alongside thousands of black people, they participated in a campaign to register eligible black people to vote in Mississippi. Most of the volunteers were young students, from the North; 90 percent of whom were white. Many were Jewish. They sought to implement Dr. King's 1963 'Dream.'

The exemplars of the moral commitment to social justice among such students were Andrew Goodman, Michael Schwerner and James Chaney. Goodman and Schwerner were young white Jewish boys from New York.

Their bodies were found on August 4th, 1964. The national outrage over their murders assisted in the passing of the Civil Rights Act of 1964 and the Voting Rights Act of 1965".
Next week on the date of the anniversary of the signing of the Act by President Lyndon B. Johnson, Republican presidential primary contenders will be holding their first TV debate, broadcast by Fox News TV.
Think about this for a moment: On the 50th Anniversary of the Voting Rights Act, the Republican party today, along with Chief Justice Roberts' 2014 Shelby v Holder decision, has done more to dismantle the Act, than any other effort in recent memory.
And, they have the chutzpah to seek support for their candidacy for president among the general electorate against the Democratic Party's eventual nominee! Help me, somebody!
Fortuitously, next week I have the opportunity to seek ideological and moral succor from this immoral desecration of the 50th Anniversary of the Voting Rights Act. I have been invited to participate in a special three-day event organized by the Andrew Goodman Foundation. Andrew was one of the three Civil Rights workers murdered by the Klan during the summer of 1964 voter registration crusade in the State of Mississippi.
On August 6th in Chestnut Ridge, NY, Ambassadors for The Andrew Goodman Foundation's Vote Everywhere program, a college-based student leadership and civic engagement program, will gather for a three-day retreat focused on movement building strategies for social change. The Ambassadors represent colleges and universities across the country, where they register peers to vote, engage in nonpartisan political organizing and actively fight to bring down barriers to voting.
"This academic year, we have 63 Ambassadors from 23 schools in 13 states," said Sylvia Goodman, Executive Director of The Andrew Goodman Foundation. She continues by saying,
"These students will create and lead a community of change agents who are serious about their responsibility as citizens, just as Andy was in 1964. Andy Goodman and the Freedom Summer volunteers fought for voting equality to strengthen our democracy; recent challenges in North Carolina, Mississippi, Texas and elsewhere reveal that the struggle continues."

"The AGF Vote Everywhere Retreat arrives at a historic moment for the nation, as we honor the 50th Anniversary of the Voting Rights Act. In the spirit of Andrew."

"Voting is the pathway to deeper levels of civic engagement and social action. The Retreat is designed to prepare students with the tools to effectively engage their campus communities in social change work."
ALL of the presidential candidates, Republican and Democratic, should heed the voices and pay attention to what these young people will tell and show us at their three day retreat commencing on the 50th Anniversary date of the 1965 Voting Rights Act.
Additionally, ALL of us should revisit what President Lyndon Johnson said to a joint session of Congress on March 15, 1965 in his speech accompanying his proposed Act to protect Voting Rights in our country. Among other things, he said:
"Many of the issues of civil rights are very complex and most difficult. But about this there can and should be no argument. Every American citizen must have an equal right to vote. There is no reason, which can excuse the denial of that right. There is no duty, which weighs more heavily on us than the duty we have to ensure that right.

Yet the harsh fact is that in many places in this country men and women are kept from voting simply because they are Negroes"
A few days from the 50th Anniversary of the Voting Rights Act, as a "surviving Lion" I will repeat, part of what I wrote in this space a year ago. What I wrote then should be repeated:
"This 50th anniversary of the summer of 1964 occurs when our 21st century nation is CURRENTLY at a moral crossroads. Our choice is either to standby, 'Business as usual,' while states such as NC, PA, TX, SC, FL, GA, OH, MO, and others pass legislation seeking to limit the time place and qualifications and eligibility to register to vote; or to take the baton from that glorious, noble and moral coalition of black and white religious, labor and civil rights leaders who ignited the conscience of America in 1963 and the Summer of 1964 to end racial segregation, and guarantee the right to vote of blacks in Mississippi and Alabama, AND say to our country: NO! NO! NOT THIS TIME! NOT AGAIN!

We must make it clear that We WILL NOT standby, idly and silently, and have the memory of the summer of 1964 desecrated and defiled by 2014 efforts to limit our right to vote. NOT NOW! Not THIS TIME; Or EVER!

What greater tribute, therefore, can we as adults and trustees for ALL the children of generation, whether as aging Lion trustee like me or a younger member of our Pride, now say and do? We must do everything in our power to support the work of those young Ambassadors of the Andrew Goodman Foundation, and others across our nation, to safeguard the sacred right of all persons to vote in the United States of America.

Again, as I say, so often, at the end of my blogs:

If not us, who? If not now, when?

Years ago, Thomas Jefferson, wrote "I tremble for my country when I reflect that God is just; that his justice cannot sleep forever."
Republican presidential candidates, convening on the 50th Anniversary of the sacred Voting Rights Act, can you hear us?
Popular in the Community