Neither Indians nor Pakistanis quite forgave Dina Wadia for being Muhammad Ali Jinnah's daughter. The former made her life miserable through a protracted, mean-spirited grab for her father's house in Bombay, and the latter ignored her as an embarrassment who dared to marry a non-Muslim in defiance of her father's wishes. She was further isolated because ― unlike other Indian and Pakistani leaders, whose offspring have gone on to take part in affairs of the nation as prime ministers, senators and ambassadors (for example, M.K. Gandhi, Jawaharlal Nehru and Z.A. Bhutto) ― Jinnah's daughter Dina chose to stay out of politics and the limelight.
As I set out in the 1990s to complete the Jinnah Quartet, consisting of two films and two books on Jinnah, I knew I had to interview Jinnah's only child in order to confirm some facts of Jinnah's life and obtain a sense of the man through the daughter. Thanks to some friends and Dina's son Nusli, a thorough gentleman, I was fortunate to have had several telephonic conversations and meetings with Dina in the late 1990s in New York and succeeded in getting her to agree to be interviewed for the documentary film "Mr. Jinnah ― the Making of Pakistan."
In this article, I will share her own words on a number of topics from quotes and passages which are excerpted from the documentary and the book Jinnah, Pakistan and Islamic Identity ― The Search for Saladin. Those interested will find the film online and the book published by Oxford University Press.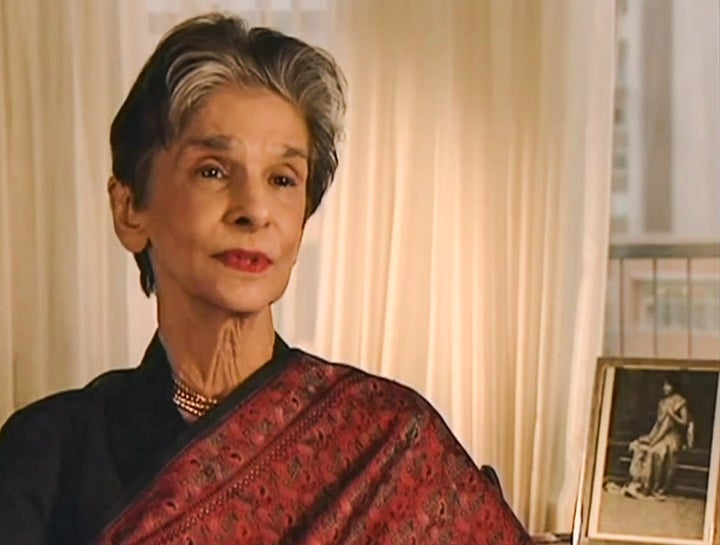 I found Dina at first somewhat brusque in manner, cold and distant, but she warmed up as our conversations continued and by the end I found her charming, intelligent, sharp and affable. She was overjoyed to receive the beautiful Swati embroidered shawl and shalwar kameez set my wife had sent for her and asked me to thank her several times.
She had agreed to come out for tea with me to a restaurant that she had chosen. As the two of us talked, I felt profoundly humbled and honored to be with her and to be able to glimpse her father who I admired so much. In her style of speaking and mannerism, assertive and clipped, sharp features, light complexion and fastidious dressing she bore a striking resemblance to her father. My sense was of a naturally shy person who valued her privacy and deliberately kept away from India-Pakistan issues. She avoided the media like the plague.
[On Jinnah growing up]: "He grew up and, it would be 16, then he wanted to go to England. He came from a very well-off family and they were merchants and he didn't want for anything. His father decided it perhaps he should send his son to England for further education. He wanted to go but his mother was not very happy. She was very upset."
[On Jinnah being asked by his father to come home and support the foundering family business]: "And he said no, he didn't want to go back. He wanted to finish everything and finish his education and so on. And he did."
[On Jinnah and the relationship with Gandhi]: "When Gandhi came from South Africa, my father was already an established politician. I think the original thing that was in common was how to get the British out ― you know, how to get India independent."
[On Jinnah's religiosity]: "He was not a religious man, but he wasn't irreligious either. There was no big religious thing."
[On Jinnah and his view of the two communities]: "If Muslims got 10 rupees they would buy a pretty scarf and eat a biriani whereas Hindus would save the money."
[On life in London]: She recalled that in the early 1930s Jinnah lived in a large house in Hampstead, London, had an English chauffeur who drove his Bentley and an English staff to serve him. There were two cooks, Indian and Irish, and Jinnah's favorite food was curry and rice. He enjoyed playing billiards. She remembers her father taking her to the theatre, pantomimes and circuses.
[On Jinnah's reaction to her marriage to a non-Muslim]: "He wasn't too happy because I think it was that crucial time all around. He was very disapproving, and we didn't speak for a few years."
[On attempted assassination on Jinnah]: "He fought off the man. What happened was that this man came with a knife, and my father was struggling with him, and so the knife cut him. His chauffeur, his driver was in the driveway in a van, and he was a big Pathan, and he just cut him off."
[On Jinnah's decision to split from India]: "He never really wanted to break away. He thought everybody could live together and come to terms with the Congress party or the Hindu government or whoever was going to be in charge. And, as history tells us, it wasn't to be."
[On learning about the creation of Pakistan]: "I was in Bombay at my house, and he phoned and he said, 'We've got it.' I said, 'Got what?' and he said 'Pakistan.' I said, 'Well you've worked hard for it.' And then we had a personal conversation and that was it… I never saw him again because he was in Pakistan."
[On Jinnah's funeral – Dina's first visit to Pakistan]: "Oh, it was massive. I've never heard so many people cry ― I mean most, but in the mourning and crying and flowers, there were thousands and thousands lakhs of people, but that was to be expected. Remember that Pakistan had only been going for a year or something, so it was very emotional."
[On relations with her father]: Father and daughter had fallen out when Dina announced that she planned to marry Neville Wadia, a Christian who had once been a Parsee. At the time, Jinnah had just become the leader of the Muslims of India and was therefore highly conscious of his role. In an angry exchange between father and daughter, Jinnah told her that there were millions of Muslim boys in India, and she could have anyone she chose. She replied that there were millions of Muslim girls and he could have married one of them, so why did he marry her mother? Inevitably there was a break in relations. Dina married Neville Wadia in 1938 and they had a daughter and son, but the couple separated a few years after partition.
Jinnah's relationship with his daughter is widely misunderstood. He is depicted as a cold and unfeeling father who ordered his daughter out of his house because she married against his will and he never spoke to his daughter after she married. This information is incorrect. Dina confirmed to me that when she heard her father had almost been assassinated in 1943 she telephoned to ask if he was safe and said she would like to see him. "Of course," he replied. Immediately she rushed over to his house.
There is written evidence of the affection between Dina and her father in the last years of Jinnah's life. A letter uncovered a few decades ago sent by Dina from Bombay to her father on hearing the news about Pakistan on 28 April 1947 reads:
My darling Papa, First of all I must congratulate you ― we have got Pakistan … how hard you have worked for it … I do hope you are keeping well ― I get lots of news of you from the newspapers. The children are just recovering from their whooping cough, it will take another month yet. I am taking them to Juhu on Thursday for a month or so. Are you coming back here? If so I hope you will drive out to Juhu and spend the day if you like. Anyway I have a phone so I will ring you up and drive in to see you if you don't feel like coming out. Take care of yourself Papa darling. Lots of love & kisses, Dina
She wrote another letter early in June 1947 from Juhu, Bombay, after hearing of the announcement of the date for Pakistan:
Papa darling, At this minute you must be with the Viceroy. I must say that it is wonderful what you have achieved in these last few years and I feel so proud and happy for you. You have been the only man in India of late who has been a realist and a[n] honest and brilliant tactician ― this letter is beginning to sound like fan-mail, isn't it?
The letter had begun, "It was really so sweet of you to write as I know how very busy you are," and ended: "Take care of yourself. Lots of love and kisses and [a] big hug." It is a typical letter from a daughter to her father and there is no hint of estrangement in it.
In conversation, Dina recalled her father with warm affection, describing him as a "sweet man." Of course he was austere, she said, like many other men born in the Victorian era, but mentioned the happy days in London. She remembers sitting at the edge of his bed in the morning having tea while he read the papers, and recalls him as always having time for her. He often quoted Shakespeare to her and his favorite lines were from Hamlet:
"This above all: To thine own self be true, / And it must follow, As the night the day, / Thou canst not then be false to any man."
She dismissed the characterization of her father as cold, remarking that he would put his hand on people's shoulders while he was talking with them. He would interrupt his file work to speak to her, to explain things to her. When I told her that Mountbatten had called her father a psychopath, she replied with spirit: "Mountbatten was the psychopath."
But in the last years Jinnah was very sick and in any case he was reserved and brought up to be restrained and reticent.
Dina did not agree with the way in which her father was portrayed in the film Gandhi, although she enjoyed the film. Dina saw it again in 1995, when, in the light of our meeting, she watched it carefully. She noted that her father appeared "shifty-eyed" and "furtive"; even his clothes were shabby, his collars too big. In reality her father was a "dandy," she said, "meticulous" in his dress. Besides, he had started wearing the sherwani and the film shows Jinnah always in a Western suit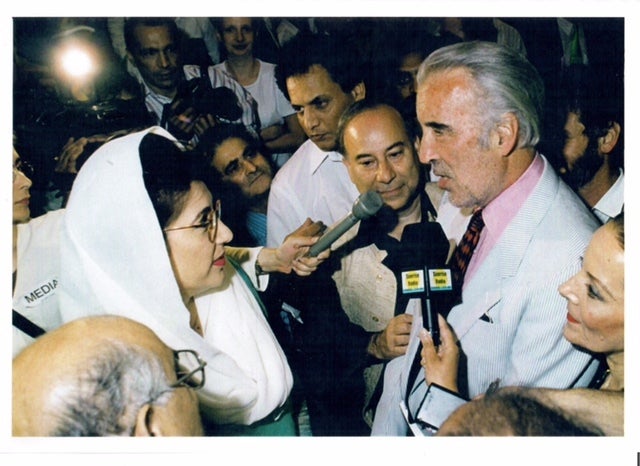 [On Partition]: The partition of India split Dina from her father. It was a sword hanging over every Muslim home. Jinnah's was no exception. His one child Dina had to make a choice. She had either to accompany her father to Karachi and the new homeland he had created or to stay with her husband in Bombay. She chose to remain with her husband and children. She would not see her father again; he would be dead within a year.
The partition of father and daughter may have been overshadowed by the larger partition of India but in its personal tragedy it creates a powerful metaphor. It was made more poignant by the fact that the date of partition ― midnight on 14-15 August ― was her birthday. In her flat in Bombay she had put out two flags, Indian and Pakistani, symbolizing her dilemma. Dina's predicament must have weighed heavily on Jinnah and added to his sorrows as he saw the havoc caused by partition.
"She was young, beautiful, very very intelligent, very bright. Loved beautiful things, and she was a humorous, fun person. They had the same sort of interests, like in politics and things like that, and he was already at a pinnacle in a way. So that was very glamorous. They fell in love, and my grandfather was absolutely appalled, first because of the age difference. I think he was 39 and she was 16 and she came from a prominent Parsi family, and he wasn't too anxious that she should marry out of her community. My father was a Muslim; distinguished or not it didn't seem to matter. The moment she was 18, that was it. She walked out and married him."
Additionally, Dina remembers her "warm, intelligent, wonderful" mother thusly: "She was humorous and loved poetry and the arts." According to Dina, Lady Petit, her grandmother, "adored" Jinnah.
[On Jinnah's relationship with her mother]: "Well what happened is that he was a very very busy man. He had all his cases, he had a living to make. And then he had politics. And he had, you know, a young, beautiful girl, but he wasn't able to give her the time that she should have had … Then she fell ill, she fell very ill. And that was very difficult. She died of colitis. But very bad colitis. I believe there are several types, and I think she had one of the worst. She was very very very sick. I used to visit her when she was ill, in any case."
[On Jinnah's reaction after her mother's death]: Ruttie's death "devastated" Jinnah, according to Dina. "He would never be the same again; something died in him." "A curtain fell over him," said Dina, remembering her childhood. "I think he withdrew a lot. Not in his work, in his politics, but I think he became even more dedicated to his work then."
Dina expressed her irritation about Pakistanis who only seemed to be interested in whether her father ate ham and drank whisky. To put the matter to rest, I asked Dina whether the story about her mother offering her father ham sandwiches in the middle of a political campaign had any factual basis. She recalled that over sixty years ago they were traveling by train to a hill station when ham sandwiches were brought with the food as part of the menu. Her father had them sent away.
The savage scale of the killing of refugees on both sides shook Jinnah to the core, hastening his end. This is precisely how Dina saw her father's death. She believed that he literally sacrificed himself for his new nation. Her bitterness towards Pakistanis is explained by the nation's failure to recognize his supreme sacrifice and live up to his ideals.
On Gandhi Dina confirmed that there was little "personal animosity" between her father and Gandhi, only "political animosity." Gandhi was "charming," "sweet," "enchanting," and had a "sense of humour" as well as an eye for pretty girls, she said chuckling, recalling she was young and pretty when she first met him.
She kept abreast of affairs in South Asia. "They don't respect Gandhi in India, so why should they respect my father in Pakistan. No man is a prophet in his own country." She also observed that there was a lot of what she termed "sick thinking" in the subcontinent, that it was going in the "wrong way towards fundamentalism," and like "global warming," there was "global fundamentalism."
During her 2004 visit, she wrote of her father in the visitors' book at the Quaid-e-Azam Mausoleum in Karachi, "This has been very sad and wonderful for me. May his dream for Pakistan come true." That statement revealed her feelings for both her father and the nation he created.
When she died in November 2017, the world media was using the freeze-frame picture of hers from "Mr. Jinnah ― the Making of Pakistan." It showed a confident, dignified and impressive person. My tribute had not been in vain.
Calling all HuffPost superfans!
Sign up for membership to become a founding member and help shape HuffPost's next chapter