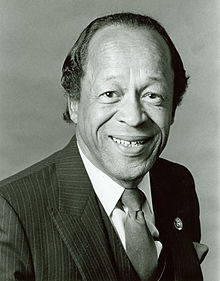 The Honorable Augustus "Gus" Savage was quite a guy. He served in the United States Congress for six terms from January 1981 to January 1993 and ran twice for the seat before finally winning it . Gus was of the people, by the people and for the people, unapologetically Black in his views and his actions, and he was a maverick. Resulting in disenchantment ,with mainstream media.
Gus was in the military and was a journalist for 25 years. He published the Citizen Newspaper, the largest Black weekly in the Midwest. Under his ownership, it was a paper of advocacy, as is much of the Black press.
Primarily serving the South Side of Chicago, the Citizen often was the only paper that printed accurate stories on Black matters. As publisher, often Gus' was the only media voice representing the Black politician. This was Gus' entry into politics, knowing the issues from a media perspective.
My first encounter with Gus Savage was as a student. He published through the NAACP Magazine The Crisis an article that I wrote on "TV in American Culture." It was the formation of a doctoral thesis examining the effects of television on student behavior, particularly related to reading.
My husband, David Wallace, shared the paper with him and Gus submitted it for publication. He called me one day to tell me to come visit him because he had something for me. My article was the lead story in The Crisis.
As Gus's political career developed, I was supportive in his campaigns. The press attacked Gus often. He might have been considered the Donald Trump of his day. He knew the value of the sound bite and personally didn't give a damn.
During his campaign in 1993, I thought I had enough PR skills to be of benefit in his communications. Gus Savage was not racist, as some had portrayed him. He was simply pro-Black. He had an affinity for Black issues, he advocated for Black businesses, he helped shape affirmative action laws, and he believed in inclusion absolutely. Gus was known to stop projects if they did not include Black businesses. He enforced affirmative action. He was a voice, a congressman and an advocate. He spoke up. He was loyal. He never forgot where he came from. There is not a living congressman today that has Savage's tenacity.
Gus was a masterful strategist and a great debater who debated in Congress and in the club. He socialized on the South Side, often visiting the area's bars and lounges. He loved his community and he participated in events and walked the streets often to just touch people and find out what was on their mind. The media criticized him during a period when he missed congressional voting. At the time, Gus was taking care of his sick wife and that was most important to him.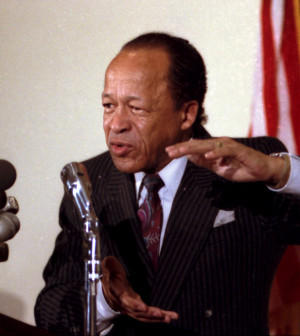 As he was facing the challenge of his political life against Mel Reynolds, Gus was tough and pointed out that external forces were supporting his opponent. He wanted the Black community to rise up. He talked about seniority in the House and what it meant.
Savage conflicted with mainstream press. I thought I could help by assisting Gus with presentation and by coordinating his efforts with White journalists. I thought I could explain him to others. I was wrong on both counts.
Gus was convinced that the mainstream press was racist. Period. Period. Period. He recognized a double standard for Black politicians and White politicians. It didn't matter what we did or how we did it.
And then Gus took it to another level. He went into a rage when asked what he thought about the movie Driving Miss Daisy winning the Best Picture Academy Award. Gus fired back that there were many Black men who were committed to not ever driving Miss Daisy. "Damn Miss Daisy!" he shouted over his drink.
He said White America was comfortable with stereotypical images, but could not deal with real Black men or powerful ones. He warned of outside forces in our community. He warned about Mel Reynolds. He said Mel had character issues.
Gus had character and there were some things he wasn't willing to change to win an election. In a political rally he read from a list of donors to the Reynolds campaign. He pointed out that the major funding for Reynolds was coming from the Jewish community. For that, Gus was labeled anti-Semitic. He was not. He simply said that people living outside of the Second Congressional District were financing his opponent and that there was danger in people not funding the congressman that served them.
Gus Savage taught valuable lessons, whether you agreed or not. He supported his people on every front. One of his last acts in his congressional seat involved the construction of a government building on a slave gravesite in New York. Gus halted the project.
After losing the election he moved to Washington. He was watchful. Every conversation I had with him, I learned something from him. I didn't necessarily agree, but his point was always made.
Gus died well. He celebrated his 90th birthday with a small party for family and close friends. After the party he went to sleep and didn't wake the next morning. He was true to his life. He always did it his way
Calling all HuffPost superfans!
Sign up for membership to become a founding member and help shape HuffPost's next chapter