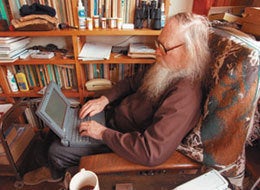 When Hayden Carruth's collection Scrambled Eggs and Whiskey won the National Book Award for poetry, it was no great surprise that he chose not to attend the ceremony. He was always something of an outsider. For most of his life, he kept a distance from the literary mainstream, publishing his work with small presses and staying out of academia (a rarity) until the age of 58.
One could offer that Carruth kept his distance from mainstream society as well, living more than twenty years on a farm in northern Vermont before moving to the small town of Munnsville, New York, where he passed away this past Monday. Many of his poems celebrate the hardworking people and natural beauty of these areas, examining what a New York Times review described as "The tension between the chaos of the human heart and the sublime order of nature." You can see these themes at work in this terrific excerpt from The Cows at Night. The heart's tension, in this case, is Carruth's.
Yet I like driving at night
in summer and in Vermont:
the brown road through the mist
of mountain-dark, among farms
so quiet, and the roadside willows
opening out where I saw
the cows. Always a shock
to remember them there, those
great breathings close in the dark.
... I counted them-forty
near and far in the pasture,
turning to me, sad and beautiful
like girls very long ago
who were innocent, and sad
because they were innocent,
and beautiful because they were
sad. I switched off my light.
But I did not want to go,
not yet, nor knew what to do
if I should stay, for how
in that great darkness could I explain
anything, anything at all.
I stood by the fence. And then
very gently it began to rain.
You can hear Carruth read the poem here.
The Cows isn't representative of Carruth's body of work, however. No one poem is. He employed such a range of forms and themes that critics find it difficult to pin him down. The poet David Barber wrote, "of the august order of American poets born in the Twenties, he is undoubtedly the most difficult to reconcile." Carruth was as comfortable in form as he was in free verse, and one of his poems might as easily have been influenced by jazz as by his battles with depression. He could also be fiercely political. He once slammed George W. Bush as a "stunted throwback," and he spoke out strongly against war--an issue he knew firsthand as a veteran of World War II. Here's an excerpt from the political poem On Being Asked to Write a Poem against the War in Vietnam:
Well I have and in fact
more than one and I'll
tell you this too
...not one
breath was restored
to one
shattered throat
mans womans or childs
not one not
one
but death went on and on
never looking aside
except now and then
with a furtive half-smile
to make sure I was noticing.
Comparing On Being Asked... with one of my favorites, The Cape Cod Blues, gives a sense of Carruth's impressive range. The Cape Cod Blues is written in a ballad-like form and has the feel of early Yeats.
Well, the wind from the ocean's a dark, dark wind
and the ocean is dark as well
and the shrieks of the sea birds flying
sound like the damned in hell
the houses are dark, the people dark
the mussel dark in his shell
the water that crawls on the strand is sighing
a legend of torment to tell
and broken down in the little town
a tower with a broken bell
is clanking a dire death-knell

Give me my upland forest
with its ferny glen, its glade
of the hazelbloom in a dappled shade,
where I and the earth-girl dwell.
Finally, I've included Prepare, a poem Carruth wrote recently for his wife:

Why don't you write me a poem that will prepare me for your death?" you said.
It was a rare day here in our climate, bright and sunny. I didn't feel like dying that day...
And a jay slanted down to the feeder and looked at me behind my glass and squawked.
Prepare, prepare. Fuck you, I said, come back tomorrow....
Experience reduces itself to platitudes always,
Including the one which says that I'll be with you forever in your memories and dreams.
I will. And also in hundreds of keepsakes, such as this scrap of a poem you are reading now.
It's in these scraps of poems that Carruth was, and still is, able to connect with us as well. And I, for one, am thankful for it.