Like other film lovers of my generation, I was not yet born when Phylis Isley began her auspicious acting career during America's post-WWII boom. With no revival houses in the small Virginia town in which I grew up, I first saw the films of the luminous actress whom we now know as Jennifer Jones on a black-and-white television screen in the early 1960s. Some of the classic films starring the iconic yet underrated actress that left early, indelible impressions were Love Is A Many Splendored Thing (1955), The Portrait of Jennie (1948), Since You Went Away (1944), Love Letters (1945), and Madame Bovary (1949). Each performance evokes a rare level of passion and a connection to other worlds, which became the actress's trademarks. They awakened in me an exuberance for classic American film that burns brightly to this day. To urge that each of these films -- the movies I grew up with -- be seen is a privilege.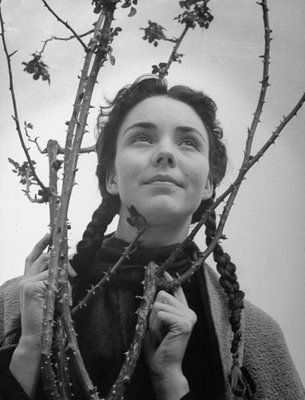 With a sense of wonder in her eyes Jennifer Jones captures the essence of Bernadette without saying a word. She won the Academy Award for Best Actress in 1944 for her ethereal performance in The Song of Bernadette (1943). It marked her first major role and debuted her stage name created by the legendary producer David O. Selznick who later became her husband.
Years later, I watched her debut as "Jennifer Jones" in The Song of Bernadette (1943), under the tutelage of producer David O. Selznick, who became her second husband in 1949. The powerful and ethereal nature of her performance -- under the masterful direction of Henry King, one of the directors with whom she is most assoceated -- as Bernadette Soubirous is difficult to do justice to. In contemporary, new-age terms, I suppose one would say she channeled her character. Like so many of her performances, it was wildly romantic and ultimately tragic. It won her the 1944 Academy Award on the night she turned 25 when the category of best actress included the already celebrated actresses Ingrid Bergman, Jean Arthur, Joan Fontaine, and Greer Garson.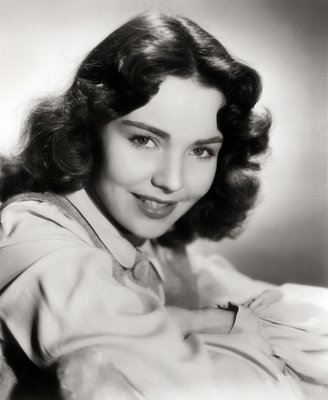 A raven-haired beauty wearing her hair in a natural style popular in the post-war era, Jennifer Jones also symbolized an idealized version of the girl next door in films such as Since You Went Away (1944) and pictured here in the film Love Letters (1945).
Sadly, much of her personal life paralleled the tragedy that seeped into almost every performance. She was extremely private and rarely granted interviews. Dispensing with the painful details of her personal life is a way to honor her and pose a challenge to understand the actress solely through her work. This is not a difficult task, as each film reveals an artist of rare gifts who, even in the flawed films, could easily shine through the lackluster material.

Jennifer Jones and William Holden convey an intense sensuality rare in melodramas of the 1950s. In Love Is A Many Splendored Thing, they also managed to bring new depth to old-fashioned romance.
Given her unusual beauty and extraordinary talent, it is tragic that her rich body of work is so unfamiliar to audiences today. The dearth of profiles and obituaries that appeared after her death on December 17, 2009 is heartbreaking. It may also be true that the actress with a dramatic range enabling her to play an enchanting ghost of a girl who becomes an artist's muse in The Portrait of Jennie with equal ease as Gustave Flaubert's shallow yet fiery adulteress in Madame Bovary is simply too difficult to capture in words.
Jennifer Jones always defied easy analysis, so much the better for us to simply surrender to the films themselves.

Jennifer Jones sits for the Portrait of Jennie circa 1948.
Her favorite leading man was the equally charming, enormously underrated, and similarly enigmatic actor Joseph Cotten. They starred together in some of Jones's most beloved films -- The Portrait of Jennie, Love Letters, Duel in the Sun, and Since You Went Away -- oozing pathos as well as elation and beguiling us at every opportunity. It's no overstatement to say that Jennifer Jones belongs in the elite group of film actresses that includes Bette Davis, Katharine Hepburn, Barbara Stanwyck, Vivien Leigh, and her friends Ingrid Bergman and Deborah Kerr.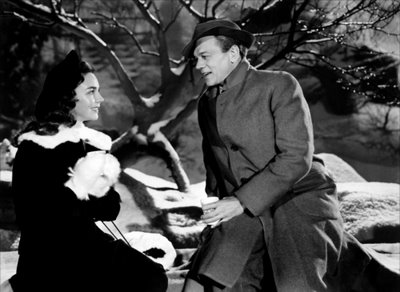 Consummate actress Jennifer Jones makes the leap from an innocent, romantic ghost who enchants a love-sick Joseph Cotten in Portrait of Jennie (1948 pictured below) to the vixen and adulteress Emma Bovary surrounded by admirers (above) in Vincent Minnelli's adaptation of Gustave Flaubert's Madame Bovery (1949) two of the widely contrasting performances just one year apart in the underrated, extraordinary career of Jennifer Jones.
Her legacy grows more remarkable as one remembers that in addition to Cotten, Jennifer Jones stood shoulder to shoulder with acting legends such as Gregory Peck, Ethel Barrymore, Lillian Gish, William Holden, Charles Boyer, Laurence Olivier, Jasob Robards, Joan Fontaine, Hattie McDaniel, John Garfield, Van Heflin, and John Gielgud. She also had stunning cinematic excursions with the tragic, method actor Montgomery Clift (Indiscretions of an American Wife directed by Italian master Vittorio de Sica) and the quintessential Hollywood phenomenon Fred Astaire (in her last film The Towering Inferno).

She starred opposite first husband Robert Walker, Claudette Colbert, Shirley Temple, and Cotten in Since You Went Away (1944) garnering a second Oscar nomination in her second major film. She worked with the great Karl Malden (Ruby Gentry, 1952) who also passed away last year. The list of directors with whom she worked is dazzling: Vincent Minnelli, King Vidor, Michael Powell & Emeric Pressburger, William Wyler, Henry Koster, John Huston, William Dieterle, and Henry King.
Another aspect of Jones' talent--which I only discovered rather recently and admit to with humility--was that she possessed impeccable comic skill and timing. The wildly entertaining black comedy Beat the Devil (1953) directed by John Huston--starring Humphrey Bogart, Peter Lorre, Robert Morley, and (in a twist of casting) Gina Lollobrigida--was a revelation. In her performance as Mrs. Gwendolen Chelm an Englishwoman traveling with her husband through Europe on their way to Africa, she is ironic, outrageous, and nearly steals the film. It marks the only time the raven-haired Jones appeared as a blonde.

Working her unique brand of magic in John Huston's Beat the Devil (1953), Jennifer Jones with Humphrey Bogart and Gina Lollobrigida. The film marked her second performance in a sophisticated comedy and her first film as a blonde. It has since become a cult classic.
Her chemistry with Bogart--paired for the first and only time--is palpable. One delights fully in the brilliant match of two great stars well seasoned in life's trials and tribulations who have mastered the venerable art and craft of comic screen acting. It's no wonder that Beat the Devil has (57 years later) become a cult classic.
On Memorial Day weekend in 2008, I was compelled to remain in Manhattan: A holiday in Sag Harbor was no match for the opportunity to experience a rare Walter Reade Theater screening of Ernst Lubitsch's masterpiece Cluny Brown (1946). [The film is still not available on a standard American DVD format, yet there have been German, French and other versions available for some time.] Here, Jones plays a plumber's niece who falls in love with an anti-fascist professor played by Charles Boyer while repairing a sink in London only to encounter him again when she arrives at a country manor to work as a maid (no, really). Lubitsch's last film is a zany yet sophisticated satire on English manners. Jones' performance--her first attempt at comedy--is rapturous. If fact, it is so efficacious that it makes one embrace Boyer more warmly (which I have found difficult given that my primary association to him is his equally effective performance as the sinister Gregory Anton opposite Ingrid Bergman in George Cukor's 1944 classic Gaslight) and hold him more dear.

A plumber's niece? Jennifer Jones and Charles Boyer as you have never seen them before in Ernst Lubitsch's final film Cluny Brown (1946), which was Jones' first--extremely successful--turn at comedy.
Cluny Brown was one of the films included in The Film Society of Lincoln Center's impeccably curated retrospective "Saint and Sinner: The Tempestuous Career of Jennifer Jones." A standing-room-only crowd gathered to see Daniel Selznick introduce Love Is A Many Splendored Thing. He spoke of how filming in Hong Kong had deeply affected the actress who continued to practice small rituals learned from her time there. Selznick spoke of his stepmother with deep affection as he described the Asian relics that graced her bedside and brought her comfort in advancing years. I was flabbergasted to see how much more beautifully the 1955 melodrama (based on the novel by and the extraordinary life of the indefatigable physician, activist, and historian Han Suyin) played on a large screen. A few rows away, I saw Selznick's charming wife pull a handkerchief from her purse and discretely dry her eyes as the lights went up. She mirrored the sentiments of the entire audience as we sat spellbound. It was everything one could ask for from a day at the movies. For me, it was a day to treasure.
Though Jennifer Jones was nestled far away in her home in Malibu that Saturday in late May, her presence resonated throughout the Walter Reade auditorium where we were so lucky to experience what it must have been like to see her lyrical performance in 1955 as fresh and enchanting as ever.

An ecstatic 25-year-old, Oscar winner Jennifer Jones on a magical night in 1944 with another popular nominee Ingrid Bergman. Everyone was in good company that night: fellow nominees in the Best Actress category also included Greer Garson, Joan Fontaine, and Jean Arthur. Such was the milieu of Hollywood in the 1940s.
Popular in the Community