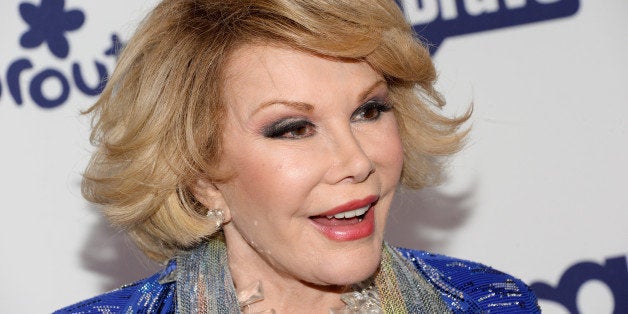 Joan Rivers was a woman off the fence. She lived life on her own terms. She was ballsy, gutsy and ridiculous at times. She wasn't afraid to speak her mind, and in fact, to her admission, her success came as a direct result. She was Simon Cowell before we even met Simon Cowell.
Born Joan Alexandra Molinsky in Brooklyn on June 8, 1933, she didn't like being called a pioneer. "It upsets me to say I'm a pioneer because I'm so current now, you know? I don't like when the ladies come up and say, 'Oh, you broke barriers for women.' And I say, 'I'm still breaking barriers.'" (PBS, 2012). Never one to want to feel "outdated" or "irrelevant," she did what it took to keep herself relevant, current, aujourd'hui. Of course we all knew what came with that territory -- cosmetic surgery after surgery. Joan was not into aging gracefully, but heck, we forgave her! She poked fun at others, yes, but she poked fun at herself too. She knew who she was, and wasn't afraid to say it like it is. One to sometimes pussyfoot around a topic I'm not confident with, I could learn a tip or two from Joan. Cut the bullsh*t -- just spit it out.
She might have been famous for dissing celebs, but I have heard of a whole other side to Joan. A side that's kind, compassionate and tender. Just last week while Joan lay in a coma, I heard a true story about when she came to Montreal many years ago. She was eating dinner at one of our famous Jewish steakhouses, and a woman came up to Joan and told her she was a fan. The woman then told Joan that her husband too had recently committed suicide, and began to cry. Joan pulled up a chair right next to the woman, and said, "You are going to get through this. I am going to get you through this." She ate dinner next to the woman and said to her, "Anytime you're suffering, you call me. Here is my personal number, you call me anytime."
This appears to be the side of Joan that not many knew, but that many are speaking of in the press.
Known for her work ethic, Joan Rivers was the epitome of old school hard work. A concept that I don't think many of our millennials understand today. In fact, I just wrote about this after meeting Barbara Walters last week.
"By doing whatever it takes to get the job done, and not just meeting expectations, but exceeding expectations, you become valuable to someone. You then become irreplaceable to someone. So for the millennials today who are so often clock punchers, or who don't 'want to bring the coffee because it is outside the scope of my job description,' this could be a mistake." - Erica Diamond
Joan Rivers took any and every job she could. She hustled, bustled, and was relentless.
It is eerie, almost haunting to watch this video of Joan and her only daughter Melissa. Here Joan Rivers talks about going in for yet another surgery, and ironically, about dying. This clip is from 2012.
As a tribute to Joan Rivers, I'd like to leave you with a few of my favorite quotes:
"People say that money is not the key to happiness, but I always figured if you have enough money, you can have a key made."
"With age comes wisdom. You don't need big boobs to be feminine. Look at Liberace."
"I have become my own version of an optimist. If I can't make it through one door, I'll go through another door--or I'll make a door. Something terrific will come no matter how dark the present."
"All my mother told me about sex was that the man goes on top and the woman on the bottom. For three years my husband and I slept in bunk beds."
"Never be afraid to laugh at yourself, after all, you could be missing out on the joke of the century!"
RIP Joan Rivers. You were different. You will be remembered.
Popular in the Community