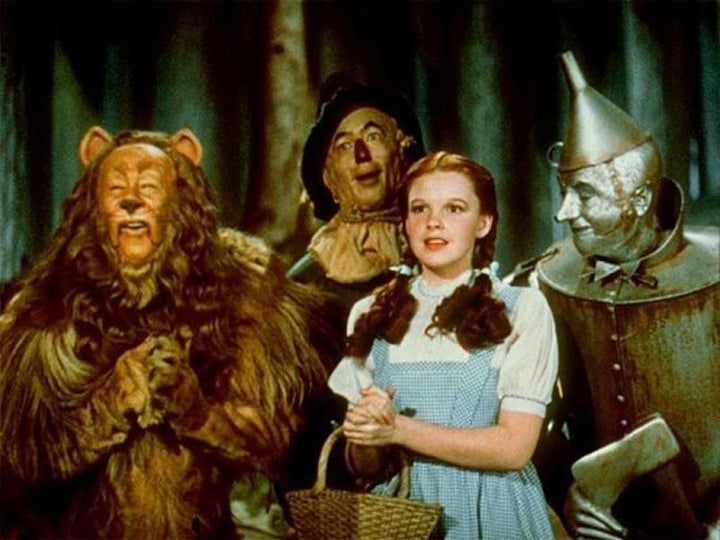 While I was Christmas shopping for a CD for my dad I came across Judy Garland/The Definitive Collection and immediately bought it. I'm glad I did. I have always been a Garland fan and this CD highlights her beginning years of stardom from 1937 to 1945.
I would call those her innocent years, before the turbulent times, when her voice was vibrant and her musical expression exuberant. I also got the ten year old singing sensation Jackie Evancho's Christmas CD and couldn't avoid the comparisons. Not that their voices are anything alike, but both are prodigies with vocal performances beyond their years.
Judy Garland was just 15 when she recorded "Dear Mr. Gable: You Made Me Love You" in 1937 and 17 when she starred in the Wizard of Oz in 1939 singing what became her signature song "Over the Rainbow".
Listening to Jackie Evancho's pure, innocent soprano voice on "Pie Jesu," from Faure's Requiem, moves me to tears by the shear beauty of it. I find myself hoping her fate doesn't mirror Judy Garland's rise and fall from stardom with the way such young talent is still exploited by the entertainment industry to this day.
Back in Judy's time, stars were owned by the Studios and MGM made her take amphetamines to keep up with the work schedule of movie making. This caused an addiction that may have led to her demise of a drug overdose in 1969. She also was told by studios executives the ridiculous lie that she was an ugly duckling which caused her to have a self esteem issue. Sound familiar? Michael Jackson, another child musical genius, comes to mind with his loathing of his appearance and an addiction to pain killers.
Listening to Judy sing this CD makes me forget all of the angst and suffering she must have endured. What struck me is the wide range she had, not only vocally and dynamically, but stylistically. Her voice sounds very mature for her age in such show-stopping belters as "F.D.R. Jones", "The Trolley Song", "It's A Great Day For The Irish", "On The Atchison, Topeka And The Santa Fe", and Gershwin's "I Got Rhythm". And she is equally as engaging and tender with such soft ballads as "Over The Rainbow", "Have Yourself A Merry Little Christmas", Gershwin's "Embraceable You" and "Not For Me", and "The Boy Next Door".
She also displays her humorous side in such duets as "Friendship" with Johnny Mercer, "For Me and My Gal" with Gene Kelly, and ""Yah-Ta-Ta, Yah-Ta-Ta (Talk,Talk,Talk)" with Bing Crosby. You can feel the chemistry between the two performers in each song. She had that extraordinary gift of empowering those she sang and acted with.
Listening to "Blues in the Night" made me realize that like Elvis Presley, she had soul and could sing the blues or jazz with the best of them. Not bad for a humble, young, white girl from Grand Rapids, Minnesota.
The thing that strikes me the most about Judy Garland is the resonance of her voice. It was rich yet sweet with a distinct tone quality that grabs you and pulls you in. Ron O'Brien, the producer of the CD writes of her Gershwin renditions: "Her natural phrasing, the simple elegance of her delivery and the mature pathos and powerful dramatic dynamics she brings to these songs make hers the definitive interpretations."
O'Brien also observes: "No one in the history of Hollywood ever packed the musical wallop that Garland did. She had the biggest, most versatile voice in movies. Her Technicolor musicals... defined the genre. The songs she introduced were Oscar gold. Her film career frames the Golden Age of Hollywood musicals."
In other words, she had "it" -- whatever "it" is. Judy Garland exemplified the star quality of charisma, musical talent, natural acting ability, and despite what the studio honchos said, good looks (even if they were the girl next door looks). Her daughter, Liza Minnelli, inherited "it" also. If you have any doubts just go watch "Liza with a Z". The apple doesn't fall far from the tree.
I love listening to this Judy Garland CD in my car while driving. There is not a song in the album that I don't like. It makes me want to go back to the CD store and buy some songs she recorded in the 1950s to hear stage two of her life. I'm not sure that at the time she graced us with her presence on this earth we really appreciated the talent that she was. We do now. When Liza was asked by Joy Behar on her show why she and her mother are so popular with the gay community, she responded by saying "They have good taste." How true! Good taste and good judgment. Thank you, Judy for inspiring us all.

Calling all HuffPost superfans!
Sign up for membership to become a founding member and help shape HuffPost's next chapter