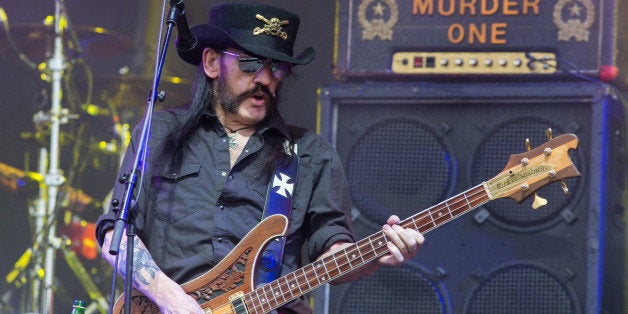 I am amazed Lemmy lived as long as he did. In 1985, I would see him at the Marquee club or in a nearby pub with an endless parade of cigarettes in one hand, double shots of Jack in another, pumping coins into a slot machine. He lived 30 years longer than I ever imagined.
From 1984 to around 1986 we shared the same manager, Doug Smith of Great Western Records. It was a weird roster: Motorhead, Girlschool, Tank, and the Great Dvoskin as Doug Smith liked to call me then.
Mr. Smith was one of those classic music business characters like Fagin from Oliver Twist. He'd hold court each day behind an oversized wooden desk doling out small advances, yelling into a phone (usually at someone from Bronze Records), telling stories, and retiring to the pub early each afternoon for a drink.
I'd be sitting with Doug when Lemmy would come bursting into the office, eternally seeking extra money as an advance against future royalties or the next t-shirt deal. His bottle rocket of a life was bright, loud, dangerous and authentic. Lemmy was the real deal. Motorhead, at the end of the day, was a great band.
Like the Beatles, they mixed real rock 'n' roll with a sarcastic humor. Lemmy described one of their classic albums as "music to make your neighbor's lawn die."
To have a lifelong career in music, one has to dim one's lights intelligence wise -- and Lemmy perhaps was too smart for the culture he existed in.
Long ago, the arrival of Scotland's the Bay City Rollers, as well as the Knack, were both hyped as the next Beatles. Not! Lemmy had to prosper in this very same industry. The myth replaces reality and legends are born. Somewhere Lemmy is stealing Jim Morrisons' cigarettes and swigging Janis' bottle of Jack while beating Keith Moon at poker in rock 'n' roll heaven right now. God bless him on his journey.
REAL LIFE. REAL NEWS. REAL VOICES.
Help us tell more of the stories that matter from voices that too often remain unheard.