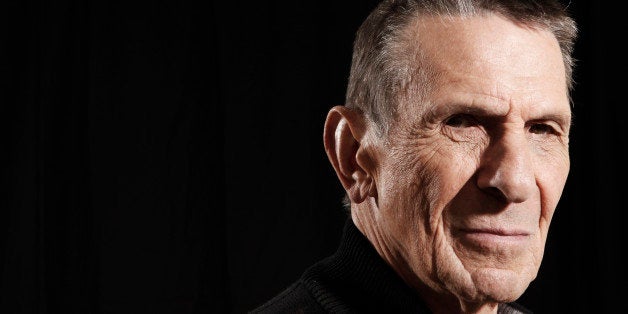 I'd steeled myself for grim news when I read earlier in the week that he'd been admitted to a hospital due to chest pains, but that didn't make it any less of a gut punch to actually see the headline that Leonard Nimoy, 83, was gone.
This one hurts for a variety of reasons. The older you get, the more aware you become of the immutable passage of time. Your own mortality starts feeling more starkly pronounced, as does that of the people close to you, and the people you admire. Certainly Nimoy falls into that latter camp. While he amassed a raft of impressive accomplishments during his many years in and out of the film industry, it's of course for his pointy-eared alter ego as the original Star Trek's Mr. Spock, such an indelible part of so many of our lives, that he'll rightly be remembered, in death just as he was in life.
With Spock, the dispassionate, half-human, half-Vulcan officer who manned the science station on the U.S.S. Enterprise, Nimoy found the kind of character performers both clamor for and disdain (often at the same time). He assured himself a place of permanence in the pop culture conversation while also chaining himself to that role forever and always. And while he attempted to branch out in other directions following Trek's cancellation in 1969 (including a two-season stint as "The Great Paris" on TV's Mission: Impossible), it wasn't long before Spock came calling once again, and Nimoy answered.
While reticent at first (he even wrote an autobiography in the early '70s with the pointed title I Am Not Spock), the actor did reprise his role for the Trek animated show, and eventually returned with the rest of the crew for 1979's Star Trek: The Motion Picture, which in turn launched a string of five movie sequels over the next twelve years (three of which Nimoy himself was intimately involved with shaping). By the end of that run, which included a guest shot on Star Trek: The Next Generation, Nimoy had long since come to be viewed by many (including the late Trek creator Gene Roddenberry himself), as "the conscience of Star Trek." And indeed he was.
By all accounts a gregarious and self-effacing guy, Nimoy nonetheless took his role, his work, and his fans seriously, and he was beloved right back as a result. Despite some early headaches in the post-TV, pre-movie Trek era thanks to typecasting, it's plain to see that the franchise gave Nimoy far more than it ever took from him. (His second bio, from the mid-'90s, seemed to reflect his own acknowledgment of this fact, bearing the amended title I Am Spock.) Indeed, from the '60s right up to his death, he never stopped working, including a particularly memorable (to me) voiceover, and directing the hit comedy Three Men and a Baby in 1987.
More than that, he was also the perfect point man to help pass the torch of the original Trek crew to its new iteration via his key role in 2009's J.J. Abrams-helmed Star Trek reboot, which gave us this memorable moment between the two Spocks. By itself that would have been fitting enough goodbye, but they found a way to include him in 2013's sequel, Star Trek Into Darkness as well. At the time, I thought Nimoy's cameo there was reflective of lazy writing more than anything else. But looking at it now, I view it as a little gift from the filmmakers to us. One final chance to spend some too-fleeting moments with an actor and character we loved so much.
For the perfect perspective on his passing, here's Leonard Nimoy's final tweet, from five days ago. LLAP indeed, Mr. Nimoy. Thanks for giving us so many perfect moments for our memories.
Calling all HuffPost superfans!
Sign up for membership to become a founding member and help shape HuffPost's next chapter