I have heard the story for sixty years. It happened in a Miami Beach cafeteria on Collins Avenue, probably Hoffman's. As my father slid his tray along the restaurant's tubular rack, I positioned myself under the bars, thrust my hand between them, and upended my family's lunch. Most notably, an entire bowl of borscht came crashing and splashing down on my head.
Although the traumatic moment of impact with the Russian beet soup has, thankfully, been erased from my mind, I clearly recall trying on a replacement T-shirt moments later: it featured a monkey face with button eyes that rolled around. What makes this remarkable is that I was barely two and a half years old; several distinct memories of our 1955 Florida trip are the earliest in my life to which I can affix a date.
I've often wondered why images other than my dad's evocative photos have stayed with me for so long. Coming from New York City, Miami Beach must have seemed like another world with its palm trees, pink flamingos and pastel colors, its Art Deco masterpieces and aquamarine waters.
We stayed at the Blue Mist Motel on 191st and Collins, now part of Sunny Isles Beach. Further down the avenue, my mom and I posed at the Sahara with statues of a hooded Arab man and his camels, and I sat on the back of a large wooden zebra guarded by the figure of a small black boy. I rode a stage coach at the Desert Inn, and at the Safari, my father helped me explore a nearly-life-sized elephant sculpture. There were real animals too; we thrilled to the sights of alligator wrestling and greyhound racing. Then there was the obligatory but wonderfully warm visit to my grandfather's childhood friend from the shtetl, Max and his wife Rose.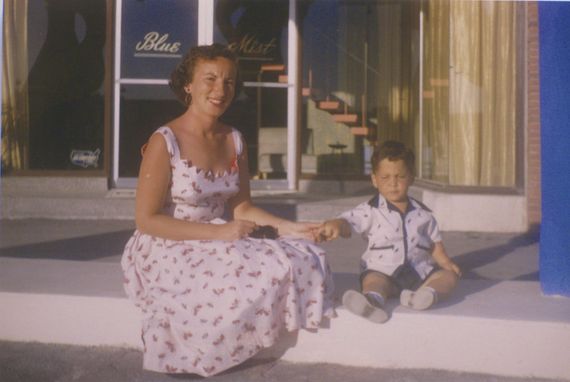 It was all deeply delightful, and it set the stage for joyful return trips. In the mid-1960s, this time with my younger sister, my family stayed at the classic Raleigh Hotel, sailed to Fort Lauderdale for an elegant lunch at Patricia Murphy's, fed the peacocks on Parrot Jungle Island, and marveled at the pregnant male sea horses in the Marine Exhibit on the Lincoln Road Mall.
But then, a slow, steady erosion began. In order to confirm my sense of what happened in south Florida in the late 1960s and early '70s, I turned to Thane Rosenbaum, the noted novelist, essayist, and law professor. His latest book, How Sweet It Is!, brilliantly and hilariously captures the Miami of 1972, when he was a 12-year-old boy living there. Like its fictional hero Adam, Rosenbaum was also the son of Holocaust survivors, although he insists Adam's wild adventures did not occur in young Thane's real life.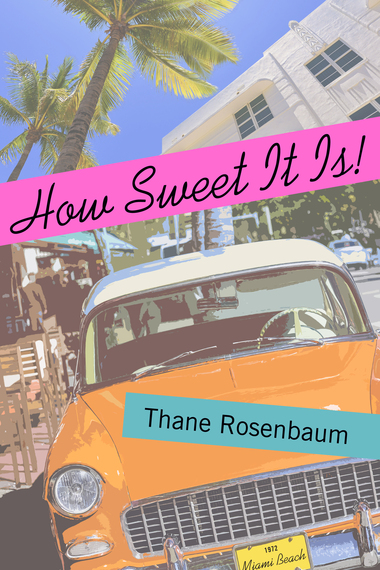 Rosenbaum elaborated on my four-decade-old impressions. "Yes, the heyday of Miami Beach was ending", he said. "Jackie Gleason, who for years broadcast his variety show from South Beach, was taken off the air. The entire area was fading: Fort Lauderdale, Hallandale, all of the south Florida beach resorts. The hotels became shabby, the tourists stopped coming, and people began discovering Europe as a vacation spot".
According to Rosenbaum, the popular stereotype of the time was based in truth. "The image was of people with their walkers and zinc oxide on their noses. It was not the picture of a vibrant winter destination. It was a place to play shuffleboard; a place to come and die".
In fact, things got so bad that mob boss Meyer Lansky, who had lost his Havana hotels to Castro, made a desperate and unsuccessful attempt to bring legalized gambling to the area. The notorious gangster, who figures prominently in Rosenbaum's novel, thought he could revive this shell of its former self, while lining his own pockets.
So how did the Miami region get its mojo back? Rosenbaum attributes the start of the turnaround to an enormously popular TV series that aired from 1984 to 1989. "Miami Vice made South Beach look cool. Racy, dangerous, and cool. You began to see hip restaurants open. Fashion photographers did shoots on Ocean Drive in the old hotels and at the sea wall. The preservationists wisely stepped in to landmark the buildings. Clubs sprang up and nightlife returned".
And the author has a surprising take on the current state of the greater Miami megalopolis. "It's actually much more comparable to the Miami of the 1920s and '30s, than to the '50s and '60s", he said. "It harkens back to the early Jazz Age vision of what Miami Beach could be. It's architecturally impressive, it has a vibrant gay community, and no cities light themselves up at night like cities in south Florida".
Although I continued to visit the Sunshine State regularly during the 1970s and '80s, it was, in my mind, a place for older folks. My aunt and uncle moved to Sunrise, and my parents bought a place in Delray. I had a final Miami Beach meeting with Max and Rose in 1987, when they were in their mid-90s. I held affectionate memories of what had been, and had no expectations of what could be.
And then, an odd thing happened. Several of my closest friends from the Northeast moved to Boca Raton with their young, growing families. Cousins my age took up residence in Boynton Beach. A colleague from Germany purchased a house in North Beach, married a woman from Colombia in their backyard, and started raising two trilingual sons there. I began seeing south Florida through all their eyes, and I liked what I saw.
And so, in 2011, heeding the oft-repeated Seinfeld admonition, "It's the law", I bought a condo just off I-95, and began renting it out. Four years later, the tenants moved on. And six decades after Miami first worked its magic on me, I am marking the anniversary by staying in Florida myself this winter, in my own place, for the first time. I'm enjoying sun, sand, surf, and Early Bird specials, as I ride south Florida's next wave. But I fervently pray I will never, ever see another bowl of borscht.
Related
Popular in the Community