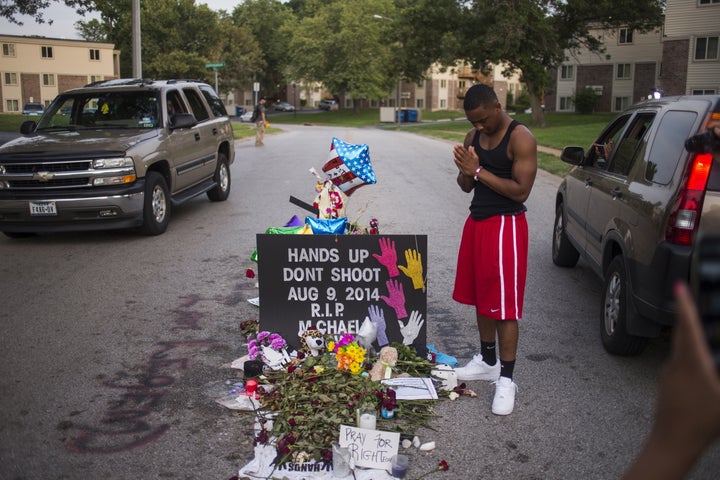 Today, we reflect on the memory of Mike Brown, the 18-year-old unarmed black teen fatally shot six times, twice in the head, by Ferguson, Mo. police officer Darren Wilson.
The Aug. 9, 2014 shooting prompted protests across the nation for weeks. The gripping images of a blood-covered white sheet lying over the form of his motionless body for hours will forever be etched in our memories. As will the image of another black mother with tears streaming down her face grieving the loss of her son to this senseless, yet all-too-common scenario.
Three years and many more police-involved shootings later, we ask ourselves: Is this what public safety looks like in our communities?
Alton Sterling, Philando Castile, Akiel Denkins, Tamir Rice, and Freddie Gray are just some of the names of unarmed black boys and men who have lost their lives since Mike Brown's death. Over and over, we are confronted by the horrifying images of black men killed by the police.
According to The Guardian's "The Counted" initiative, in 2016 black males aged 15-34 were nine times more likely than other Americans to be killed by law enforcement officers. They were killed at four times the rate of young white men.
This trend should have us all on edge, given the call for more "tough on crime" responses from national and local policymakers.
"Three years and many more police-involved shootings later, we ask ourselves: Is this what public safety looks like in our communities?"
Just two weeks ago, President Trump encouraged a room of law enforcement authorities to not be "too nice" while transporting suspects. This quip drew laughter and cheers from officers in attendance. However, the International Association of Chiefs of Police and several local police departments quickly rebuked the statement. The Campaign For Youth Justice and 25 other organizations released a joint statement calling on police to commit to clear protocols and policies against the use of force in our communities.
Additionally, Attorney General Jeff Sessions has been an ardent defender of "get tough" practices from the 1990s. Sessions recently ordered federal prosecutors to seek the harshest possible penalty in all cases, no matter how minor, a practice that will send more Americans to prison without good reason.
These rollbacks are occurring on the state level as well, including in Michael Brown's home state of Missouri.
In the same week that the NAACP issued a travel advisory warning people of color that their civil rights could be violated in the state of Missouri, Republican Gov. Eric Greitens implemented a new anti-violence plan. The plan calls on highway patrol troopers to ramp up policing to combat urban crime, reopening historical tensions.
"We are looking for anything," a Missouri state trooper recently told a Washington Post reporter, before pulling over a motorist for an expired license plate near downtown. "I don't see how it can be detrimental having more law enforcement in an area that really needs more policing."
As we reflect on the anniversary of Mike Brown's death and the subsequent deaths, the current climate in our country toward crime signals that we are headed in the wrong direction. Young men of color are much more likely to be profiled— and then subsequently prosecuted, sentenced and incarcerated as adults in their communities ― than their white counterparts. Federal, state, and local officials are calling on the police, those entrusted to protect and serve to lead the charge against crime.
"At some point, we must question whether all of this law enforcement is necessary."
But is policing alone what public safety looks like in our communities? Many chiefs of police are calling for evidence-based practices that include community policing strategies, a focus on prevention, and referrals to other agencies and community organizations that are experts in mental health, substance abuse, and defusing crisis. Our caution is against embracing law enforcement as the only solution to crime and in adopting a more militarized police force, particularly focused on low-income communities and communities of color. We don't want police in schools, driving our children to the courts for typical adolescent behavior. We don't want police threatening to deport and separate immigrant families trying to live their lives in the U.S. We don't want all of our resources poured into enforcement of the law at the cost of access to quality schools, career opportunities and access to public and mental health.
We recognize that law enforcement agencies are among the largest and most powerful bureaucracies in most localities ― they intersect daily with our lives, especially in low-income communities and communities of color. They may be who we call first when trouble arises, but they are also armed and evoke fear in many communities across the country. At some point, we must question whether all of this law enforcement is necessary. There is a significant imbalance in our current policing model, with far too much emphasis on law enforcement and not nearly enough on crime prevention.
We remember Mike Brown because his death should serve as a daily reminder of the very real work left undone. His memory serves as our invitation to help fix a broken system.
Popular in the Community