In an earlier blog, I wrote about the time when, nearing the age of 40, I learned to swim. After nearly drowning as a child, I'd always been afraid to venture into the water. It wasn't until three decades later that I realized I wanted to fully participate in lakeside vacations with my family, and so I accepted a relative's offer to teach me to swim.
Getting past my longstanding fear taught me that one very frightening experience in childhood did not need to define me or my relationship to water.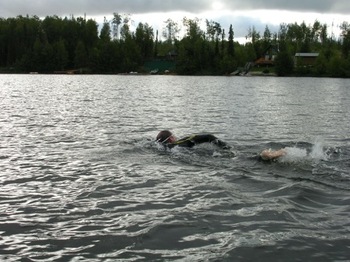 Since then, as I've confronted other fears, I remind myself how empowered I felt when I summoned my courage and crossed the lake on my own. When I do this, I put myself into an I Can frame of mind. I'm making a deliberate choice to remember the times I've felt especially capable and powerful after successfully accomplishing something that I'd been storing in my I Can't file.
By putting fear in perspective, I Can thinking allows my inspired inner Champion to help me think about my experiences in language that encourages me to grow. Each change I make can be added to a catalog of memories that support me whenever a challenge seems overwhelming. This is my I Can File. To show you how this works, here are some additional stories from the catalog I call on when I'm facing a challenge or choosing to step beyond my comfort zone.
My success with running is one such memory. A while back, I decided to try another form of exercise that I'd previously avoided. Having always preferred to walk instead, I made the choice to explore current information about running, and my investigation dispelled the myths in my mind about why I couldn't or shouldn't attempt it. When I discovered the many ways that running benefited me, the practice became part of my routine. I learned not to let my wonky Champion talk me out of trying a different activity. Drawing on this memory gives me courage to attempt something new at times when I'm feeling unsure.
I also include caregiving for my parents in my catalog because, as I describe in Birthdays of the Soul, I was frightened and confused when I first learned my mother and father were both terminally ill. But then, in the process of caring for them, I discovered untapped capacities within myself. I found I could be flexible and creative amid the chaos of daily--even hourly--shifts in plans and priorities. Now, when a similar situation arises, I'm able to remind myself that I can find a way and that I can manage more than I believe I can.
One further example of I Can thinking comes from one of my friends. Her catalog includes the story of a lengthy auto trip she made by herself to live in a different state. It was an intimidating journey of eight hundred miles across mountainous and sparsely populated terrain. Despite the risks involved, she made up her mind not to let fear or "what ifs" prevent her from reaching her goal. The confidence and optimism she experienced as she drove are feelings she can now reflect on and rekindle whenever doubt and uncertainty stand in her way.
When faced with a challenge, we have a tendency to immediately recall times when things didn't work out the way we wanted, had unintended consequences, or left us feeling embarrassed or hurt. These memories only encourage us to live in fear. If we want to live a mindful life, we need to retrain our minds to automatically remember the situations in which we persevered and came through. Our bodies need to remember how empowered we felt afterwards. These are the stories that can support us in being tenacious when challenges arise.
Most likely you can recall situations where you were successful in the midst of challenges or were able to be resourceful and strong despite the odds. To begin your own I Can file, think about brief, one- or two-word titles that you could give these stories, and reflect on them whenever you question your strength and abilities. Then, when you need it, you can simply say one of those titles to yourself. The feelings of joy, pride, or even triumph that arise will serve as reminders that you have the capacities within you to address the current situation. Later, after another success, you'll have a new story to add to your catalog. With deliberate practice, you'll notice more stories coming to your attention to deepen the experience. It's another exhilarating way to live in discovery.
This blog is the fifth in a series called "Harnessing the Full Power of the Mind." The series explores some of the tools and strategies featured in our forthcoming book, The Art of Living in Discovery: Thriving in Life with Intentional Resilience. Designed to help you to take responsibility for your mind, the blogs offer a variety of ways to become more aware of how your mind functions and how to identify when your mind is wonky. As you play with and practice these ideas, you will find that you can bring your mind back to an inspired state and into balance.
Calling all HuffPost superfans!
Sign up for membership to become a founding member and help shape HuffPost's next chapter