This International Women's Day, and everyday since her passing, I remember my grandmother.
When my grandfather died and great-grandmother died within a week of each other, my grandmother went back to school. She was sixty years old. Having grown up on a farm in North Dakota with Polish as her first language she had the equivalent of a seventh grade education.
She wanted to improve her reading skills so she could read the sports page. She loved the Minnesota Twins.
When she was no longer able to walk on her own she discovered she could attach a mop to her walker and still clean her house. Even in her last days on earth, she didn't sit still. We called her "The Energizer Bunny" and to this day she continues to be my biggest inspiration.
As a child I had always been embarrassed by last name and its inability to roll off the tongue, but learning bits and pieces of Polish from my grandma I felt a sense of pride about my background. I desperately wanted to learn the language, but 80 years had washed away much of my grandma's ability to speak it. However, she still managed to remember key phrases like, "More beer!" and "I love you." With her help, I unearthed a sense of heritage and for years now I have attempted to learn Polish.
From 1991 to 2012 she volunteered at a foster grandparent program. Through the years hundreds of children came to know her as 'Grandma.' When I was little I was jealous, not wanting to share her with anyone else, but as I grew older I realized that happiness is meant to be shared.
There are little details and memories I have of her that I never want to forget. She was always so frail and small, but her voice outgrew her tiny frame when we played cards. She didn't have a great poker face—if she got a bad hand in Pinochle she would slam her cards down on the table and yell, "SH*T!"
She could spend hours fishing on the lake in Minnesota, the very same lake my grandfather once dropped his wallet into. One of my favorite photos of my grandparents was taken after my grandfather had a heart attack. He's sitting in a hospital bed and my grandmother has climbed onto the hospital bed and is in his arms, kissing him.
She would go to the bar near her house to play pool and bingo. She had a stray longhaired tabby cat named "Kitty Kat" who she put on a leash and walked around the block. That cat was afraid of nearly everyone but her. She made the best cinnamon rolls and she'd prepare a few batches of them when we came to visit.
She sought happiness wherever she was—whether working as a custodian in the public schools, or spending hours fishing on the lake—she never spoke an unkind word (she just got rowdy when we played cards). In fact, she was a woman of few words. Rather, she lived through her actions, always helping others in one way or another. She showed me that life should be lived intuitively.
Besides teaching me that I have no excuse to not mop my floors, my Grandma Myra showed me the importance of perseverance. Because of her I understand that value does not lie in our status or possessions, but rather the impact we have on others. Our value is determined by what lies within—traits like empathy and compassion. My uncle said it best in her funeral card when he wrote, "There was not a pretentious bone in her body. Without great thinking or talking she intuitively seemed to live what is most important in life: love."
Towards the end of her life she may have forgotten her stories, but I never will. She was and continues to be one of the many strong women in my life who inspire me daily.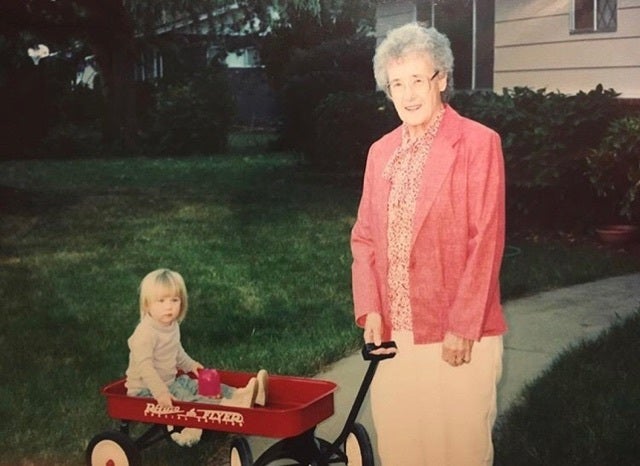 REAL LIFE. REAL NEWS. REAL VOICES.
Help us tell more of the stories that matter from voices that too often remain unheard.