The curator and social activist Neery Melkonian passed away on July 2nd after a long and painful bout with pancreatic cancer. The world is a poorer place for her loss. Born in Aleppo, Syria and brought up in an Armenian family in Beirut, Melkonian emigrated to the United States as a teenager in the late 1960's and studied art history at UCLA.
After teaching at the Pilibos Armenian School in Los Angeles, Melkonian embarked on a successful career as a curator, landing positions as the Center for Contemporary in Santa Fe and at the Bard (College) Center for Curatorial Studies. From an early stage, she championed the inclusion of diasporan artists from the Middle East in the art historical and contemporary art canon. But Melkonian was also an erudite, intelligent and confident woman who did not bear fools lightly. This and her support of Palestinian artists and the Palestinian cause did not win her many friends in the institutionalized art world and may have cost her a more lucrative mainstream career.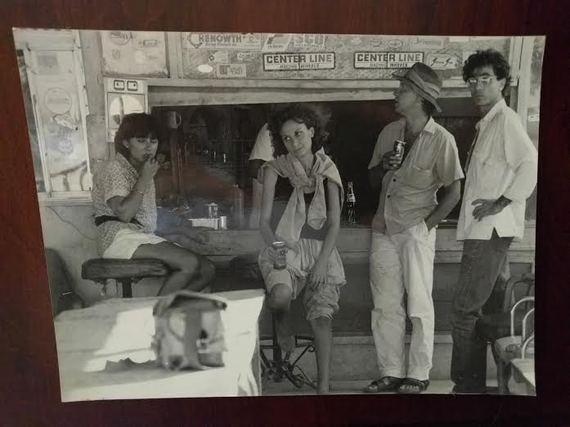 Neery Melkonian (Center) in Mexico with friends. Date unknown.
Yet Melkonian regrouped. She wrote for leading artistic publications and became an independent curator. In 2008 I brought her on board an innovative project that I had initiated, whose goal was to bring together leading Armenian and Turkish artists, civil societies and diasporas. In typical fashion when she agreed with a project philosophically, Melkonian took on the project and ran with hit creating the small landmark show and conference titled "The Blind Date Project" along with Turkish curator Defne Ayas at the Pratt Gallery Space in downtown Manhattan. The show included artists such as Silva Ajemian and Aslihan Demirtaş, Karen Andreassian, Michael Blum and Damir Nikšić, Jean Marie Casbarian, Özge Ersoy and Taline Toutounjian and Linda Ganjian and Elif Uras. As part of the project, she typically set up a Turkish artist with an Armenian one and then sent them on a date or pairing. These twenty some odd artistic "couplings" made up the Pratt Gallery show itself.
Some years earlier in 1999 Melkonian had travelled to the Republic of Nagorno Karabagh to start a small art festival called NK Arts in an ancient Armenian fortress and rejuvenate the local pottery tradition. Most recently in 2012 she planned and began a new cutting-edge project involving Armenian women artists titled "Accented Feminism." Throughout all these projects and others, Melkonian remained a tireless supporter of diasporan art in all its forms and incarnations, as well as of the specific concept of the Armenian transnation. Melkonian, who had herself written her academic thesis on the Armenian Abstract Expressionist Arshile Gorky, emphasized the need, both literal qnd metaphoric, for Armenians to "get beyond Gorky," i.e. to diversify, put the past in context and move forward into the blazing future. In 2007, she posed for Aram Jibilian as Gorky's mother and helped to re-contextualize this most famous of mother-son portraits.
But Melkonian will probably most lovingly be remembered as den mother of sorts to artists and free thinkers both within and outside the Armenian community. Intellectually engaged, she was always willing to discuss ideas over a home cooked meal and wine at her Lower East Side studio apartment. Her honestly and bluntness were part of her charm. In 2009 Melkonian traveled to Venice, where one of my videos, titled "Sarafian's Desire," was part of the 53rd Venice Biennale, along with five essays that I had written on my fellow Armenian artists showing in this prestigious gathering of the world art elite. Over a glass of red wine on one of the canali, she looked me straight in the eye and told me "Chris, my love, I have no idea what the hell you are trying to say in that video. Can you explain it?" At first I flashed with anger, but after explaining my text-based work, she seemed somewhat convinced: "Well," she conceded " if you say so, "and lit up a cigarette for the third time at dinner. On another occasion while discussing progressive politics and the need for Armenian culture to liberalize and reach its truest, most brilliant potential, Melkonian began to perhaps understandably rail against a bourgeois and conservative Armenian-American leadership that simply "didn't get" the need for progressive thinking in the art world or the modern media landscape. She suddenly looked very serious and exclaimed: "You know, if I had a good dependable gun I'd go out and shoot each one of those fuckers myself!"
The critic Jürgen Habermas has correctly bemoaned the bureaucratization of modern life. Everywhere one looks, things are seemingly becoming more alike as opposed to dissimilar. And as always, few people have the courage to be truly independent and think originally. Neery Melkonian for all her putative faults, was one of the latter. Argumentative and brilliant, she will be sorely missed.
Calling all HuffPost superfans!
Sign up for membership to become a founding member and help shape HuffPost's next chapter