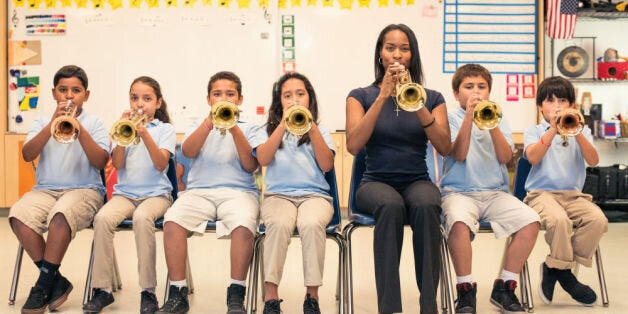 It never fails. When I ask someone if they played an instrument in school, either their eyes light up with joy or exasperation sets in. No matter what their reaction, they always remember their music teacher.
I love teaching music. I love the screeching sounds in September because, hopefully, they turn into beautiful, melodic sounds by June. I love the scales and the patterns. I love the other "non-musical" abilities my students acquire, like perseverance, focus and problem solving. I just love what I do.
But it's not all roses and lollipops. Not only do arts teachers need to constantly defend their place in school curriculum, but many times we have to scramble around looking for funding for supplies and other vital items -- such as instruments.
This is where DonorsChoose.org comes in to save the day.
And today, on March 10th there are many other super heroes partnering with DonorsChoose.org, such as actors, athletes, philanthropists and citizen donors like you, to fund more than a million students in classrooms across the country. This certainly sounds like the #BestSchoolDay!
When I remember my #BestSchoolDay, I remember the people and the experiences and how they made me feel. When I picked up a trumpet for the first time, it may have seemed as if I was picking up shiny metal tubes molded together, but in actuality I was picking up the gateway to my future. I bonded with my teachers who pushed me beyond my self-imposed limits and I learned lessons that have shaped the woman I am today.
My #BestSchoolDay continues to inspire me to create more #BestSchoolDays for my students.
When our DonorscChoose.org proposals get funded and the students open the packages of music books or instruments from the donors, the look on their faces are pure delight. Not only because they have the supplies they need to be successful, but they realize that someone out there thought about them. Someone out there cared. Someone out there wants them to have the #BestSchoolDay ever!
Today is an exciting day, with the onset of giving into our classrooms by more than 50 founders, athletes and actors, but this story would be incomplete without you, our citizen donors who can also remember their #BestSchoolDay and help create one for students right in your hometown or all the way across the nation.
Genein Letford is a music educator, the 2015 Hart Vision Teacher of the Year and a DonorsChoose.org board member.
This post is part of #BestSchoolDay, a national fundraising movement to ensure students have the supplies and opportunities they need to succeed. Visit here to see a map of all the classroom projects being funded and join more than 50 actors, athletes, entrepreneurs and philanthropists in supporting classrooms across America. To join the conversation on Twitter, use the hashtag #BestSchoolDay.
Calling all HuffPost superfans!
Sign up for membership to become a founding member and help shape HuffPost's next chapter