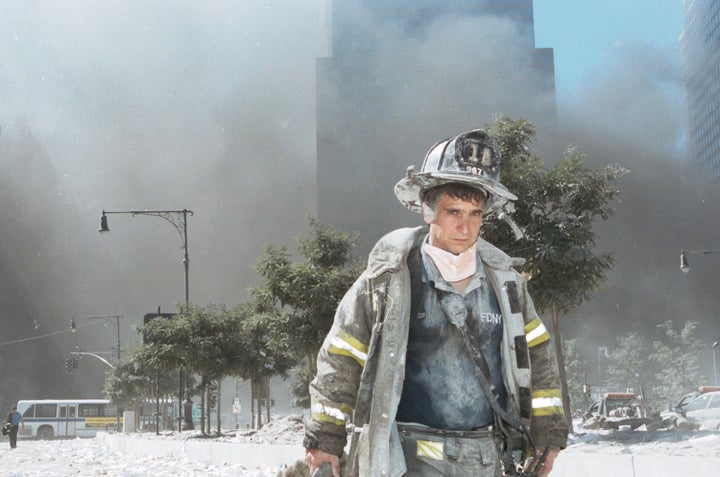 Like all Americans, I will never forget where I was the morning of the 9/11 attacks. I was traveling with my husband when I received the call from my mother that would change my life. I was living in New York City at the time, so when I heard the news, I was overwhelmed with horror and extreme anxiety for friends and loved ones in harm's way.

Now, as I reflect on that terrible day 10 years later, the overwhelming image that stays with me is the amazing acts of heroism we saw from ordinary Americans who didn't need to be asked to commit extraordinary acts. They ran up those towers as everyone else was running down to search for survivors, spending countless hours on the pile of rubble in the days that followed recovering those we had lost.

They came to America's rescue in our greatest hour of need. As a result, tens of thousands of these heroes became sick and are now literally dying from the toxins they inhaled at Ground Zero.

That's why in my first two years in the Senate I was so passionate about fulfilling our moral obligation to the heroes of 9/11, providing them with the proper health care and compensation they need.

Today, as we commemorate the tenth anniversary of the atrocity of 9/11, we must continue to stand by our first responders and provide them with the tools and resources they need to handle a major national emergency and save lives.

Currently, firefighters, police officers, emergency medical technicians, and other public safety professionals communicate on different frequencies and with different systems, creating barriers to providing a coordinated and efficient response during an emergency situation. The 9/11 Commission identified insufficient interoperability between communications systems used by first responders during the attacks and rescue efforts at Ground Zero as a major issue that needs to be addressed. It baffles me that 10 years later, this recommendation has yet to be implemented.

The solution to this national security problem hasn't languished due to a lack of technological know-how. The technology exists today. It has languished due to a lack of political will. Congress cannot afford to wait another day to implement common sense legislation that would enable all of our emergency responders to communicate with each other in real time during a national crisis.

It works by providing our first responders and public safety officials with the critical interoperable radio airwaves needed to effectively communicate in the event a major response is needed. It creates the framework for the deployment of a nationwide, interoperable, wireless broadband network for public safety by allocating 10 megahertz of spectrum, known as the "D-block," to public safety. This nationwide interoperable broadband network would finally enable first responders to communicate across jurisdictions, share critical data such as video feeds and up-to-date information in real-time - making complex operations easier and safer.

At a time when Congress is rightly concerned with cutting spending, this legislation pays for itself by generating the necessary revenue to pay for the development and deployment of this network. In fact, it even reduces the deficit by $6.5 billion. And it does not place any burdensome requirements on public safety entities to return the spectrum that they currently use.

It is simply not good enough when, as New York City Police Commissioner Raymond Kelly said in his testimony in Washington, "a 16-year-old with a smart phone has a more advanced communications capability than a police officer or deputy carrying a radio." It is time to bring first responder technology into the 21st Century.

Just as we did with the 9/11 health bill for our heroes, Congress must and can come together, Democrats and Republicans, to pass this legislation. And we should do it now so our heroes have the best technology available when duty calls.
Popular in the Community