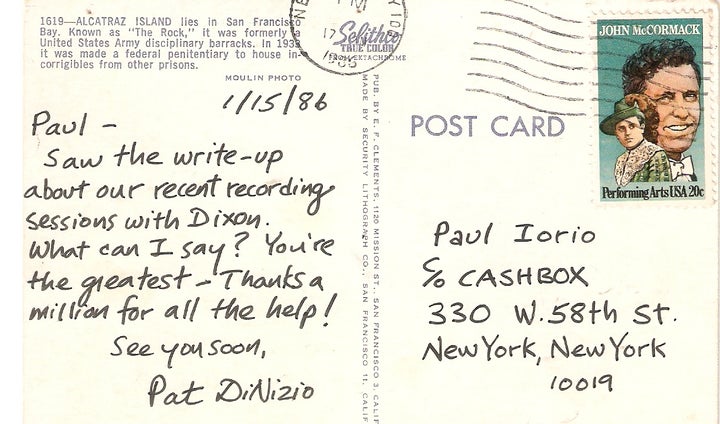 The first time I met Pat DiNizio, who died on Tuesday, he and his band The Smithereens were playing to empty chairs at a bar in Greenwich Village. They had no recording contract -- and no reporters or A&R execs were there to see them. It was October 5, 1985, and I happened on the gig purely by accident.
At the time, I was a staff writer/reporter for Cash Box, a music trade magazine, and was on my way to the Ritz to see another band, The Chiefs of Relief. But as I walked by Kenny's Castaways on Bleecker Street, I heard some loud music and decided to drop in for a listen.
I took a seat among the empty chairs. The band, who called themselves The Smithereens, played a brand new song that I later discovered was "Behind the Wall of Sleep," completely unknown at the time but one of their signature tracks today.
Suddenly, I forgot about the Chiefs of Relief (though I'd later go on to catch and review their set). Suddenly, I wanted to write about and interview this band, whoever they were.
The set ended and we all wound up in the bathroom, where they -- DiNizio; drummer Dennis Diken; guitarist Jim Babjak and bassist Mike Mesaros (all from New Jersey) -- said they would do an interview after the encores. They got back onstage and, clearly jazzed by the fact that a trade reporter was in the house, tore through a jubilant version of The Kinks "House in the Country" and The Who's "The Seeker." Wow, I thought.
The next morning I went back to my office and wrote up the show. "The Smithereens have played the New York area club circuit for five years with the same lineup and on October 5 at Kenny's Castaway's, vocalist Pat DiNizio led the band through a tight set of original and cover tunes with a mid-'60s sense of pop joy. After closing the show with 'Behind the Wall of Sleep,' the band ran furiously through a half dozen covers ranging from the Kinks' 'House in the Country' to Wild Thing.'"
My review appeared in the October 19, 1985, issue of Cash Box and marks the first time any journalist anywhere had ever mentioned "Behind the Wall of Sleep" in print. (And it was part of a series of reviews I wrote that fall for Cash Box that reportedly convinced the Hein brothers to sign the band to Enigma months later.)
Though the band had had some success earlier in the 1980s -- and had even been written about in Rolling Stone -- they were now virtually a dead issue in the music business, I soon found out. As I could see, they had virtually no audience for their concerts in mid-1985 -- or, at least on that night they didn't.
In subsequent months, I witnessed something thrilling: the rapid ascent of a major American indie group as they graduated from small clubs to larger clubs and beyond. In early 1986, I started writing about the Smithereens's Enigma debut album, "Especially for You," as it was being recorded (when it was still called "Groovy Tuesday") and was the first journalist, by many miles, to do so.
Around this time, I also started hanging out a bit with Pat in New York City. I found him to be a tough-minded pop bohemian/entrepreneur with a great sense of humor -- he got "This is Spinal Tap" to the core -- and with a fanatical love of the Beatles that matched my own.
In studio sessions for the band's Enigma debut, DiNizio jokingly uttered the cryptic phrase "design in blue" at the end of their track "Groovy Tuesday." And he loved the fact that producer Don Dixon recorded it backwards as a sort of arty, experimental joke.
That was Pat. His humor always hit the mark. (Interesting that he was personally funny, but his songs were not.)
And he could endlessly, expertly talk about the Fab Four. I'll never forget how excited he was in '88 about discovering a bootleg demo of the Beatles jamming on "Mean Mr. Mustard."
I lost track of him after the 1980s. He went his way, I went mine. But at a pivotal moment in both of our careers, we connected. And the music he created, particularly in those years, resounds to this day.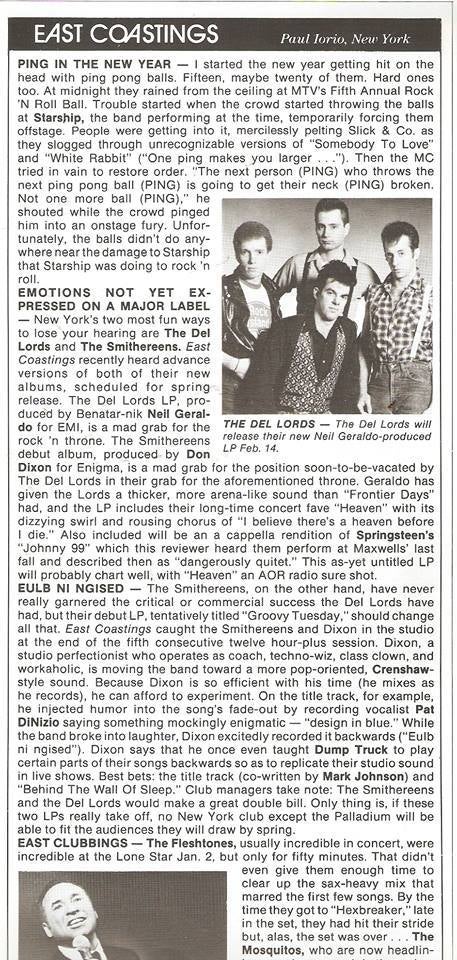 Popular in the Community