There are few places as meaningful to the people of the United States as the Pearl Harbor Memorial. At what is now a quiet, somber National Monument, the course of this country changed on December 7th, 1941. Within the span of a few hours, 2,403 men and women lost their lives when the Japanese staged a sneak-attack on the United States Pacific Fleet and sent this country into war.
Of those who were lost, at least 2,008 were sailors aboard the various ships that were targeted in the attack. And of the ships that lost men, none lost more than the USS Arizona, which was struck by a bomb in the munitions room. The ship violently exploded, quickly sinking and immediately ending the lives of 1,177 men aboard. Only 335 survived.
But none of this was on our minds when we walked through the doorway of 19 North Hotel Street in Honolulu. We were here to visit Smith's Union Bar, the oldest bar left in all the Hawaiian Islands. Here we hoped to not only learn about the history of the bar, but to also gain a different perspective about the Islands' past. Boy, were we in for an education.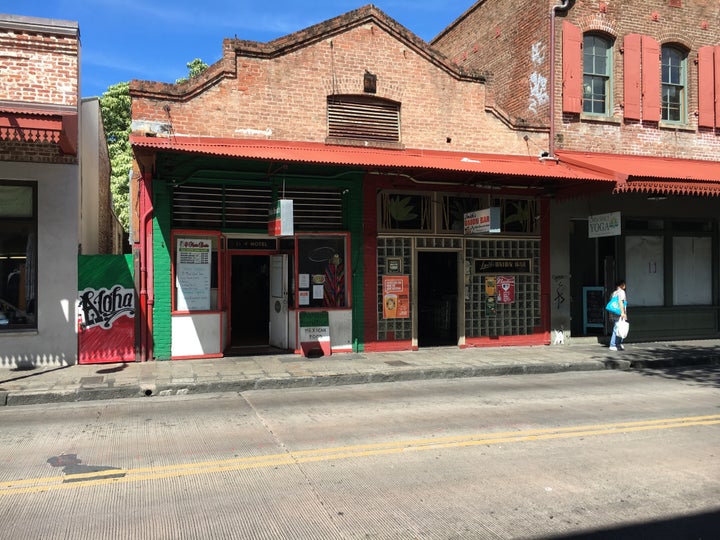 During our mid-morning visit, Hotel Street, running diagonally northwest and southeast through Honolulu's downtown district, was quiet, with little traffic and a few pedestrians wandering in and out of the shops. With a cool breeze and music wafting out of the open doors of small gift stores, the landmark Iolani Palace just a few blocks to the east and the Aloha tower to the south, it seemed almost quaint.
But we knew this scene only belied the history of this section of town. You see, for as far back as Westerners had been visiting the Hawaiian Islands, this part of Honolulu had always been known as the Red Light District. Chinatown is a stone's throw away and the docks and ports that have delivered hundreds of thousands of sailors to the island over the past two centuries are just a 10-minute stroll. So the district was a convenient distraction after months at sea.
Smith's Union Bar was just one of dozens of bars in the area, and all of them chock full of the pursuits a lonely, bored sailor with money in his pocket might want. There were gambling halls, opium dens and, of course, many, many brothels.
The Red Light District was seedy, dirty and dangerous. It was everything you've ever read about – all the bad stuff anyway – about sea ports and villages of the 19th and 20th centuries.
But as just one bar of many, Smith's probably didn't stand out that much. At least that was our impression. It isn't cavernous with a large stage for live music. Instead its small; a long room with enough space for a bar on the right and tables against the wall on the left. There's no intimacy here, no dark booths for privacy. Just open seating that serves the purpose of drinking.
And from what owner Dwight Lockwood told us, that's pretty much what went on. Named for the next cross-street (Smith Street) and cashing the union checks from local workers, Smith's, apparently, never really made a commotion. There aren't any rooms off to the side that could have made it a brothel. No backroom with which to hold illegal poker games. Nope, none of this. Smith's was just a bar.
And it may stand to reason that's why it's survived. Chances are the police were too busy raiding other more nefarious places to bother with Smith's. There weren't any rival opium dens to burn it down or gangsters coming around to collect a take from the gambling. Nope, it was just a bar.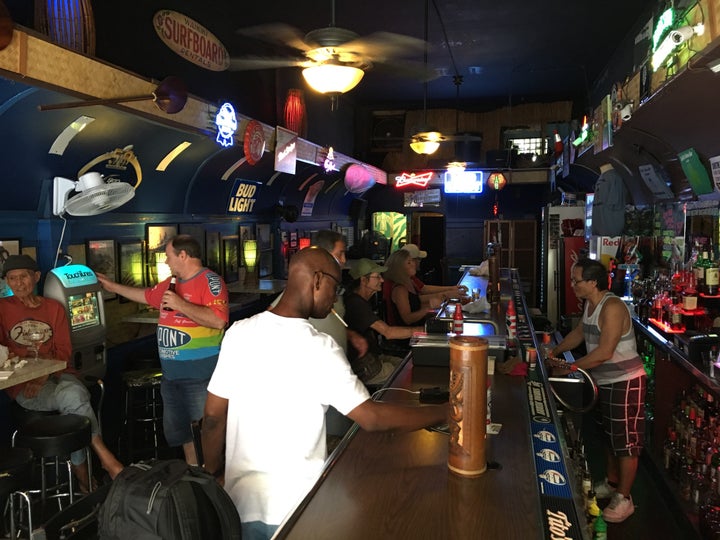 And when you walk in, that's what you get – a bar. You sit down at a table and order a drink and settle in to a cozy, yet comfortable space just right for throwing one back. You can hear the conversations around you – most all from locals talking about neighborhood characters, the weather, recent events and what have you.
Dwight told us the crowd, and therefore the conversation, changed throughout the day. In the morning until the mid-afternoon it's filled with the people we were surrounded by – aged locals. In the late afternoon they shuffle out and are replaced by business people. These stay for maybe a couple of hours, wandering in before or after dinner, and then finally go home. The last shift is owned by the college crowd, who migrate to the downtown area well after sunset and are still found here in the early morning (though there are no longer any classic bars left in the area, save Smith's, there are still numerous lounges and pubs).
Dwight also tells us about Smith's staying power. He tells us that he has customers coming in who've been drinking here for decades. They talk to other customers who likewise have been here for years. They ask about each other's families, about each other's lives. They know each other - truly know each other. We witness this ourselves as they crack jokes and carry on.
But then Dwight tells us about one customer in particular, perhaps the longest running regular any bar has every had. His name is Lauren Bruner and he comes in once a year, on December 4th. As he tells us about Lauren, the importance of Smith's suddenly dawns on us, and our perspective completely changes. This isn't just a bar anymore.
When the USS Arizona was transferred to the Pacific Fleet in 1939, and subsequently to Pearl Harbor, Lauren Bruner was a crew member. He was a young Fire Controlman whose job was to call out the coordinates of the enemy to the plotting room down in the ship. The plotting room then entered those coordinates into a computer, aiming the guns, and then firing.
A stressful job no doubt, especially for a young 20-year-old. And like most other 20-year-olds, Lauren liked going out with his friends after hours to relieve some of that stress. For Lauren, and for the crew of the USS Arizona, their go-to spot was Smith's.
According to Edward McGrath, Lauren's friend and co-author of a newly released book about him, every ship's crew had a regular watering hole. The crew of the USS Nevada would frequent Shanghai Bill's Bar on North Pauahi Street. The Crew of the USS Maryland preferred the Four Aces Bar on Alakea Street. But for the crew of the USS Arizona it was always Smith's Union Bar.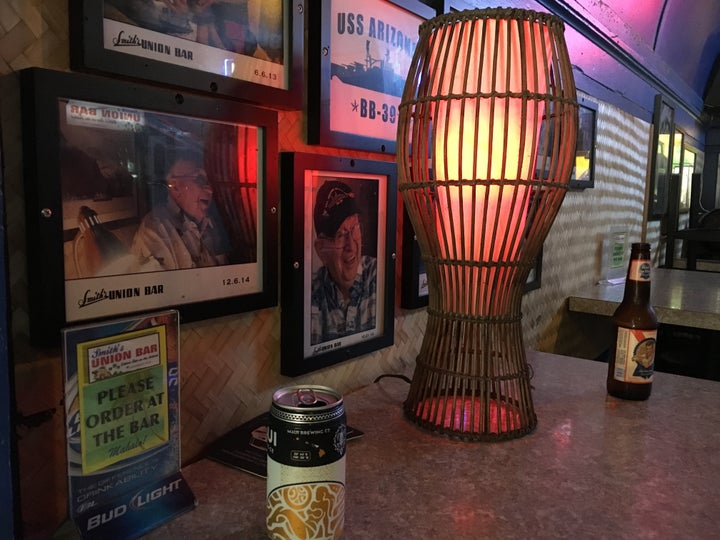 And for Lauren, Smith's is still special. When the Japanese attacked, Lauren was at his battle station on the Arizona. When the ship exploded, Lauren suffered burns on over 70% of his body and few thought he would survive, but survive he did. And for the last five years, he's been coming back to Honolulu for Pearl Harbor Remembrance ceremonies. For him, part of those ceremonies include drinking a beer at Smith's. In fact, he'll be there on December 4th, and if you're in the area you are invited to stop by and say hello.
For us, Smith's Union Bar definitely epitomizes what a historic American bar should be. Sure, it's the oldest in the area, the oldest in the state in fact, but there's more to it than that. It was the fly on the wall when the underworld of the Red Light District was real, and not the setting for some Hollywood film. It was also a safe harbor for young men who vanished from the earth in the blink of an eye. It is a memorial, perhaps, to their spirits. While the true memorial only a few miles away pays tribute to their sacrifice, a place like Smith's pays tribute to their love of life and to their youth. What a glorious way to remember them.
Even if you can't make it for the Pearl Harbor Remembrance ceremonies or to Lauren's party on the 4th, be sure to stop by anyway if you are visiting the area. Have a beer here and just try to connect with a different side of Hawaii's complicated history.
When: Are you kidding, this is Hawaii, there's never a bad time to visit! Smith's Union Bar is open 8am-2am, Monday-Sunday.
What to Drink: Smith's is a beer and shot type of place. They sell cheap beer, but they also sell locally made craft brews and have many on tap. They can also pour most any booze you want, but you probably shouldn't order a Cosmo here.
Related
Popular in the Community