Three years ago today my pal Phyllis Diller died. She was 95.
She always brought something positive to this party we call life, as a mother, grandmother, great-grandmother, copywriter, stand-up comic, actress, pianist, painter, author -- and as my friend.
Phyllis and I would talk on the phone nearly every night, and go to dinner or an event a couple of times a week. She was like family to me, and we had often said we would have chosen each other as relatives. I have hundreds of fond memories of her. Here are a few of them.
There were many high-profile events, including a birthday dinner party that Barbra Streisand hosted at her home for her manager, Marty Erlichman, in September of 2010. Phyllis and Streisand had a friendship dating back to Streisand's earliest days in show business, and they genuinely adored each other. The evening of the party, Streisand was wearing a layered white lace dress that had a slightly shredded look. Phyllis was asked to speak. She stood and said, "I was greeted here tonight by Barbra -- who was wearing an unmade bed!" It was the biggest laugh of the evening, and Streisand loved it.

We sat with Don and Barbara Rickles and Elliot Gould and his date. When we first arrived, Rickles delighted Phyllis with three one-liners:
"Phyllis Diller, check yourself into a home already!"
"Call the morgue -- one of them got away!'
"This is the only person in show business who thought Bob Hope was funny."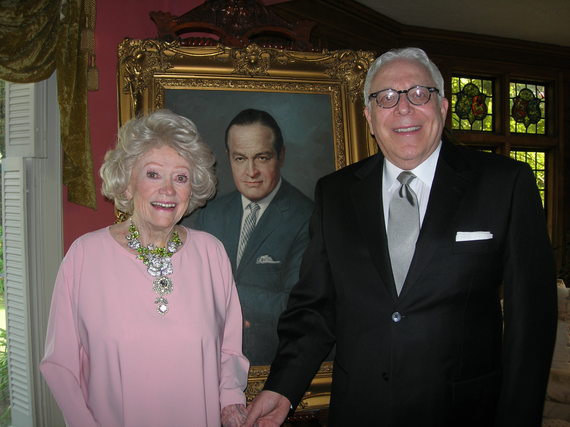 Phyllis and me in "The Bob Hope Salon" at her home. The portrait was a gift to her from Hope.
While parties and events were great fun, our preferred evening was at Phyllis' home on Rockingham in Los Angeles, where we would play "Diller Gin," a game she invented with some screwy rules. We would also usually play after any night on the town, even following the Streisand party. We would play for a penny a point and listen to jazz. No matter how tired she was, she always seemed to have time to beat me out of a couple of bucks at the card table. We were often there until midnight or later, with her beloved cat "Miss Kitty," sleeping on a third chair at the table.

In addition to playing gin, we would drink it, martinis being her chosen delivery system. Phyllis would boast that she taught two people to drink, Elliot Gould and me. And I always would add that it wasn't so much that she taught us to drink -- rather she drove us to it!
Phyllis did enjoy her cocktails. She also thought gin was medicinal, preventing many common ailments. She certainly benefited from multiple doses. One person she clearly failed to teach to drink was Roseanne Barr. One evening in December of 2010, we were going to a dinner party in a private residence. When I picked up Phyllis, everyone was quietly tiptoeing around. Karla, Phyllis' personal assistant, whispered to me that Roseanne was asleep in a guest bedroom, and they didn't want to wake her. Roseanne and Phyllis had a couple of martinis during the late afternoon. The 58-year-old Rosanne passed out and the 93-year-old Phyllis went out. When we returned to Phyllis' home around 5 hours later, Roseanne and Karla, were in the kitchen eating a pizza that they ordered. Karla went to assist Phyllis, and Roseanne and I sat in the kitchen. Roseanne explained that she was not accustomed to drinking martinis. That was apparent. She looked like a pigeon that got caught in the middle of a badminton game.
Phyllis and I would often have dinner at either her home or mine. We also would frequently go to an unpretentious little place by the beach in Santa Monica called the Golden Bull. This was a regular hang-out for Phyllis, and we had countless dinners there. One night we arrived around 6:00 PM. Our waitress, Kiki, asked Phyllis whether she wanted soup or salad. Phyllis inquired what kind of soup they had, and Kiki listed several. Then Phyllis asked what kind of salad, and Kiki went through that list. Phyllis hesitated, thought, asked again, and was in a dilemma as to what to order. This went on far longer than necessary. I loved to make her laugh, so I put down my menu, looked at her and said "They close at 11." Phyllis cackled so loud and robustly everyone in the place heard her and laughed at her signature laugh.
That gag became a standing joke with us. Anytime someone was making a long-winded speech, onstage too long, or otherwise consuming too much time, Phyllis would whisper to me "They close at 11."
Phyllis could sometimes be very stubborn. Thankfully I was one of the few people from who she would accept advice. At one point she needed to replace her pacemaker, but was refusing to do so. One of her staff members frantically called me and asked me to intervene. I spoke with Phyllis and bluntly said "Are you out of your $##!! mind?" She calmly replied that she didn't want to live to be 110. After much back and forth, I appealed to her vanity, and told her how much the pacemaker would increase her circulation, bring a rosy glow to her complexion, and improve the looks of her legs too. The pacemaker was immediately replaced.
Phyllis had done a special guest spot on the Bold and Beautiful at CBS in early 2012. Lee Bell was a close friend of Phyllis, and Lee co-created the series with her late husband, William J. Bell. After the shoot, Phyllis called and told me that she had her makeup done at B&B by one of the best makeup artists in town. She said, "Bernie, I don't want to go home and wash my face -- take me to dinner." She was not the type to waste anything, even makeup.
One night we were having dinner with George and Erin Pennacchio in a restaurant in Encino. George is the "Entertainment Guru" for KABC television in Los Angeles. Phyllis proudly announced to Erin "I did my own makeup, and it only took me 5 minutes." I loved to kid her, so I sarcastically suggested, "Next time take 10." Phyllis laughed loudly, and then gave me the single finger salute, a gesture she frequently bestowed upon me.
In early 2012, we had a chili dinner at Phyllis' home with Thomas Lauderdale, founder and director of a little orchestra of good cheer called Pink Martini. He was a huge fan, and the next day he called me and asked if I thought Phyllis would consent to record the Chaplin tune Smile with them. Phyllis and I were going somewhere that night, so I told him I would ask, and I did. She sought my advice, and I recommended that she do it. Pink Martini is a remarkable group with huge and loyal following, playing major venues around the world, including the Hollywood Bowl and Carnegie Hall. Phyllis trusted my input, and asked me to handle it for her, which I gladly did. Thomas and I quickly worked out the details.
In late January, Thomas, his sound engineer, and I were in Phyllis' home, which was somewhat suitable for recording. Thomas tried to accompany her on Phyllis' piano, but it presented continuity/editing problems in her attempts to get through the full song. Phyllis suggested that she sing it acapella and that they later add the instrumentation in the studio. When I later played it for Phyllis, she said to me, "They will play it at my funeral." (Listen to it at the end this remembrance.)
Phyllis was born on July 17, 1917. I hosted her 93rd birthday in my home, attended by approximately of 100 of her friends. I asked my friend, Los Angeles Councilperson Tom LaBonge, if he could do something special for her. He delivered, and presented Phyllis with a Proclamation from the Mayor and entire City Council making her birthday "Phyllis Diller Day" in the City of Los Angeles. The presentation was exclusively covered by the TV show Access Hollywood.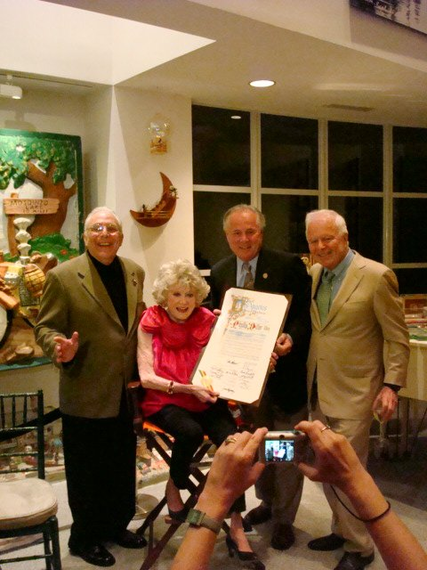 I joined CouncilpersonTom LaBonge and former LA Mayor Richard Riordan in presenting Phyllis a Proclamation declaring her 93rd birthday "Phyllis Diller Day" in the City of Los Angeles.
For her 94th, Terry Ebert-Mendozza and Joe Mendozza had a surprise birthday dinner at Spago in Beverly Hills. In addition, Sherry Hackett, Buddy's widow, organized another grand birthday affair at Sherry's beautiful home.
For her 95th, Ruta Lee called me and asked what we should do for Phyllis' birthday. Phyllis health was declining, so we decided to have a small pot luck dinner at Phyllis' home. Debbie Reynolds, Ruta Lee and her husband Webb Lowe, Alex Trebeck and his wife Jean, and I all met at Rockingham with covered plates in hand. Phyllis looked great, still had her signature laugh and we all had a wonderful time.
Phyllis had no fear of death or anything else. She often told me she was ready to "fly away like a little bird," and she did. On August 20, 2012, she died peacefully in her home. Her son, Perry, was at her side, and he immediately called me to tell me we had lost her. The music and laughter ended.
I still have some keepsakes in my car -- the remote control for her front gate, her sunglasses, and a box of her tissues, a constant reminder of my friend Phyllis.
"Phyllis Diller lived with style and grace,
And Phyllis Diller died with a smile on her face."
-- Bernie Shine .
Click on screen to hear Phyllis singing Smile.
Popular in the Community