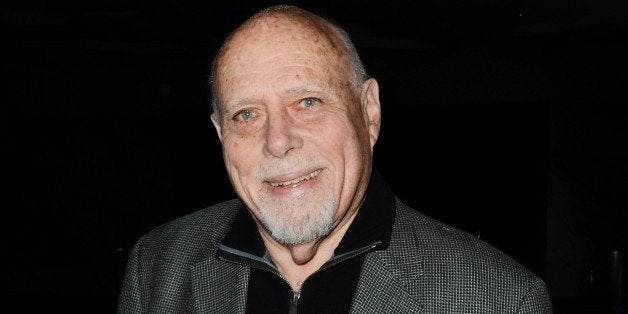 The Rev. Malcolm Boyd died last week at the age of 91. Accolades began popping up, but many do not know how Boyd shaped a generation of seekers in the 1960s to understand that unless Christianity was about justice and inclusion, it was just blowing smoke.
When I was 15, I read Are You Running With Me, Jesus? This was the book that put Malcolm on the map about religion and justice. For me, it changed everything. Here was this very cool priest on the cover of his book smoking a cigarette, sitting on a barstool, doing his prayer/performance art. At the time, I did not have the words to know that I was gay, and he was not out yet, but he wrote about a gay bar in that book, spoke of climate issues, and mentioned many other topics that were hardly addressed at the time.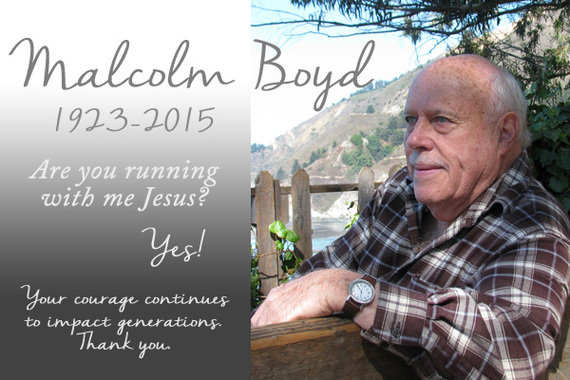 It was 1965, and I loved him from afar at first reading; I knew he was a soul mate. I met him in person in the 1970s. Malcolm and I were friends for almost 40 years. He was a mentor who helped me get my first book published through his network, and we co-edited Amazing Grace: Stories of Lesbian and Gay Faith. We were also arrested together in the early 1990s at the Board of Supervisors in Los Angeles as we begged them to release funds for needed AIDS drugs.
He touched so many lives with his authentic, brave spirituality, of prayers and action. In 1961, Malcolm joined 27 other Episcopal priests as a freedom rider. Life magazine included Boyd among the "100 Most Important Young Men and Women in the United States." He marched in Selma with the Rev. Dr. Martin Luther King, Jr. Later, he was arrested at the Pentagon for protesting the Viet Nam war -- to name just a few of his actions for justice.
When I saw him in Los Angeles last March, he was energetic and very excited about his writing projects, life in general, and especially his recent marriage to Mark Thompson -- his life partner for over 30 years, who is the author of the classic, "Gay Spirit." What a privilege to have been blessed by his friendship all these years!
In thinking about Malcolm, the old philosophical question came to mind: "When a tree falls in the forest, does it make a sound if no one is there to hear it?" Death took him like the felling of an ancient oak tree, but for Malcolm, like so many elders in the movement, the philosophical question about hearing a tree falling is the wrong question.
Yes, we have to remind younger generations about what he did and how revolutionary and transformative he was in his ministry. But when a tree falls in the forest, whether or not someone hears or doesn't hear the sound, it does not matter. Whether an ancient tree dies in an explosion of lightning or begins to drop its branches with the burdens of age, something wonderful happens.
The seeds that have dropped into the rich soil surrounding its roots sprout and surge forth. This is the legacy of the Rev. Malcolm Boyd. He helped birth a generation of "relevant" ministers -- who mentored the next generation -- and the next -- and the next.
The Rev. Susan Russell of All Saints Episcopal Church in Pasadena, California, spoke of him, "It is no exaggeration to say that Malcolm Boyd's 1965 book of prayers Are You Running With Me, Jesus? fed the hunger of a generation of people who had given up on the church and given up hope that anyone connected with it had anything relevant to say."
Malcolm suffered deep rejection when he came out in the 1970s. He went from being a phenomenon to a pariah. Despite this, he never stopped caring about church and its calling to embody the Gospel. There was no irony in those difficult days when he found shelter in the progressive Episcopal diocese of Los Angeles.
The official Episcopal publication said about Boyd in 1969, "The best-selling author said he had a 'Virginia Woolf kind of marriage to the Church. It's violent, it's lusty, it's organic. A divorce would be out of the question. We would always be in one another's fantasies.'"
Rev. Boyd never quit serving as an Episcopal priest. From Indianapolis, to Detroit, to Denver, to Washington, D.C., and Santa Monica, California, he led churches and people to live more fully. He collaborated on a recording of his prayers with jazz legend, Charlie Byrd; he was interviewed by Dick Cavett and Merv Griffin; he appeared in Look magazine next to Margaret Mead, Walter Cronkite, Duke Ellington, and Norman Vincent Peale. He knew everyone needed to look at faith with new eyes.
We don't remember Malcolm simply because of what he did and said -- although that would be enough. We remember the Rev. Malcolm Boyd because of how he shaped us -- how he helped break open the heart of churches that were in danger of hardening of the arteries. We remember Malcolm Boyd who asked, "Are You Running With Me, Jesus?" and ran on to tell everyone the good news that the answer is, "YES!"
Popular in the Community