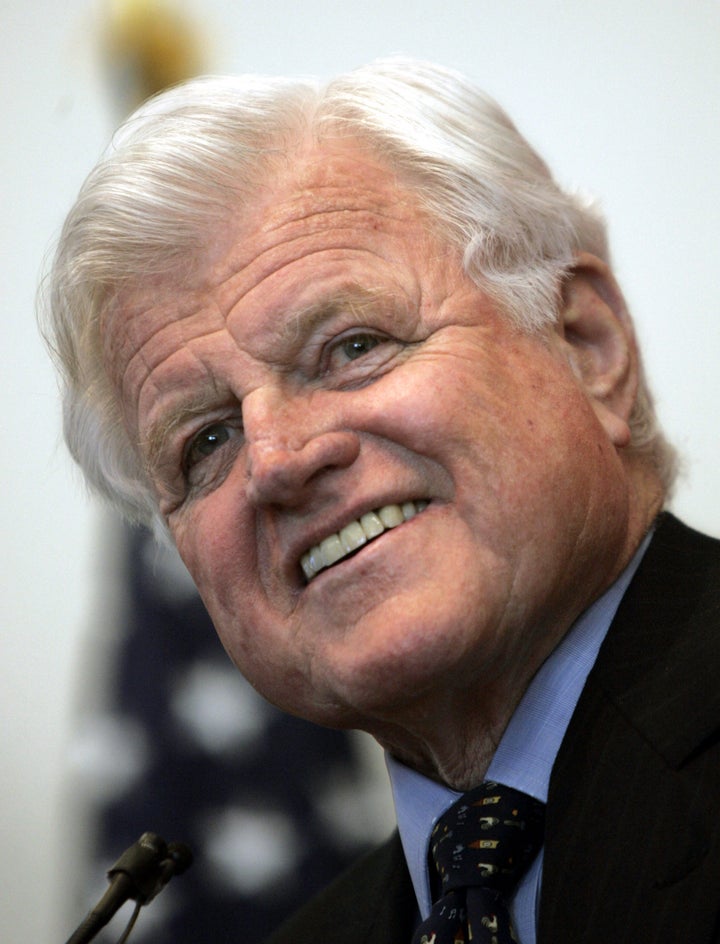 One of the lessons a political reporter learns early in life is never to underestimate greatness. Case in point: Ted Kennedy. I'm sure that none of my colleagues covering his early emergence on the national horizon in the 1960s bet on him as a promising young star, even when the lives of his brothers were ended by assassins.
I first met Teddy in 1960 when we were traveling the western United States; he as a pol and me as a reporter. He was trying to solidify the delegate count for Jack Kennedy before the opening of the Democratic National Convention in Los Angeles. I was trying to do likewise for NBC News. Inside the convention hall, I was standing with the Wyoming delegation alongside Bobby Kennedy on the first ballot vote count when Jack was within eight votes of winning the nomination. Bobby yelled at the state chairman, "OK J.J., it's s--t or get off the pot!" Faced with an eight to eight split between Kennedy delegates and those for Stuart Symington, Chairman McCracken canvassed the delegates and explained that they had the opportunity to assure Kennedy the nomination. The Symington delegates switched, and Wyoming captured the national spotlight for having given Kennedy the first ballot nomination. For Bobby, it was a political triumph. Nobody, however, paid any attention to the other brother standing alongside -- Teddy.
I did not see the youngest Kennedy brother until 1965 when I was covering Southeast Asia for CBS News and Ted showed up in Bangkok a year after having won a controversial U.S. Senate seat in Massachusetts that was once held by President Kennedy. Ted was considered an opportunist, unqualified for the Senate seat who won election only because of his Kennedy name. Later, Chappaquiddick and other mishaps or controversies hounded him throughout his career in public life, all of which made his desire for the presidency highly unlikely.
In April 1974, he, his son, Teddy Jr., who had a cancerous leg amputated, my son and I got into a snowball fight in the courtyard of my apartment compound in Moscow with the four of us darting in and out between parked cars around us. I was the CBS News correspondent at the time. Kennedy was celebrating a mass with the American priest who lived in our apartment complex before the snow-balling began.
Ted just couldn't avoid controversy in those days. He accepted an invitation to speak to an audience at Moscow State University. He showed up without an interpreter from the American Embassy and instead spoke to an audience -- not of students but specially designated Communist Party faithful. The translator was provided by the Soviet Foreign Ministry. At the height of the Cold War, when Kennedy sought to conduct a public opinion survey by asking the audience if it would prefer to spend the Kremlin's budget on health care or missiles, there was laughter and a unanimous vote for health care. That prompted all of us journalists in the audience to whisper, "Yeah, sure!" The U.S. ambassador at the time was not pleased.
In April 1980, Ted Kennedy was in Chicago, still hoping to win the Democratic Party's presidential nomination, when he was resting at the Blackstone Hotel. I was with a group of reporters covering the Illinois primary. We were gathered on a mezzanine floor waiting room for him to rejoin us. We were listening to a radio program that was interrupted by a bulletin disclosing that liberal stalwart Allard Lowenstein had been murdered in New York. I had first met Al in 1967 on a visit home to Los Angeles and again the following year when he vowed to lead the campaign to unseat Lyndon Johnson. I thought Lowenstein was hopelessly out of touch, but it turned out that I was. LBJ bowed out in March 1968.
We were waiting for the elevator to stop at our mezzanine floor when Ted Kennedy stepped out, and I confronted him with the news of Lowenstein's assassination. Kennedy's face was ashen. He truly was shocked. Lowenstein was a close friend. He had been an ally in the anti-war movement, and I could only imagine what was going through Kennedy's mind as an aide grabbed one of his arms to prevent him from falling, as he seemed to be in a state of shock. I felt terrible, being the bearer of more bad news in Teddy's life. It was not possible then to know how it affected his feelings about seeking the presidency. But it seemed likely that he must have suffered serious misgivings on top of all the other negatives that stood on his way to the White House.
Ted turned his attention to the U.S. Senate after that, and his remarkable legislative years on Capitol Hill that were to become the pages of American history that cannot be replicated. None were more impressive than his personal life that encompassed his love of and loyalty to the Kennedy family as a surrogate father. They were captured so poignantly at last Saturday's mass by Teddy Jr., whom I will always remember as the kid who with his daddy playfully threw snowballs at me and my son in Moscow 35 years ago.
Calling all HuffPost superfans!
Sign up for membership to become a founding member and help shape HuffPost's next chapter