As a longtime fan of both Genesis and the electric 12-string guitar, the rare moments I get to enjoy both simultaneously are limited to playing the part of Mike Rutherford in my Washington, D.C.-based tribute band Selling Fairfax By The Pound. But while finally converting my CD collection to mp3 format this year, I was recently reminded of a different - and quite interesting - confluence of these two interests.
Phil Collins's transition from prog-rock drummer to pop singer is well documented. What's less known is that for a few songs on his 1997 album Dance Into the Light, Phil toyed around with the guitar. To understand how this happened, we must go back pretty far in time – before his solo career, before Genesis, to when Collins was a child actor. His first major role was as the Artful Dodger in the London stage production of Oliver!, but it was his work as an extra in The Beatles' A Hard Day's Night that brings us to the 1990's.
As Collins explained on Late Night with Conan O'Brien, the director learned years later that Collins had been an extra in the musical comedy and gathered some cutting room floor footage. He sent it to Collins to review - to see if he could find shots of himself. He did - and even shared the clip. It's this trip down memory lane, and the associated Beatles music that came with it, that most likely fueled the three songs we're listening back to today.
This is no surprise whatsoever. Collins is known for enjoying a wide variety of musical styles, and even incorporating them into his own work. He went back to his love of Motown recordings for the Going Back album, assembled the Phil Collins Big Band in the late 1990's, and dabbled in jazz fusion as a tangential member of Brand X in the 1970's.
Who better than Collins's longtime guitarist, Daryl Stuermer, to share some special insight into that time. I caught up with him after one of his shows with his own band near his hometown of Milwaukee. The Daryl Stuermer Band performs a wide variety of material, from Daryl's days with Collins and Genesis to some of his own original songs, like 2007's Urbanista, and they even cover a diverse array of artists like Sting, Peter Gabriel, and Jeff Beck.
JM: What do you remember from recording the three guitar-based "jangly" songs on Dance Into the Light, and what did you envision when you started working on them?
DS: The style of these songs is very reminiscent of early Beatles and The Byrds. I remember playing these songs on one of Phil's Rickenbacker 12-string electrics.
JM: What input did you have on those songs?
DS: Phil had originally demoed these songs with 12-string electric guitar sounds on a keyboard. So he wanted me to basically copy what he had already demoed. Since the arrangements were already set on how they would be played, I played on the guitar what he had already played on the keyboard with his guitar sounds.
Intrigued by Daryl's comment about Collins owning some Rickenbackers, I did some online searching, and found this picture: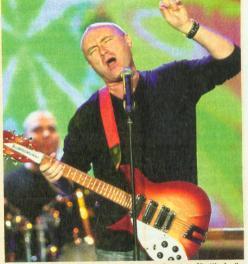 A quick email to Rickenbacker International Corporation CEO John Hall yielded the most interesting development so far. Sure enough, Rickenbacker made Collins a custom left-handed 325/12 for a photo shoot, a short scale 12-string electric, similar to the one made for John Lennon in 1964. As far as he knows, Collins still owns it. Hall recalls the following:
It's real. It was built for a special photo shoot originally and the paint was still wet during the session. Yes, it was a special rush order to meet their shooting schedule. I remember Grover Jackson pushing it through the shop. It's his [Phil's] guitar. You'll see it from time to time.
Excited to see all these puzzle pieces fall into place with this new insight and perspective, I decided to arrange and record my own interpretation of one of these songs, imagining it in its purest power pop form – the style that clearly influenced Collins to write these in the first place.
I've even made a video showing the overdubbing of all the instruments, something Collins tends to do in his own home demo recordings. This version employs a Boss drum machine, a Rickenbacker bass, a Rickenbacker 370/12RM electric 12-string guitar, a Paul Reed Smith 22/12 electric 12-string guitar, and lead and backing vocals, resulting in something of a modernized Beatles-meet-Byrds sound.
Big thanks to John Hall, Daryl Stuermer, Lynnette Zimmermann, Sam Snow, and Faith Hayden for their assistance with this article.
REAL LIFE. REAL NEWS. REAL VOICES.
Help us tell more of the stories that matter from voices that too often remain unheard.
This post was published on the now-closed HuffPost Contributor platform. Contributors control their own work and posted freely to our site. If you need to flag this entry as abusive,
send us an email
.