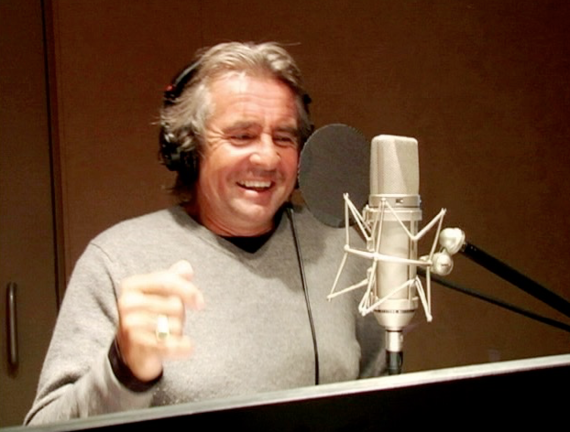 "Hey, hey, we're the Monkees!" This year marks the 50th anniversary of the phenomenon--you know, that show of an imaginary band that led to an actual band. Over the past decades, both the band's music and the TV show have had a major impact on pop culture, and a big part of that was due to the talent and charisma of Davy Jones. He was such a teen heartthrob that even Marsha Brady--on a classic episode of The Brady Bunch--had a major crush on him.
As a filmmaker, I'm very fortunate that I got to both work with and spend time socially, albeit briefly, with the late, great Davy Jones. In 2006, I was in post-production on my directorial feature film debut--a campy comedy titled Sexina: Popstar PI about a teen pop sensation who also fights crime in the music business. The film was extremely campy, a satirical take on the pop music industry, and who better to get involved than Mr. Davy Jones?! I wanted to open the film with a big sixties-style James Bond ballad in the tradition of Shirley Bassey, who sang the theme song for Goldfinger. The talented composer of my film, Domnik Mack, wrote and arranged amazing music for our opening song. But who should we get to sing it? It was the producer of the film, Charles Ricciardi, who first brought up Davy Jones. I instantly loved the idea because I grew up watching and loving The Monkees and my favorite Monkees' song was one that Davy sang, "Daydream Believer." But would he do it? After all, the lead character in my film was named, Sexina! But another big star from the sixties--former Batman Adam West--played the villain in the film. So maybe, hopefully, that would entice Mr. Jones?
We reached out to Davy's manager, Deb Robicheau, who has since become a screenwriter in her own right, and who couldn't have been cooler. Deb totally understood our satirical vision, and she knew how great it would be to have Davy sing a James Bond-style theme song. And what did she do? She helped secure him to sing our song! The first time I got to meet the heartthrob was when we picked him up in midtown Manhattan at his hotel. As soon as we met him, Davy was instantly warm, charming, nice--I could understand why women still swooned over him, even decades after his debut. We all went into the studio together and started recording the song. Davy was impressed with the music that Domnik had recorded; he obviously recognized his talent when he said, "This isn't his first rodeo!" Davy was a total professional: He dove into the lyrics that were co-written by me and went for it with full enthusiasm. After we recorded a bunch of versions, we decided to have the star play around with the delivery, giving him the freedom to offer even more comedic vocals. Davy commented on how much fun he was having singing the song, and it was a thrill for me to be in the booth, witnessing it all; childhood memories flooded me of all the times I listened to him on the radio.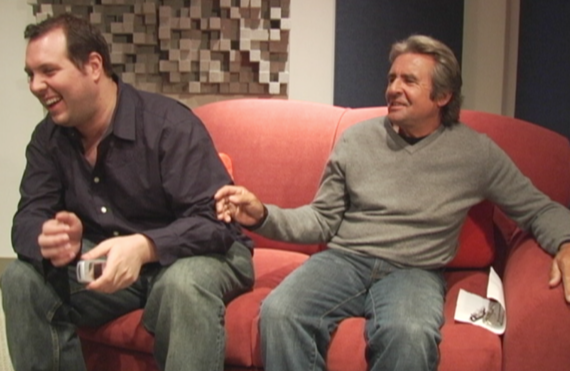 After we recorded his tracks he was kind enough to let us film an hour-long interview with him in which I was able to ask him a bunch of questions. We included some of the interview as well as the recording of the song on the DVD release of Sexina: Popstar PI from Wild Eye Releasing. Both on and off the camera, Davy was an open book; he kept us cracking up with jokes and stories of his days with the Monkees, along with stories from his life. When I asked him about what it was like being a teen heartthrob, he told me, "Women stop to tell me that they used to watch me on TV and kissed the television when I was on! When you kissed the television in those days it was kind of dangerous because you had electrified carpets. I know because I almost got third-degree burns kissing the television when I Dream of Genie was on!" Davy also talked about all the comedy that was featured on The Monkees TV series: "Life has got a touch of comedy to it. On the show, we made it up as we went along. Same as life--you make it up as you go along." He also talked about how fellow Monkee Mickey Dolenz ended up with his role on the show. "Mickey Dolenz got the drummer's part because, Peter, Mike and I all took a step back when they said, 'Who wants to be the drummer!'" Davy joked, "So he had to learn the drums. But he's a good drummer just like Ringo's a good drummer." When I asked Davy what musicians he personally liked listening to, he said, "On the way in I was listening to a Harry Nilsson album. I performed in Harry Nilsson's The Point on the stage in London in 1979. I love all kinds of music." Davy was so energetic during our interview and seemed to truly love life. He even commented, "They say if you smile enough and laugh a lot, it keeps you young and happy!"
And I totally believe him. Davy Jones was a class act--in front of the camera, on the stage and out of the spotlight.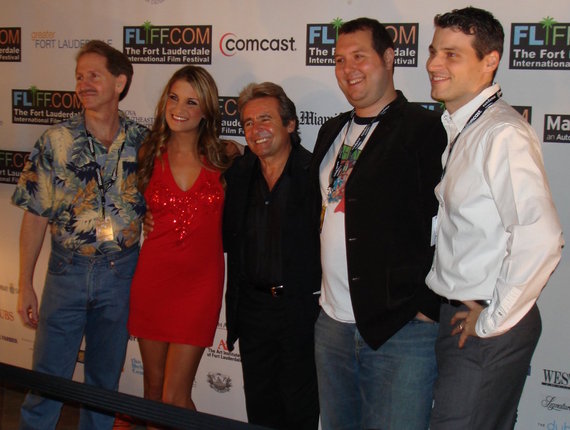 Recently I went to see a friend of Davy's and another television heartthrob, David Cassidy, in concert along with Speed The Plough's bassist, Cindi Merklee. Cassidy performed the Davy Jones/Monkees classic "Daydream Believer" in honor of his late friend. Everyone in attendance sang along to every word with a deep love--proof that both Davy Jones and his work continue to live on. The Monkees have a new studio album and fellow Monkees Peter Tork and Mickey Dolenz are about to embark on a 50th anniversary tour, where they will perform those timeless songs. I have no doubt that the tour will instill the kind of nostalgic sentiment that brings people to joyful tears. During our interview, I asked Davy about the Monkees, both the music and TV show, and how it has continued to live on over the decades, to which he said: "Who could imagine it would last this long."
Below is a video snippet of my Davy Jones interview, as well as him recording the theme song to the film, Sexina: Popstar PI. The video was put together by filmmaker, Greg Boas.
Calling all HuffPost superfans!
Sign up for membership to become a founding member and help shape HuffPost's next chapter